My kids have never used a handwriting program. Every year since Kaytie started preK, I have looked at them and could just never bring myself to spend that much money to teach them how to write. I taught Kaytie and Nate how to write their letters and numbers with tracing sheets that I printed free of the Internet, and with bits and pieces of different programs that I found and cobbled together. The sad thing is, it shows. Neither are strong writers, both have horrible handwriting, and Kaytie has serious issues with writing her numbers backwards.
So needless to say, I was very excited when, as a member of the TOS Review Crew, I found out we (the kids and I) would be reviewing a handwriting program. I had never heard of it before, but I was eager to check out Peterson Directed Handwriting.
We were sent PDF By Hand E-Workbooks for Print Writing. (scroll to the middle of the page) We were sent steps One, Two and Three and a game for the kids to play. Because we were reviewing it during our vacation from school, we worked on the basic strokes from step two and on numbers from step one.
We were not sent a Teacher's Guide, so it was a little confusing to figure out what we were supposed to be doing when, but then came, in my opinion, the strength of the program. The developer of this system, Rand Nelson, has set up a chat room where you can meet with him and ask him questions directly, either by appointment, or just catching him when he is there (he tries to be available during regular office hours). He is very patient and extremely helpful even with someone as easily confused as I am.
So this is what we did. I gathered the children around; drew the number on our easel, using the proper "catch phrase" for the number and they copied by "air drawing" and repeating the catch phrase. We used various body parts to draw the number in the air and used various voices to repeat the catch phrase. Very simple, very easy and lots of fun. I did have one who was embarrassed at saying it aloud, but I put my foot down and he eventually recovered. The next day, I demonstrated correct pencil grip and paper position and they practiced writing on a dry erase board and by day three for simple numbers and day five for complicated ones they could all produce a legible number.
Here is Daniel's 9. Daniel is four and this is his very first time to write a nine.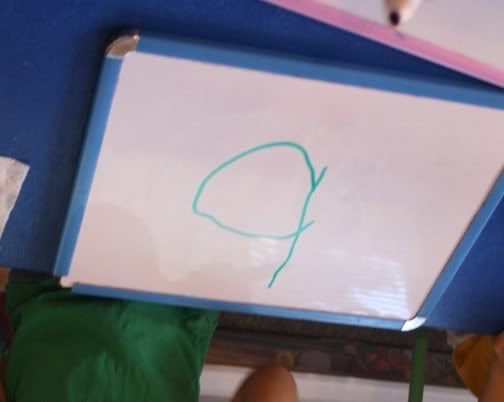 This is what I liked about this program.
The cost: $19.95 a step (each step equals a grade: Step One is Kindergarten; Step Two is First Grade; Step Three is Second Grade and from there you go to cursive) for the e-books, which is what we used. You can also opt to buy Teacher's Guides (for lesson plans) and other goodies such as special pencils and animated cards. Go here

and browse around for your grade and kit options.

It is multisensory. The kids are taught to use their eyes to see the letter/number, their mouths to say it, their ears to hear it, and their muscles to write it. I have several different learning styles in my "classroom" and I love programs that appeal to all of my kids in their own learning language.

It is simple and fun. It was easy to turn this program into a game that all four of my kids enjoyed. It took us roughly five minutes a day, so I could always leave them wanting more. And yet they learned a lot in those five minutes. It was also no problem at all to do it as a group. I expected a bit more from the older kids than I did from the younger, but the instruction and the games we did all together.

The customer support was great. Again, Mr. Nelson is available for questions in his chat room. The website is packed with information and you can view (but not print) the e-books for free. (click here and scroll down a bit) I have been browsing this website for six weeks now, and I don't think I have found everything there is to find!

It's practically non-consumable. Having e-books, I could print off as many copies as I liked of only the pages I wanted. I can also slip these pages into sheet protectors for extra practice without having to print more.
What I don't like about this program:
The website is very jam-packed and can be quite confusing. It took me a lot of hunting to find what I wanted at times, but I have tried to eliminate that problem for you by providing lots of links to click. :)

Without the Teacher's Manual, it was a little intimidating to introduce the program. I like scripts and jumping off points. If you read this blog on a regular basis, you know I like to tweak. This program was so geared to working with your child right where he is that it was hard to find a place to begin. Buying the lesson plans would probably help with this issue, or you could just talk with Mr. Peterson, like I did and get some direction.
All in all, we enjoyed reviewing Peterson Directed Handwriting, we really like the program and it is what we will be using for handwriting this year, and in the years to come because I am planning on purchasing the cursive when Kaytie gets to that point. You can read what other Crew members thought here.
As a member of the TOS Review Crew, I was given this product for the purpose of this review. However, the opinions expressed in this review were true and honest and were totally my own (and my kids').