I'm a little late for this week's Not Back to School bloghop because we haven't taken our "official" back to school pictures yet. We always take them the first day of school, and that wonderful day is still two weeks away for us.
But we did make it outside today with the camera. I have a fairly new camera and am still learning how to use it. I've been wanting to practice black-and-white with them for awhile now, and just have never gotten around to it. But today was finally the day. So here are our Not Back to School Bloghop Pictures...
Kaytie is starting 3rd grade. She is seven and a half going on thirty. Kaytie is artistic and creative. She is happiest when she is making something. She loves to draw, paint, make jewelry, fix hair, sew, cook, fold paper airplanes, and a jillion other things she hasn't discovered yet. Her favorite thing to do with her creations is to give them away. Everything she makes is for someone else.
She also loves reading and she will read anything I will let her pick up. She is reading well above her grade level and has a list a mile long on library day.
When she grows up, Kaytie wants to be a missionary. She is planning on using her drawing talent to tell stories to kids to help them learn about Jesus.
Nate is six and a half and is starting 2nd grade. Nate is a very busy guy. He is interested in everything, but obsessed about a handful of things. Currently, those things are bugs, dinosaurs, and inventions. He likes turning his K'nex into nifty time-saving creations and pores over science magazines trying to find something, anything, in the magic range of something he can afford that is age appropriate. He enjoys reading also, but he prefers non-fiction books about animals and science.
When he grows up, he wants be an inventor. His other goal in life is to be older than his big sister. I'm just praying he makes it to adulthood without killing himself.
He has two pictures because the first one was my favorite, but I had to include one of his cast, too!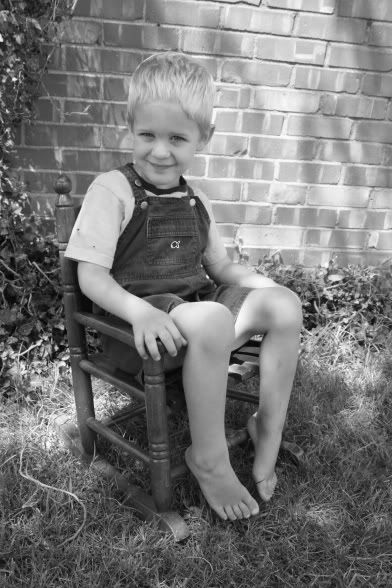 Daniel is four and a half. He is taking the plunge into Kindergarten this year. Daniel loves trains (particularly Thomas), digging, building, making lots of loud, strange noises, drawing, and snails. He is our quiet, peaceful child, the most loving and giving of the four, and the first to get his feelings hurt if someone is mean to him. He covers this with a gruff exterior and likes to growl and roar a lot. He is drawn to power. You can always count on Daniel to have a joke or a funny story. He loves to make us laugh.
When he grows up, he wants to be a train engineer and drive Thomas around.
Abbie is three and a half. She is in Preschool this year. She is ready for school to start. She wants to learn how to read. Abbie is our Princess. She loves pink and purple, girlie and sparkly, dancing and music, butterflies and babies. Oh, and roly-poly bugs. She does have two big brothers, after all.
Abbie is either laughing and dancing, or the whole world is crashing in ruins around her. There is no middle ground. She is the shy one and very few people get to share in the sparkle of her rainbow personality.
When she grows up, she wants to be a mommy, or a nurse, or a doctor, or maybe a ballerina. It really just depends on what she is doing at the time.
Here is the entire student body of Spesamor Academy. Look out, world!