This week, the
Not Back to School Bloghop
is doing my very favorite topic of all homeschooling topics... Schoolrooms!!! I love to look into other people's schoolrooms, to drool, to get ideas, and just to enjoy. :)
I posted
pictures of ours
on last year's bloghop, but this summer, my husband helped me organize, enlarge, and re-vamp the room. AND he made us a couple of pieces of furniture that will make our school days not only easier, but more fun.
So without further ado, here are the pictures of our room.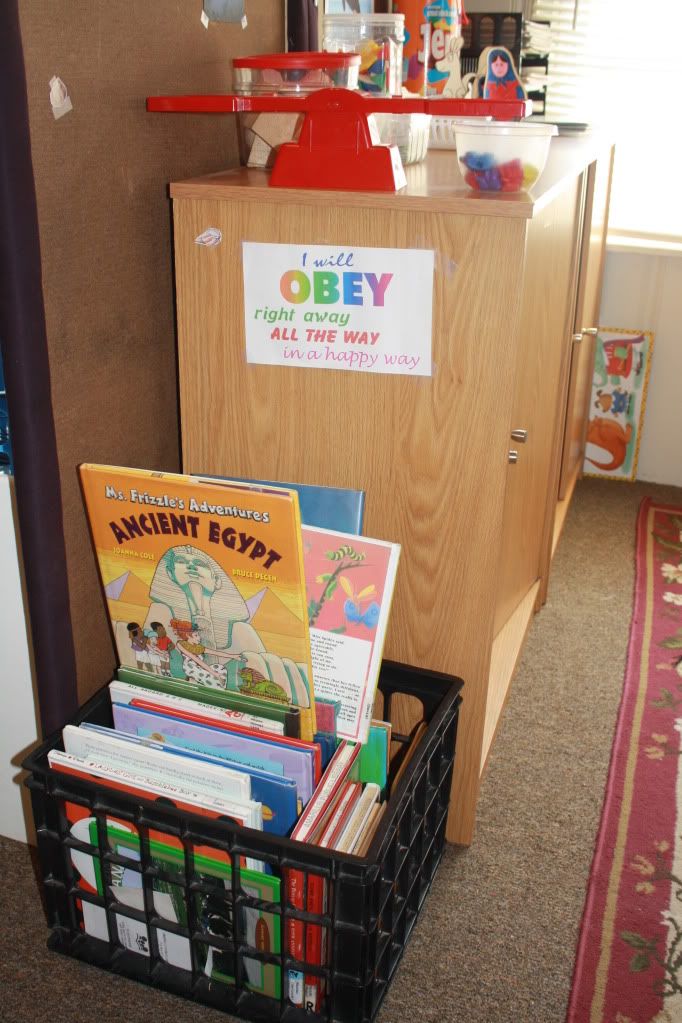 Our schoolroom is one half of the back room in our house (the playroom takes up the other half), we divided it with cabinets and a table and left enough room in between to walk through, so as you enter the schoolroom, you start with our library basket. All library books belong in here. As you can see, it often overflows. Above the basket, where, in theory, they will see it often, is a poster with our family rules. The smudge you see (and will see elsewhere in the room) is a shell sticker, only it was apparently too small to photograph well. We are doing an entire year of oceans for science, so I decorated accordingly.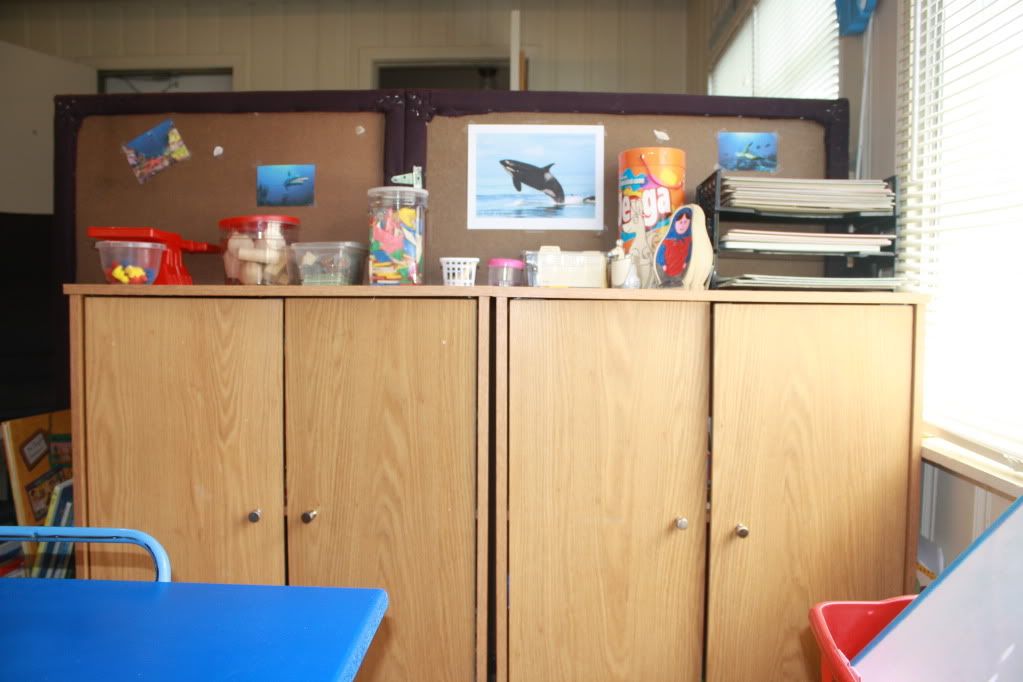 These cabinets hold all of their "free choice" items. When their required work has been finished, they can choose anything from here to use in whatever (respectful) way they want.
Here are a couple of up close looks at the top,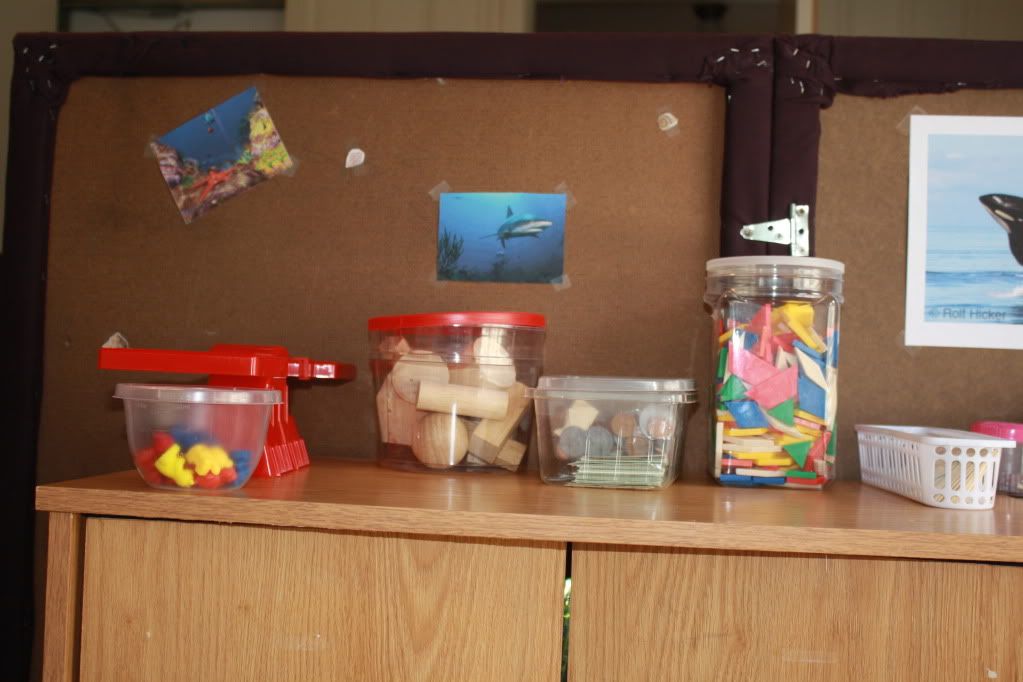 (weighed bears and a balance scale; geometric solids; a collection of play and real money; pattern blocks and a cardstock version of Montessori Large Number Cards)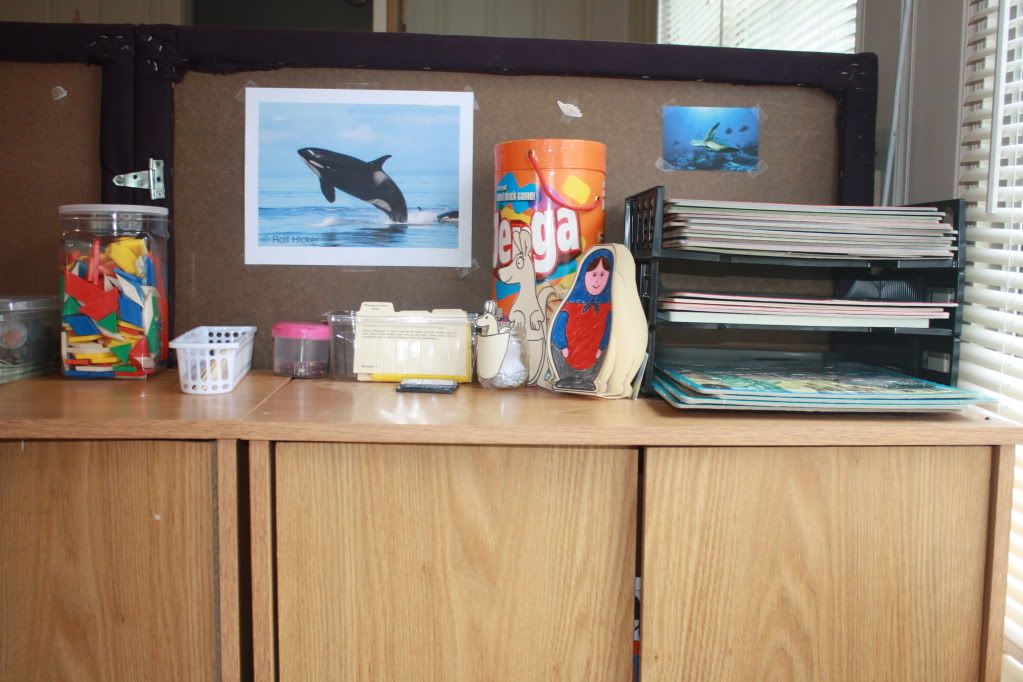 (a cupful of beans for math games; All About Spelling cards; Jenga, which we use as Khiva blocks; Joey Joey; Russian dolls that we made last year; and a tray full of puzzles)
and the inside.
(Math U See blocks; a bag of tanagrams; rulers; animal counters; a wipe-off clock; Alphabet Bingo; a sound sort; Cuisinaire rods and book to go with; shape blocks; all of our lacing beads and cards; a shoe-tying shoe; and sewing basket)
(geo boards; Bendaroos; insects and cards; sign language book with flashcards; a "make 10" puzzle that I made; math cubes; a peg board with pegs; a dressing bear; tic tac toe game; insect life-cycle wheel; and a big collection of magnets and magnetic stuff)
Here we have a couple of pocket charts, our dry-erase, magnetic easel, a bin of clipboards and dry erase boards, and in the crate,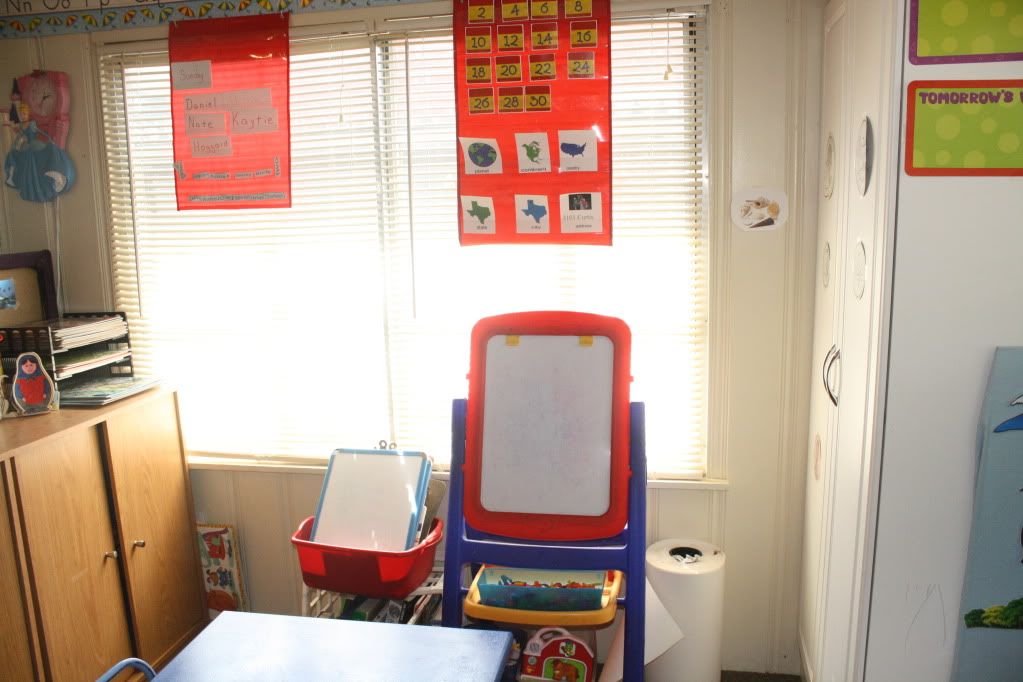 reference books such as a children's dictionary, an atlas, "extra" Bible story books, and all of our insect/flower/bird guides. Under the easel are two baskets of magnetic pieces and all of our Leapfrog Toys.
On the end is a roll of butcher paper that comes in handy occasionally.
Next, we have this cabinet...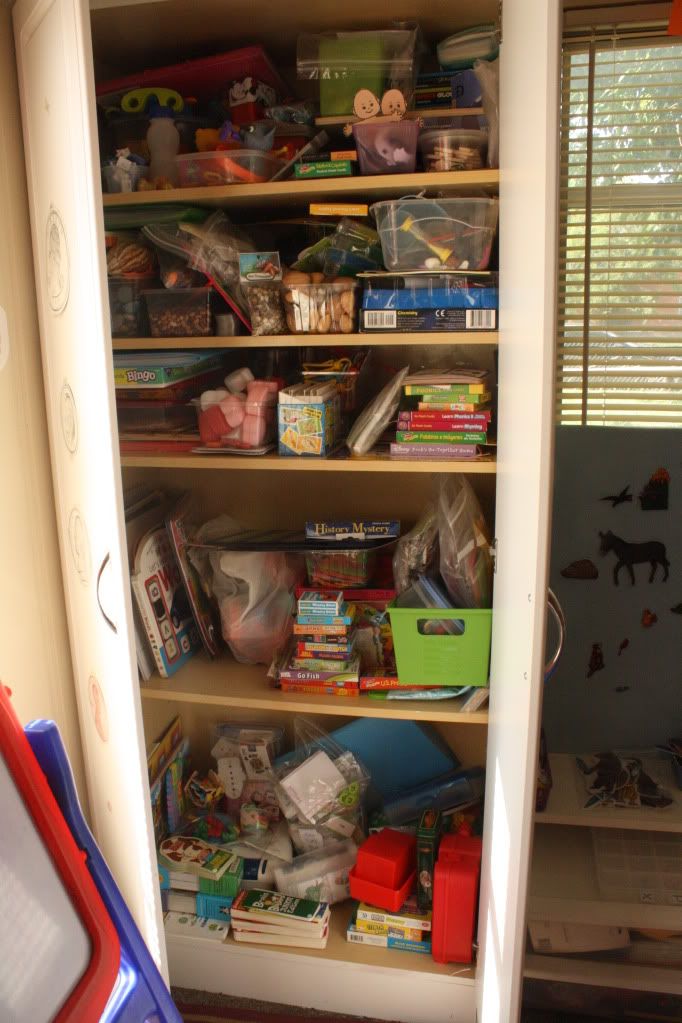 Which holds all of our storage. The top shelf is Geography. The next shelf is Science. Then comes Language Arts, and a big shelf of Miscellaneous, and Math on the bottom.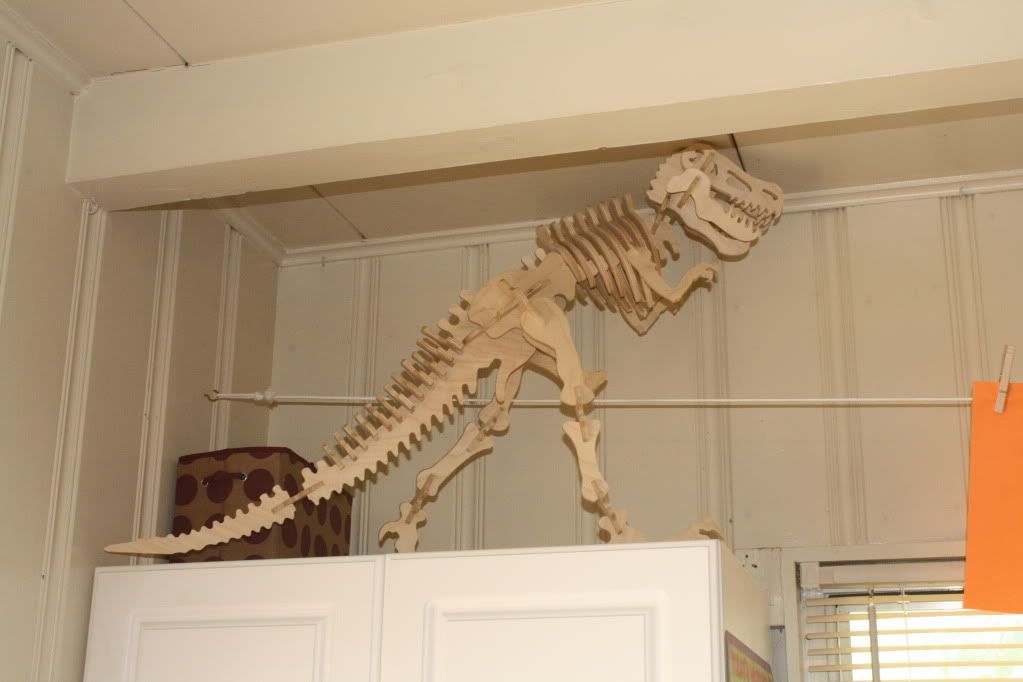 This guy lives on top of the cabinet. He is a puzzle that was given to us, but is too difficult for the kids to put together, so Steve put it together and set it up here for us all to enjoy. It gives a museum-y feeling to the room. :)
Here is the side of the cabinet, where I have a weather chart that we use sometimes and some more ocean pictures.
The line across the window is for hanging the kids' artwork to dry or to display.
And below it we have our flannelgraph board and our Circle Time board. The three buckets are for working on place value.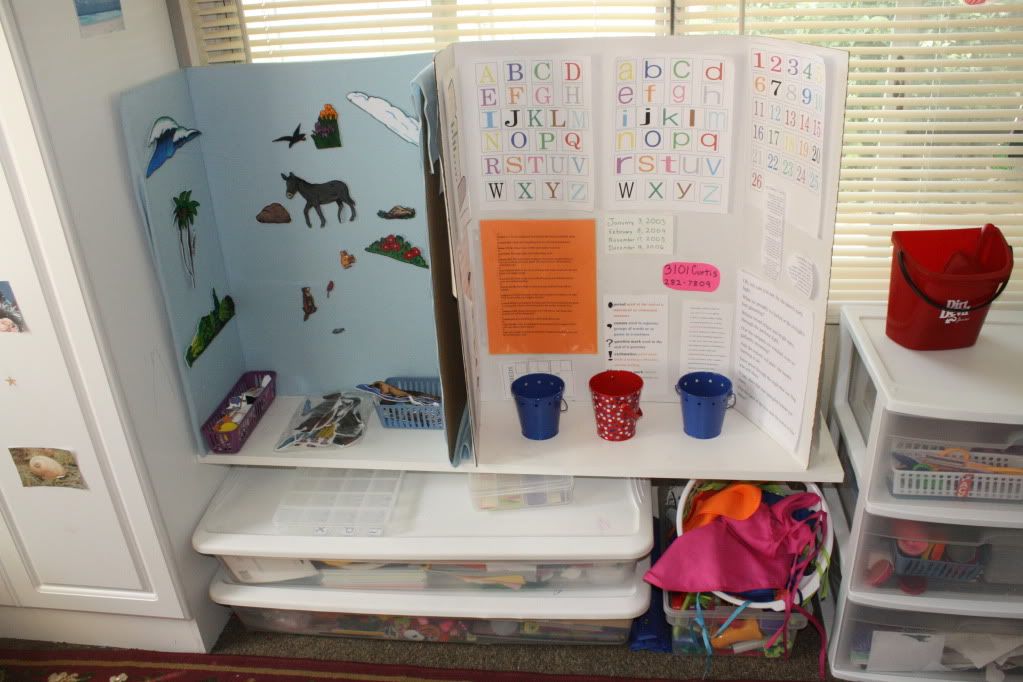 In the tubs under the shelf I have art supplies (felt, yarn, googly eyes, etc) that we only use occasionally, and seasonal manipulatives and supplies. On top of the tubs are All About Spelling letter cards and some number cards that we use for sequencing numbers and building 100 charts. Beside the tubs are playdough toys and a basket of aprons for messy art work.
Next we have the kids' art drawers. This is where we keep everything they are allowed to use without supervision. On top are our CDs, a devotional Bible and a dustpan and bucket full of pompoms to sweep.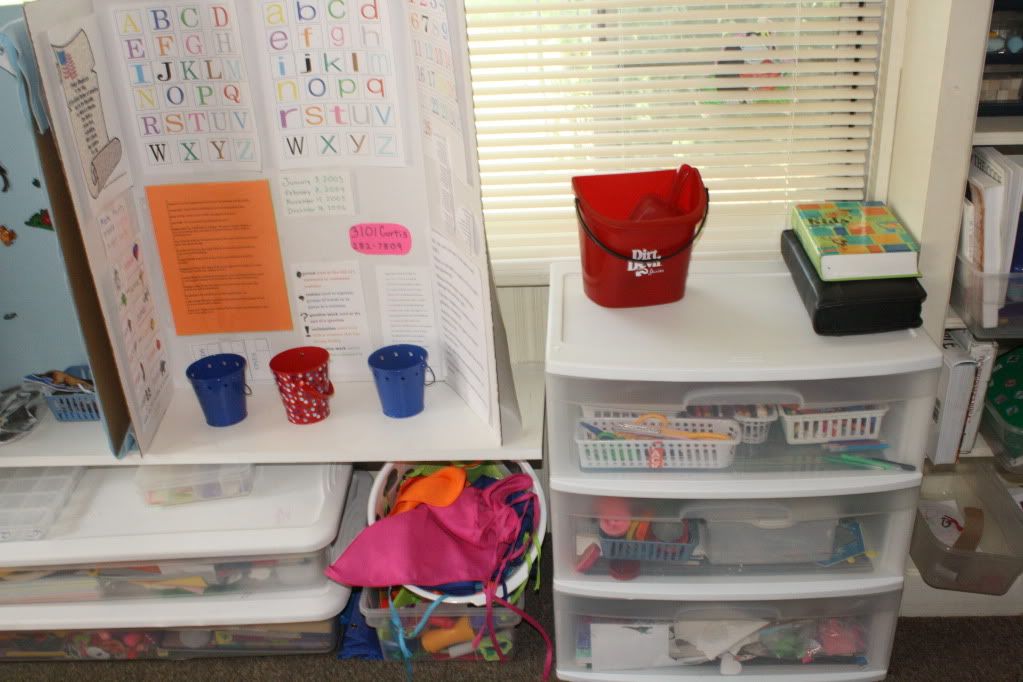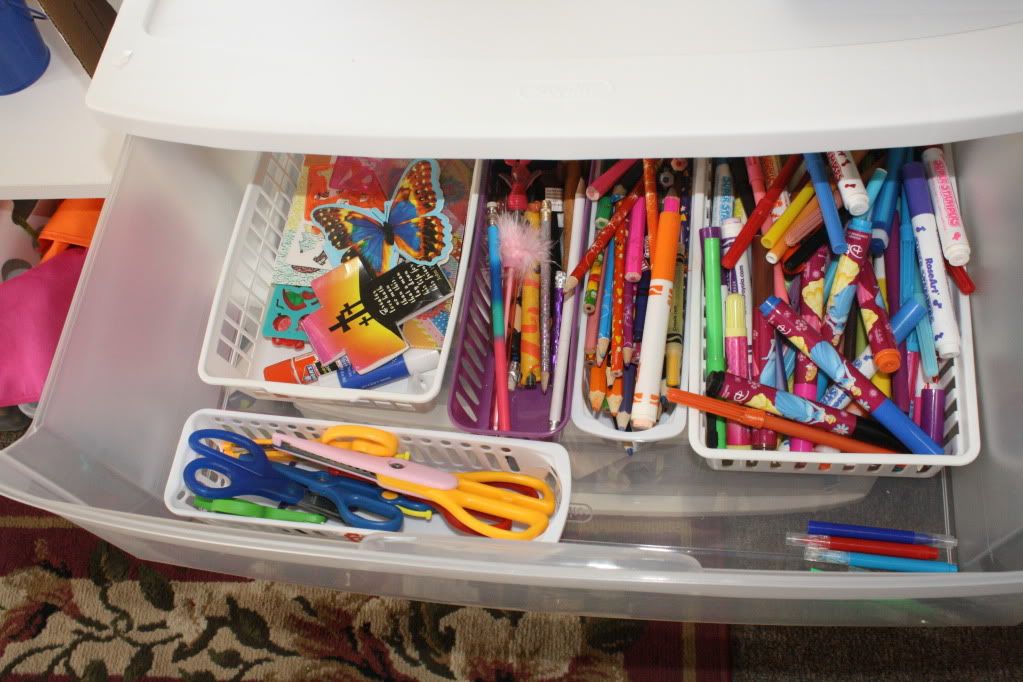 (stencils, cute paper, glue sticks, pens, pencils, colored pencils, markers, and scissors)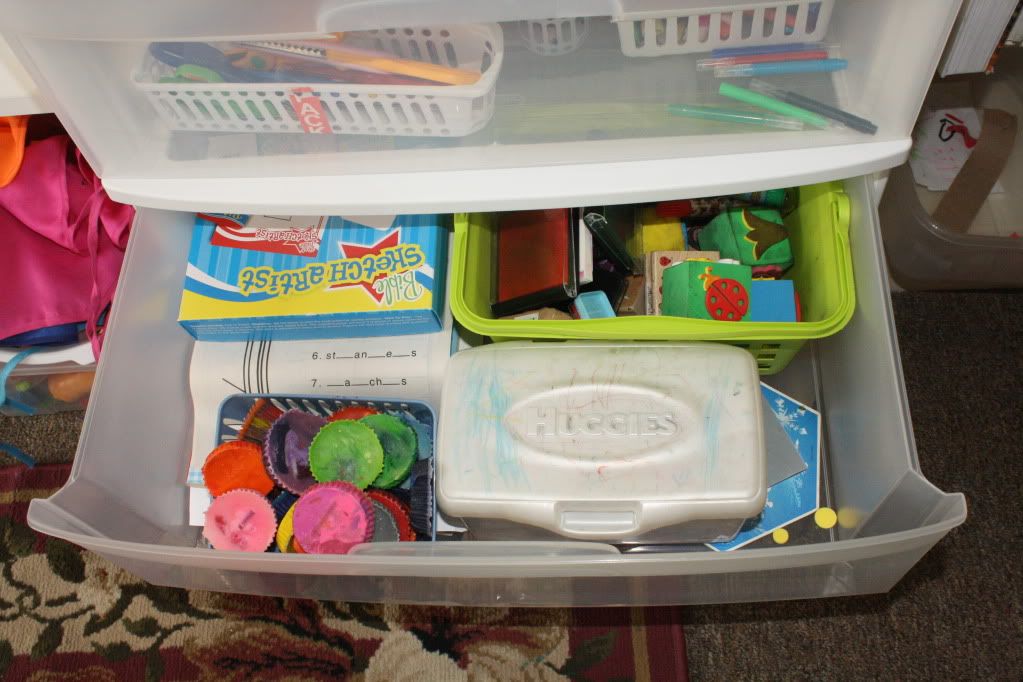 (coloring books and kits, stamps, inkpads, crayons and our new crayon cookies that we made yesterday)
In the bottom drawer are notebooks, pads of paper, stickers, paper scraps and work in progress, but it is VERY messy, so I did not snap a picture. :}
Next, we have the built-in bookshelf. On top is our inflatable globe (if it looks saggy that is because someone took a bite out of Hawaii and it no longer holds air as well as it should), a stack of Spanish teacher guides that were way too heavy for the regular shelf, boxes of embroidery thread and two boxes of storage for out-of-season stamps and punches and funky scissors.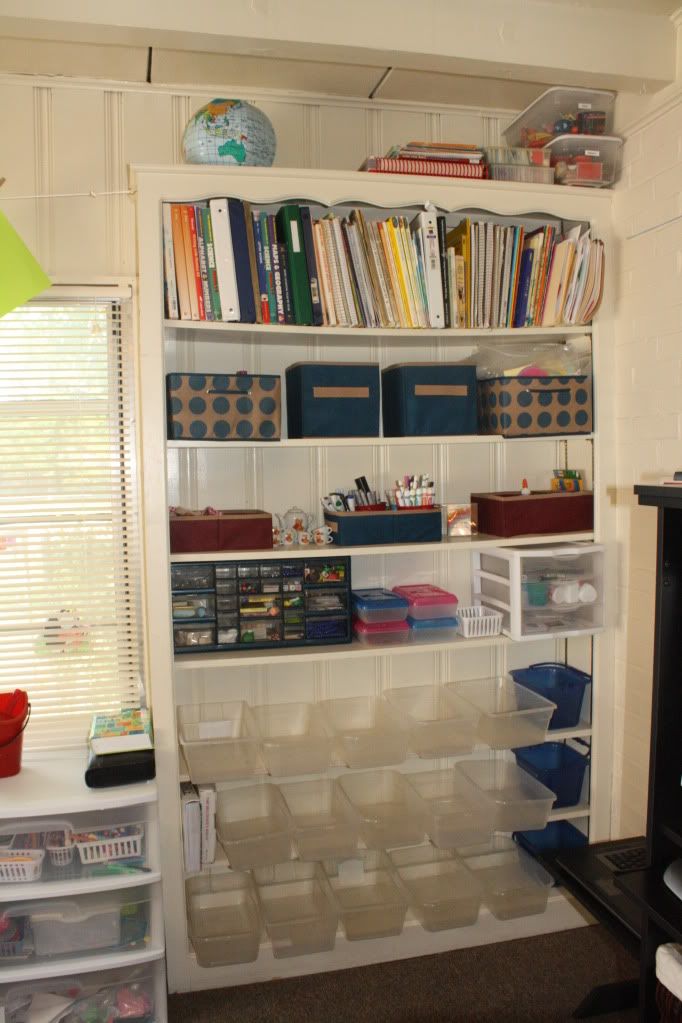 The next shelf holds all my books, notebooks, and binders. The blue bins hold paints, bingo markers, clay, glue bottles and other art supplies that the kids use but only with permission; binoculars; bubbles; and paintbrushes. In the last bin on top are all of our Alphabet Bags.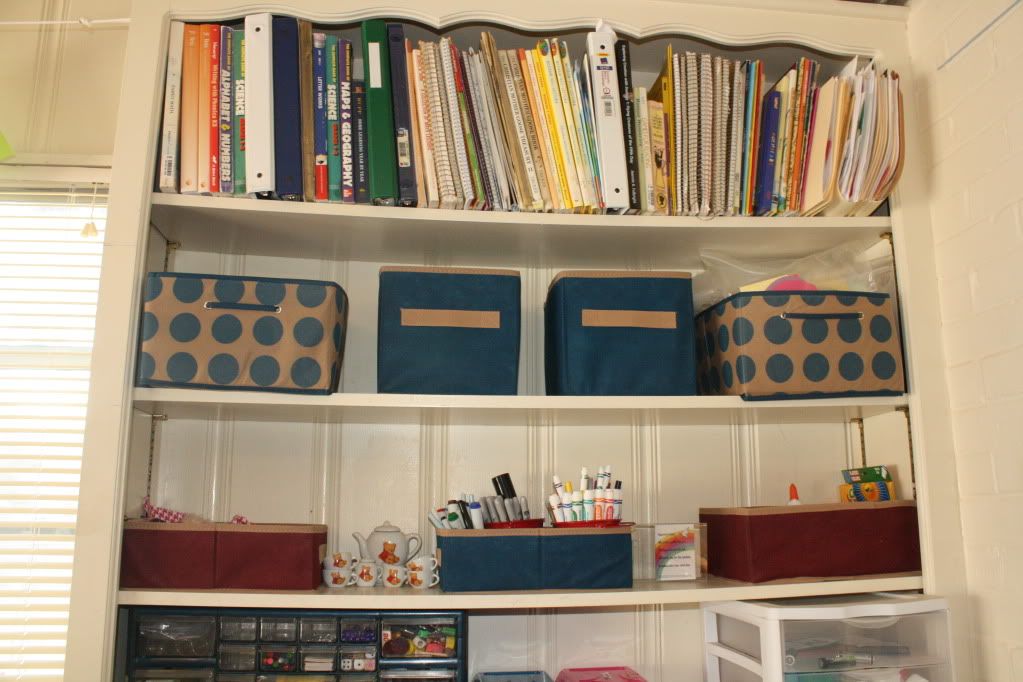 The blue hardware drawers hold all of my teeny supplies for filling boxes. I have dice, beads, game pieces, craft sticks, safety pins, small wooden cubes, wipe off crayons, chalk, and all sorts of similar stuff. Beside that are their pencil boxes which will contain a pencil, big eraser, and a box of 24 crayons. Next is our Memory Verse cards. The drawers on the end hold small containers to use in workboxes and free choice offerings, our calendar pieces, chore cards and our timeline pieces.
The bottom three shelves hold all the workboxes. The top row will be for the two little kids and the bottom rows will belong to the two big kids.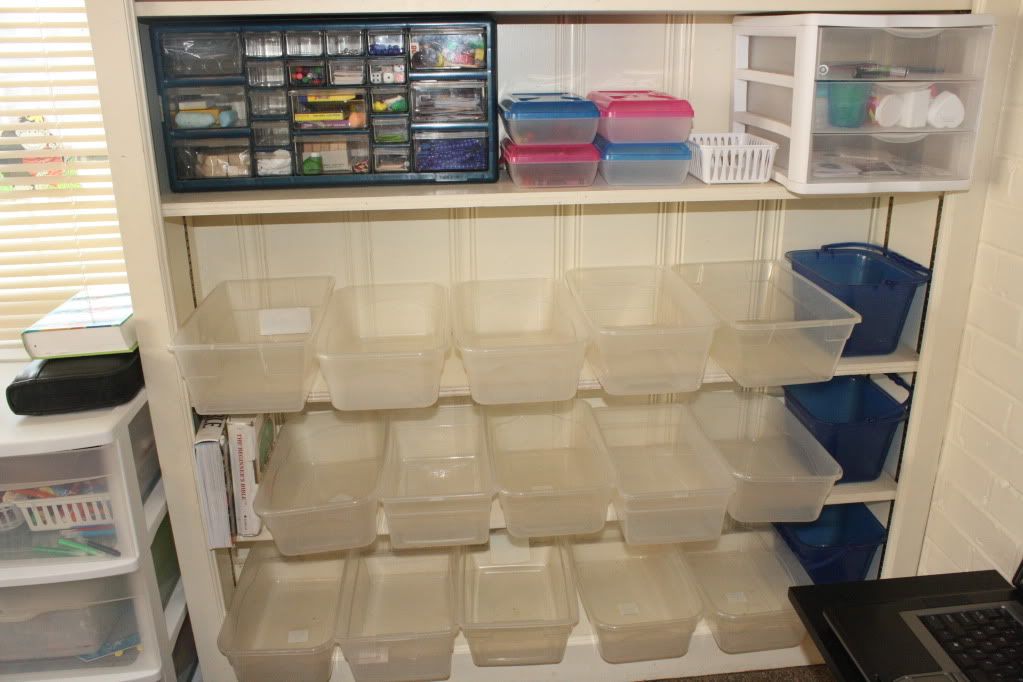 Then we have the kids' computer station. Their daddy built them that little desk, which is the perfect size for their laptop. They can pull a chair up when it is their turn for computer time and the trashcan fits neatly underneath.
We are studying U.S. geography this year, so the map will be handy for that. And if you can see the blue line on the wall, that is going to be our History timeline. I am still making the pieces for it, though.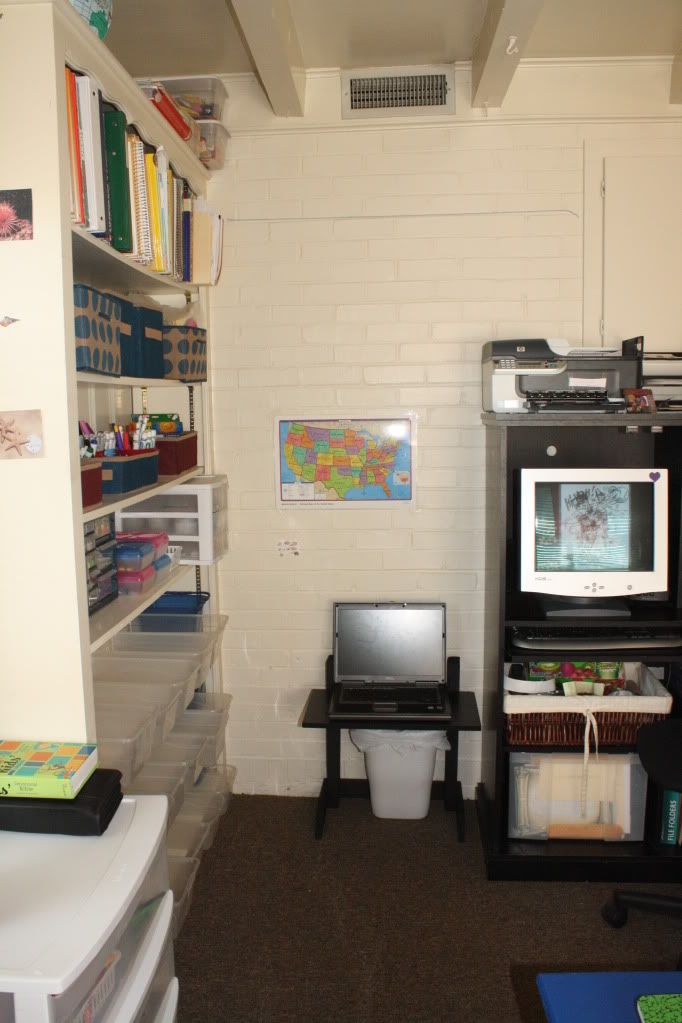 Right beside their computer is my computer, with printer on top. The trays will hold work-in-progress for me and work they have finished that needs to be filed away in their binders. In the various cubbies in the desk are paper, pens, things I need to keep track of, scratch pads, etc. Underneath is all of our various types of printer paper and a bin full of such things as a stapler, a paper trimmer, a hole punch, a pencil sharpener and my label maker.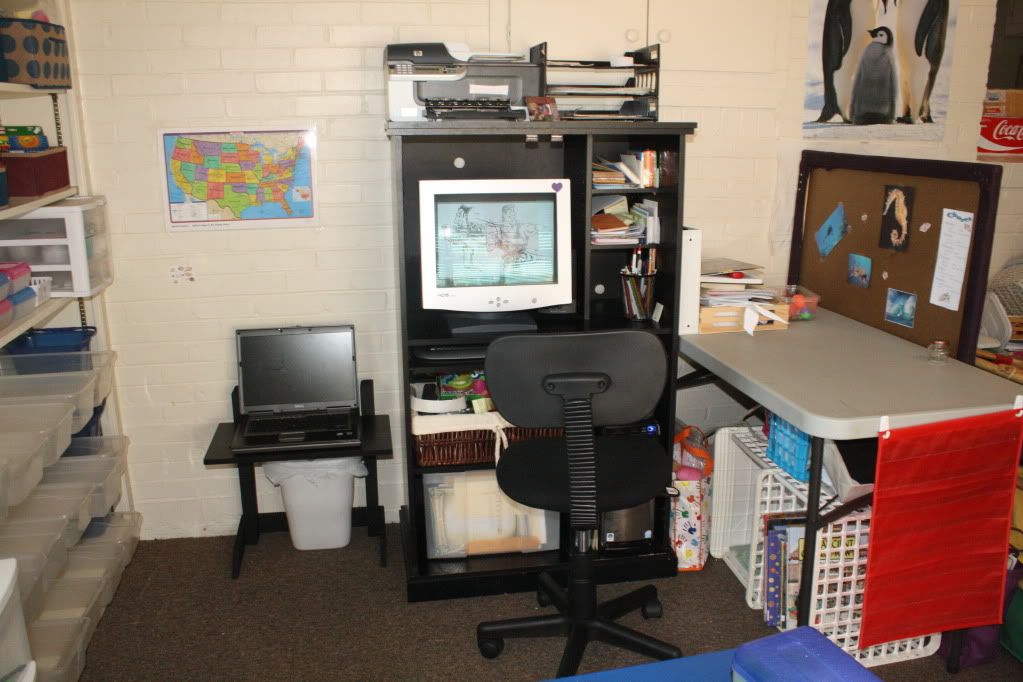 Next to the desk is my worktable. It holds my big binder, anything I am in the process of working on (it currently holds the books I am plugging into our plans, some items that need to be sorted into the Alphabet Bags and a jar that the kids are convinced holds insect eggs...)
On the "bulletin board" is my daily chore list and more ocean pictures.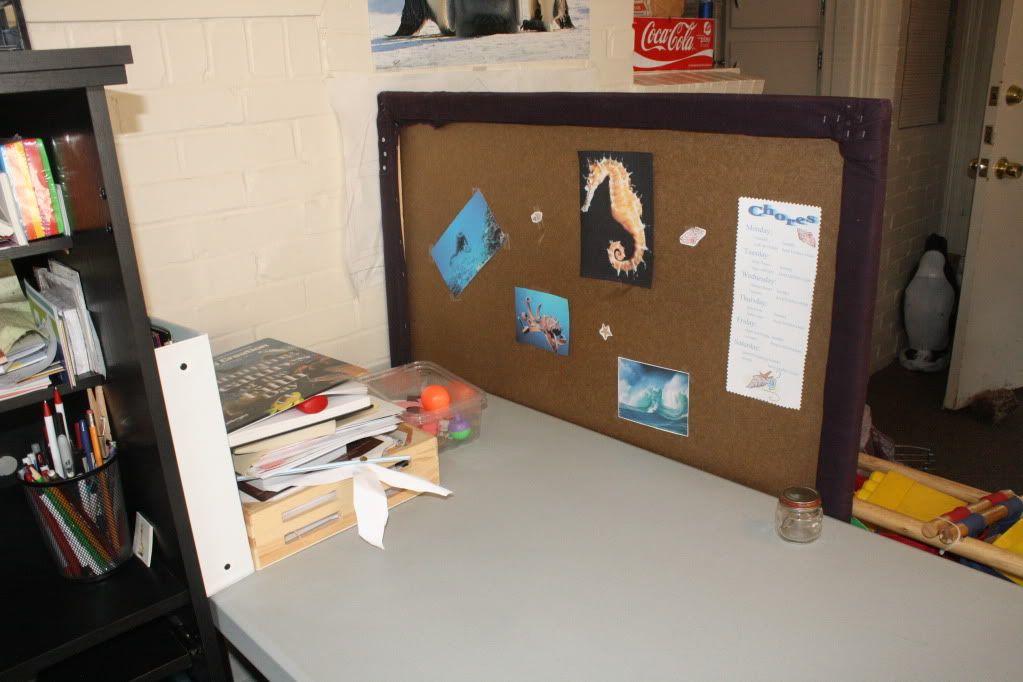 Under the table is storage for flannelgraph pieces and library books. Kaytie's sewing bag and our art bag are also under here.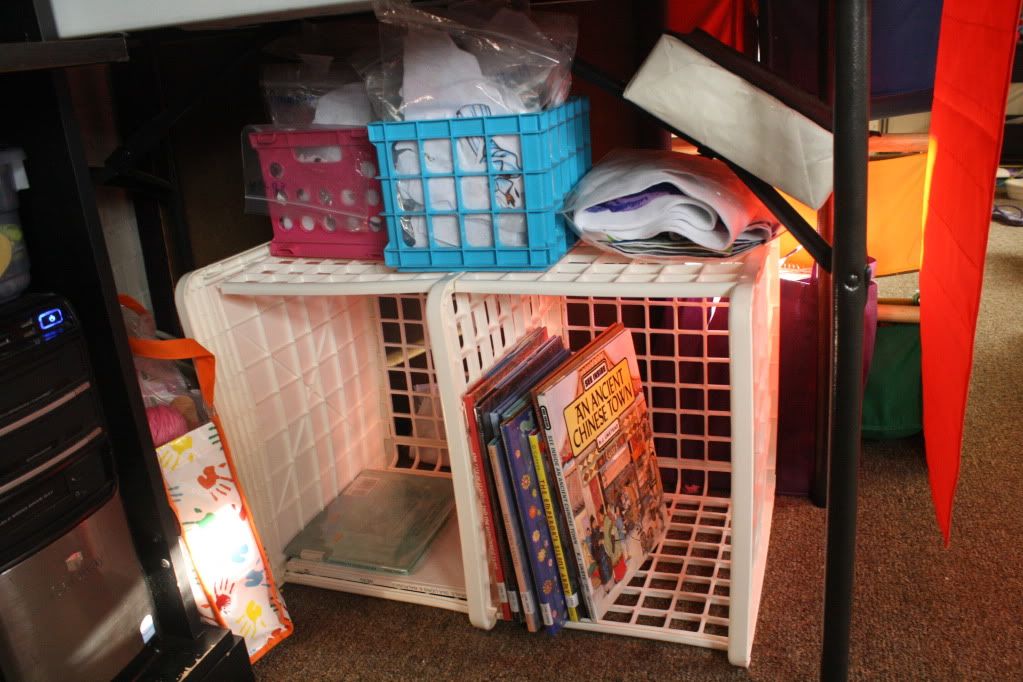 On the end of the table hangs another pocket chart. We use this one for putting our "chore cards" in every morning so the kids can remember what they have not yet done...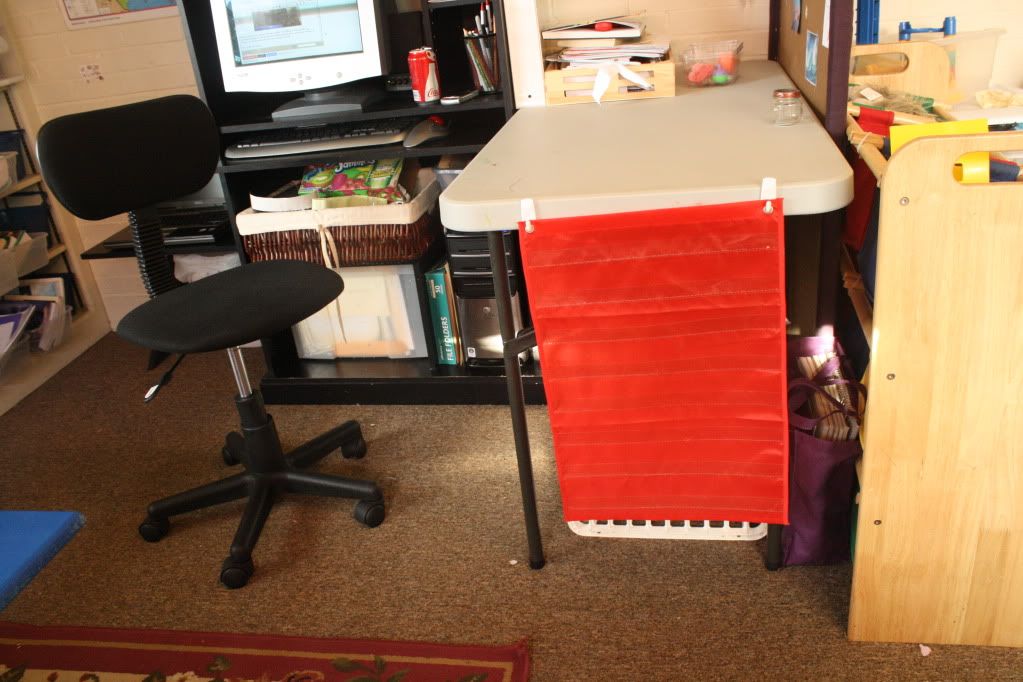 And finally, the other thing that Daddy built for us... a table big enough for everyone!!! The kids love working on it. I think it's cute, and it feels like everyone has more space. He is thinking about building them some chairs to go along with it... out of wood so they will have a harder time destroying them... maybe.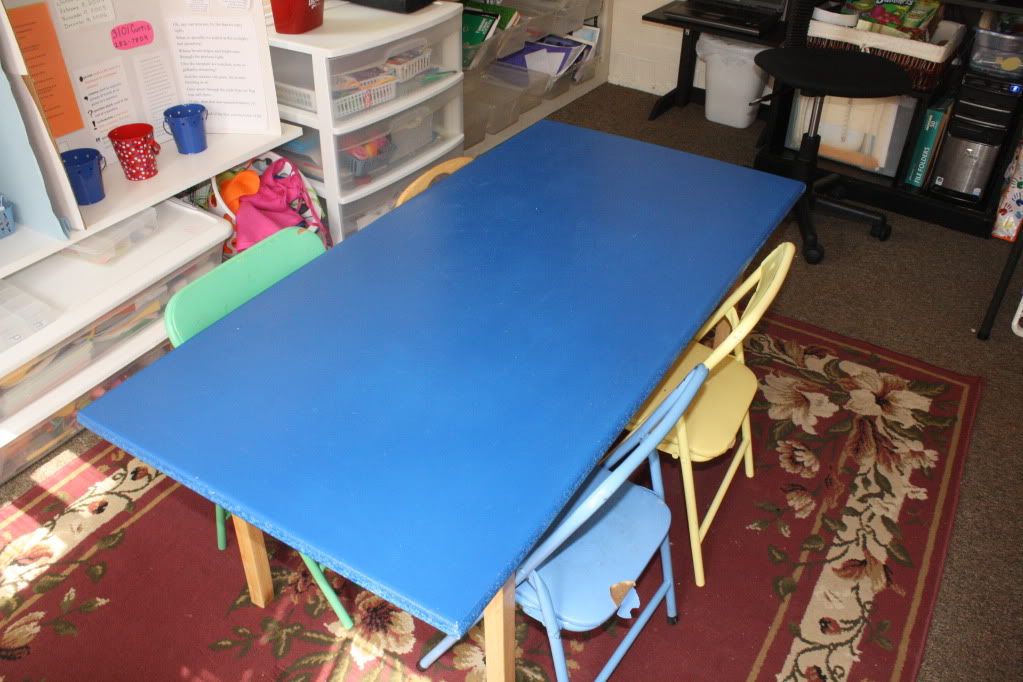 That is our schoolroom. I hope you enjoyed the tour, and be sure to check out all the other awesome schoolrooms on the
bloghop
!