Our first week of school is over. It went really well. Shockingly well. Workboxes work for us. It also helped that the big kids knew already what to expect and how to handle bumps. They adjusted to having more and longer wait times with grace and ease.
The new table that Daddy built for us was also a enormous help. In the mornings, I put the big kids at the end farthest away so the little kids were close at hand for all the help they needed. Yet, the big kids are still in my direct line of sight which cuts down on the bickering and daydreaming. In the afternoons, the big kids were at my end of the table and the littles could work independently on the other end if they liked, and still be under my watchful eye.
When I set up our plans and our schedule, I kept in mind that I have two different classes and four different kids to juggle and it all worked well. What problems there were we were able to work through with minimum of fuss and tears.
So, without further ado, here is the overview of what we did.
Kindergarten Math:
Their main focus was on counting and number recognition. These concepts were all review for Daniel (although the tasks were not) but something that Abbie really needed. They did many tasks, but this was the favorite, by far...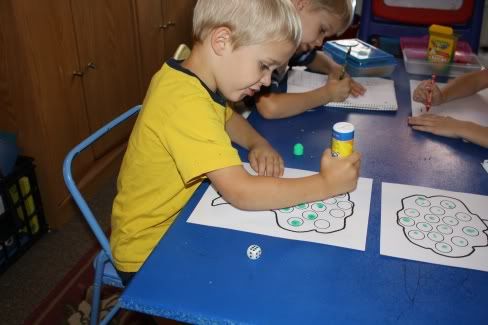 roll the dice, stamp the correct number of apples, repeat until all the apples are full
Abbie used a home-made dice with the numbers written on it. Daniel knows his numbers and can identify the dots on a regular dice but Abbie can't and I wanted her to work on number identification anyway.
She had just about convinced me that she could not recognize any numbers but 1 and 3 until she did this game. Then, all of a sudden she was eagerly, instantly yelling out each number and then stamping the correct amount of dots without help. Apparently how much she is enjoying the activity directly correlates to her knowledge of the subject at hand.
Kindergarten Phonics:
We worked with the letter a. We wrote it (using
Peterson Directed Handwriting
), we made it with playdough, we looked for it in books, we colored it, we stamped it, we made its sounds, we traced it with our fingers, we hunted for it in a bag, sewed it as a sewing card, formed it with stones, and discussed it a lot.
We read books about apples, our favorites being Tucker's Apple Dandy Day, How to Bake an Apple Pie and See the World, and The Apple Pie that Papa Baked.
Kindergarten Bible:
For several years, I have worked to correlate our Bible story with the topic at hand, whatever that happened to be. This year, I am not doing that. I am weary of the struggle, I don't think they notice, and it seems so disjointed (to me, again, I don't think they notice). So we are just reading through a story Bible this year. We are, however, memorizing ABC Bible verses. This week we learned:
A soft answer turns away wrath. Proverbs 15:1
and discussed what it means. Then I stole a brilliant idea or two from
Carisa
, and created a color page and scissor practice page for them.
They love to color.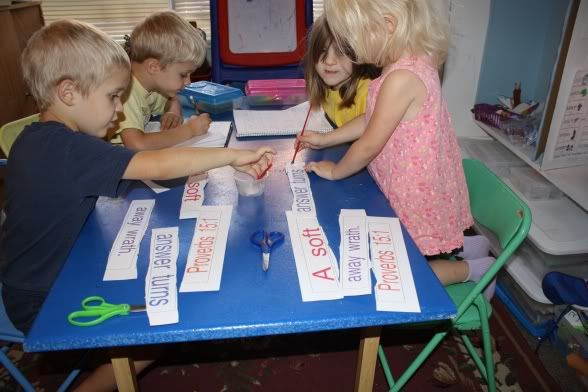 First they cut the verse into strips. Daniel did this independently, Abbie cut while I held her paper. Then they glued the strips together.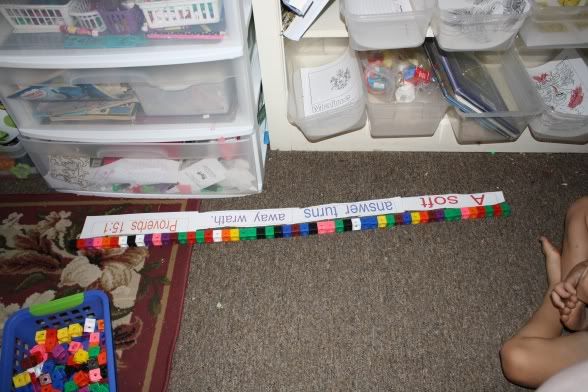 They measured their strips with math cubes, and against themselves.
Here is Daniel illustrating the verse...
A soft answer turns away
WRATH!
3rd and 2nd math:
We reviewed triple digit addition and simple subtraction so that: I could see what they remembered; they could kinda ease back into school; and I could have an extra week to hunt down the DVD. :)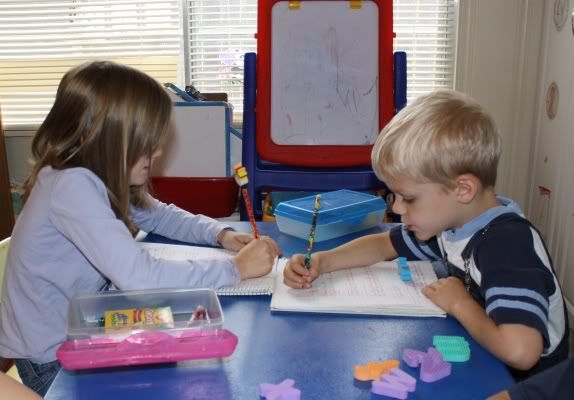 3rd and 2nd grammar/ spelling:
We had a quick review of nouns and verbs, we started our journals, and we started memorizing
The Goops
. For spelling, we worked on Levels 11 and 12 from
All About Spelling
.
3rd and 2nd art:
Along with learning about Dreamtime artists with the cousins, we studied this painting by Paul Cezanne "Apples". They looked at it, described it to me while looking at it, described it to me without looking at it, and attempted to reproduce it.
3rd and 2nd history:
We talked about Hammurabi and his laws which very nicely segued into the Ten Commandments. They debated about the fairness of some Hammurabi's laws, so I could point out that God's laws are just and better than man's laws. Kaytie also made the connection of Babylon being the city where Daniel lived. We wrote out some laws of our own, too. And I learned that my kids are a little bloodthirsty.
3rd and 2nd Geography:
We started our U.S. Geography with Maine. I am keeping this as simple and streamlined as possible. At this point in their lives, I didn't care to focus on a lot of history or trivia about each of the fifty states. I mostly wanted them to be able to recognize the names of the states and their capitols, know where the state is, and, hopefully, remember state flags, birds, and flowers. So we read books, put together our puzzle, labeled a map, colored the state on a U.S. map, colored the flag, the bird and the flower. Soooo much easier than World Geography for the teacher!!!
3rd and 2nd Bible:
We are learning the story of Daniel with our
Bible Story Guide for All Ages
. This week, we read about Shadrach, Meshach, and Abednego
(I'm not looking those names up, hopefully they are not mis-spelled!)
and the fiery furnace. We were impressed with their statement that "even if we KNEW that God would not save us, we will not worship your god". (emphasis mine) And we talked about things that might be idols in our lives, which was quite a new thought to them! :)
We reviewed last year's Bible verses.
3rd and 2nd Latin:
We learned the Latin alphabet and six vocabulary words. Easy and simple. I'm glad we waited a year for this. Then I found out we are going to be reviewing a different curriculum this year, so we are going to have to switch gears next week, or the next. Good thing we are flexible!!
Science:
Our ocean study got off to a great start. The little kids are learning to sit still and listen. The big kids learned about aquatic movement and made our first lapbook piece! Everyone joined in to make the cover and the little kids made a puzzle.
Handwriting:
We worked on the letter "a" and the number "4". The numbers are more for Kaytie in an attempt to get her to stop writing them backwards.
And finally, everyone got a chance to write a bit on their blog. Well, they narrated stories to me, and I typed them in, whilst laughing under my breath.