This week was a little harder... the new has worn off and the routine has not yet set in so we had to work a little bit to keep on track this week. I only had to "insist" that Daniel and Abbie finish a couple of things and Daniel has given up altogether on the "too hard" tactic. The hardest thing for them is listening to the science read-aloud without offering up an entirely off-topic opinion every other word. The good thing, though, is that I appreciate Kaytie and Nate's ability to sit still and listen a LOT more and don't mind when they have something to add since it is not a totally random comment.
Kindergarten Math:
They got to use their journals for the first time and Daniel was very very pleased. He begged to do the entire thing (I had several pages made up for him) and was quite disappointed when I restricted him to one page. (
Leave 'em wantin' more!
is my motto) Their task for their journals was to cut out apples and stick the correct amount in the numbered boxes. They also began working with pennies, clocks, and simple addition this week. It sounds like a lot, but they did awesome!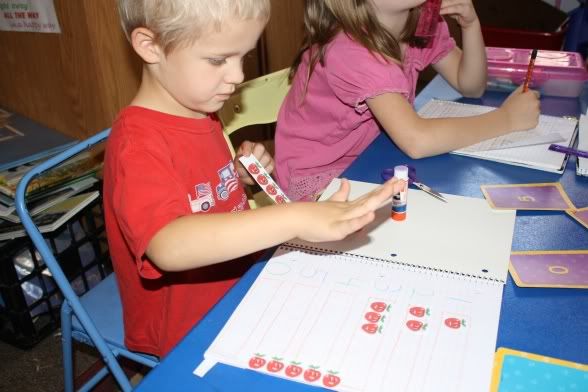 We played an elephant matching game and fed peanuts to hungry elephants for some number recognition.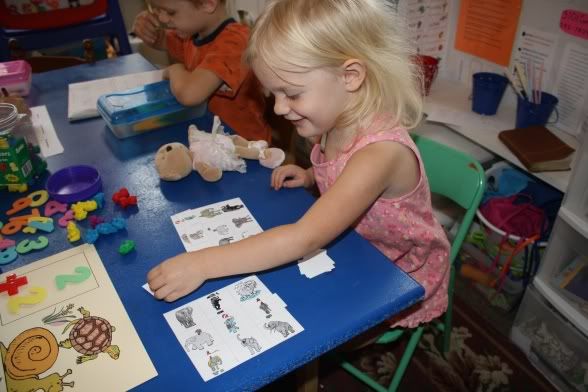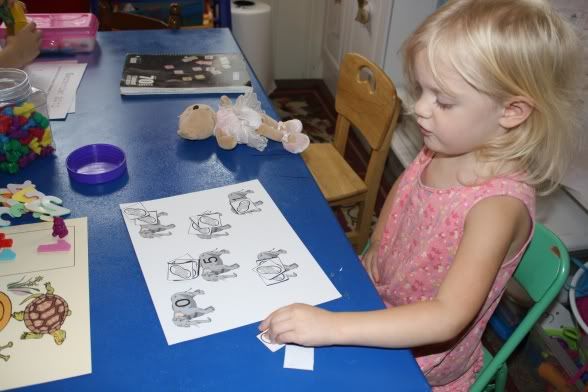 Kindergarten Phonics:
We worked on the letter "e". I am happy because at the end of last term (July) they had NO idea what "e" was and insisted on calling it "g" and sounding it as "juh". Now they have it down pat. :) "E says eh!"
We also learned a bit about elephants. Did you know that elephants are afraid of mice? Did you know that an elephant's foot contracts as it lifts, helping to keep it from getting stuck in the mud? Did you know that an elephant spends between 16-20 hours a day eating? That makes me tired just thinking about it... I thought my kids ate all the time!
Our favorite books of the week were:
Emma Kate
,
Goodnight Harry
, and
Emily and Albert
.
Kindergarten Bible:
They learned the verse:
Even a child is known by his deeds. Proverbs 20:11
and we discussed the application in great detail. And, surprise surprise, actually had a time or two during the week when we needed to apply this verse! :) We are reading our way through The Beginner's Bible and have finished Noah and the Ark.
3rd and 2nd math:
They learned perimeter this week and LOVED it. It blew me away that when she was using the blocks, Kaytie could figure it in her head faster than I could. I gave them some foam shapes (left over from our "Montessori days") and a ruler and they had fun tracing, measuring, and figuring. It gave us an un-looked for opportunity to discussing adding 1/2 + 1/2. The next day they cut out some of their shapes and glued them into their journals. Kaytie announced that she had been dreaming of this day, when all she had to do in her journal was cut and paste.
3rd and 2nd grammar/spelling:
We started in with verbs... action and state of being. It irks me that even though this is supposed to be review (we've done these lessons once already) they quite obviously have NO IDEA what I am talking about. I don't know what to think, and I don't know what to do...
3rd and 2nd art:
I showed them a picture that was painted recently... in 2006 and they were amazed that it was soooo old! As old as Abbie, even! Kaytie has started working with Drawing with Children because she loves to draw and I want her to have the tools to make her satisfied with her work.
3rd and 2nd history:
We read the myth of Gilgamesh and wrote our own fairy tales. You can read them on their blogs...
here
and
here
.
3rd and 2nd geography:
We worked on Vermont and New Hampshire. I didn't like learning two states in one week. I really need a better system. We did learn a little about maple syrup though!
3rd and 2nd Bible:
We learned more about Nebuchadnezzar and discussed pride a little bit. We also memorized John 10: 27-28.
3rd and 2nd Latin:
We worked a little on lesson two, but not whole-heartedly because we know this will be our last week with this curriculum. We got our review curriculum and will be starting it on Monday.
Science:
We learned about currents with a cool experiment that I did not take pictures of... and about tides and tide pools. We worked together to make a tide pool booklet (I think I got it from Homeschool Share).
Handwriting:
We worked on the letter "e" which was much more difficult than "a". Their favorite part of the lesson is getting to choose the body part we form the letter with!
But the highlight of our week was co-op with the cousins and doing science experiments. Ok, so the experiments weren't as much fun as running and playing afterward! :)