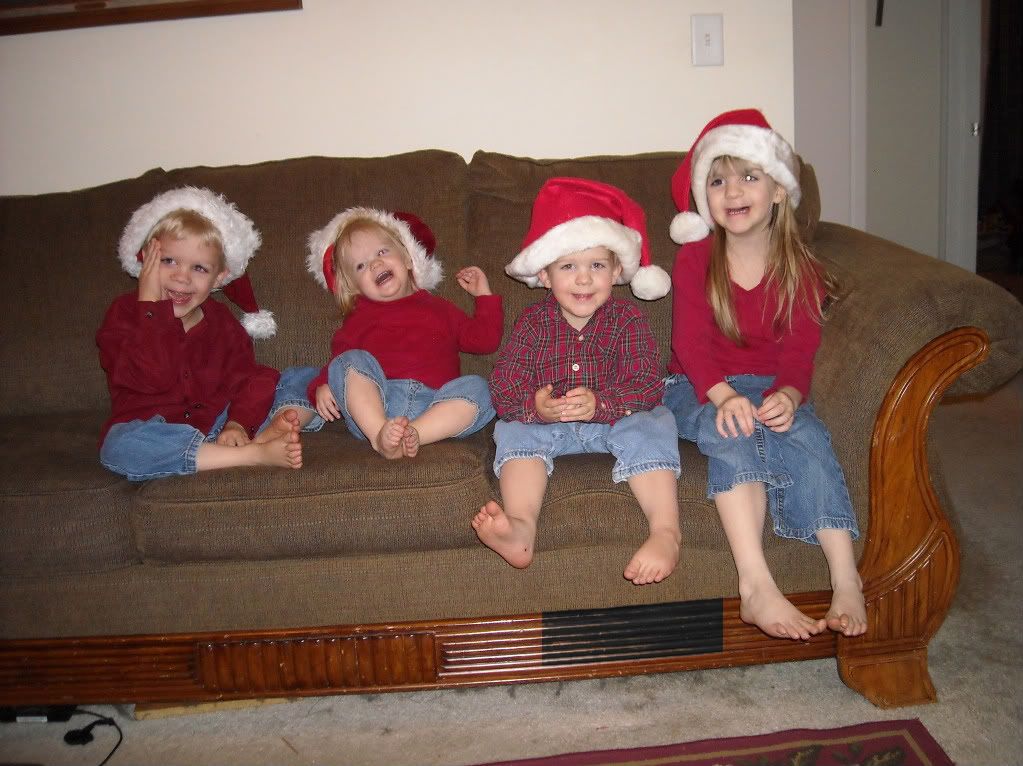 We love Christmas at our house! The entire month of December we listen to old fashioned Christmas Carols. (I mean the ones like:
The First Noel
,
Oh, Come All Ye Faithful
,
Hark! The Harold Angels Sing
, and even
The Little Drummer Boy
) we make and eat lots of yummy goodies, and we await the coming of the Christ Child in our own unique way. Around here, we love, love, LOVE tradition. (Well, 5 out of 6 of us do, the other one patiently humors us.) So we do the same things each year, but, each year, as the kids get older, I add things because it just simply gets easier to do crafts and things as they grow out of things like "Oh! Let's squeeze the glue bottle until nothing else comes out!!!!" or "I think it's much more fun to finger paint on my sister's face than on my paper!!!" or "Let's whine about the color of crayons I have; the way my brother isn't looking at me; or just because no one is taking my other whining seriously enough."
So, here are the things that we have done formerly:
We play with our
flannelgraph Nativity
We use our
Advent Calendar
A calendar that we draw, I found the idea
here
, but instead of using small objects, I give them a "calendar" which is actually a blank grid and they draw a picture of the item each day. It leaves us with a very cool keepsake. :)
These
candy canes
are always a favorite.
I like to provide a basket of "props", blankets, animals, etc. for them to act out the Nativity story and put on plays.
We always decorate cookies, of course.
And we hang 24 candy canes and eat (share) one every evening. This is a fun way to count down to the Special Day!
We do lots of coloring pages, because I have kids that absolutely live to color.
We pick an evening as soon after Thanksgiving as possible and we watch The Peanuts Special, while sipping hot chocolate and eating popcorn.
We always drive around and look at Christmas lights. We usually take popcorn and hot chocolate with us.
We have Christmas books and Christmas movies that the kids only read/watch during this time.
And, some new things I plan to do this year are:
Actually work on memorizing the Christmas Story.
Make
a verse a day chain
Make candy canes with pipe cleaners and pony beads
Color a
"Happy Birthday Jesus"
book
Make some presents for the kids to give away
Probably do some more stuff from
Hubbards Cupboard Christmas Activities List
What do you do while you are preparing for the celebration of Jesus' Advent?