So far, our break from school has been fun and relaxing. The kids are playing on
NORAD's Santa Tracking
site. They are also playing as much as I will let them on my new iPhone. Free educational apps rock! I even bought a Geography game for $.99! They are playing outside, although the allure of that kind of dimmed a bit when I confiscated the shovel the neighbor girl gave them.
There has been a lot of reading going on.
We made a
paper chain
, which I then could not bring myself to rip apart. It now hangs over the window and I keep forgetting to even read the Scriptures off of it. Maybe next year.
By the way, don't the boys' expressions say "Joy to the world"? Such festive attitudes we have around here!
This
Build a Christmas Tree
was a big hit. I printed off two of them so we only had half the fighting over whose turn it was. Our selection of dry erase markers is not that great. Black Christmas tree anyone?
We have also been playing with the felt Nativity, the teeny little glass Nativity I found last year (or the year before?) at the Dollar Tree, and the set of Christmas boxes that nest inside each other.
Our local garden gnome created his own measuring kit. See the
Master Ruler
? :) The dollar bills are there because someone told him a bill is approximately six inches. I don't know why the penny is there...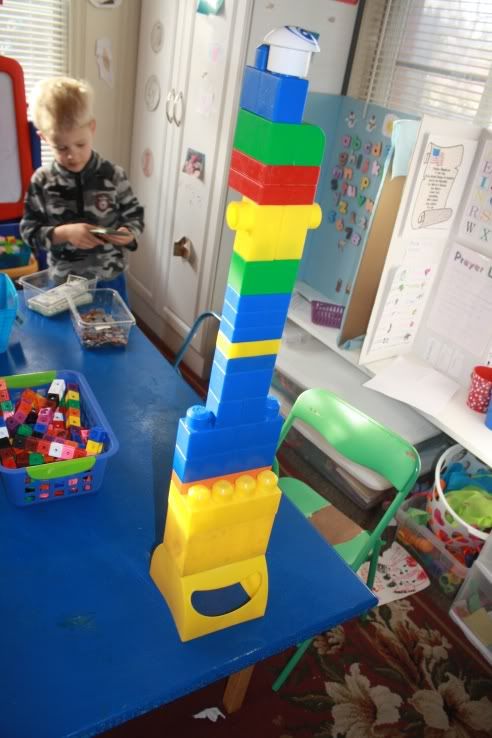 And the kid in the background made me this "award". I'm not sure what I did to earn it, but I accepted graciously and took its picture.
We are trucking along through
Advent
, reading the Story, coloring and drawing, and eating a candy cane every night. Not even an upset tummy kept us from that candy cane!
One of our favorite Holiday Activities so far is Christmas shopping! The kids drew each other's names in what we call "Secret Sibling". They also are shopping for some cousins and friend or two. Secrets abound in our house!
I am planning for next term and counting down the days until I can order our new curriculum! :)