I like classical music. As in, I enjoy listening to it. I don't love it and I have no "knack" for it and I know very little about it. This makes it hard for me to teach the kids to love it. I see it as a personal failing, but have few tools readily at hand to fix this problem.
The review item that we received in the mail a few weeks ago appeared to be such a tool. So I was pretty excited to open
Peter and the Wolf
from
Maestro Classics
and pop the CD into our player. I expected some resistance from my active, noisy crew, so I chose to play it in the evening, at a time when they are usually looking for entertainment. I gathered them around the table and gave them all a blank sheet of paper and the big box of crayons. It took us two sittings of listening and coloring, but they listened, if not raptly, then politely. They all colored while they listened, but Kaytie took it one step further. The first listening session, she drew how she thought about the music...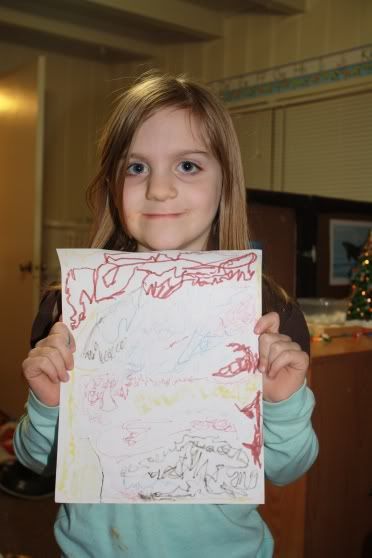 The second session, she drew a picture of the story...
After she did that, Daniel and Abbie did as well...
Abbie's
Daniel's
The CD came with a little booklet, full of information and games. We read the info and did the games together, in an oral format, to lessen the fighting over who got to do what. But it rounded out their listening experience a little. :)
I liked that we could listen to one track with narration, so the kids could get the idea that the music tells a story and the instruments are characters in that story, but then we could listen to another track with just the music so they could experience the full effect. Then there were other tracks that told the story behind the story. (I enjoyed those tracks, but the kids were not particularly interested) All in all, I think this would be a very worthy investment for homeschoolers, who, like me, are looking for ways to introduce classical music to busy, somewhat skeptical, kids.
Maestro Classics
has several other selections to choose from, including some classic stories and books. At that link, you can check out what they have to offer, purchase, or even just listen to samples of all their products.
The kids opinions are as follows:
Kaytie
: I liked it, although I thought the wolf's music kinda sounded proud at a few points. I liked the bird because it was high music and it sounded pretty. My favorite character, though, is Peter. I think other mommies should buy this for their kids because it is a good piece of music.
Nate
: It was weird because it took a very long time to listen to it all. I would not recommend it because children will be irritated. Basically, it just took too long.
(I feel the need to mention here that there was no complaints while listening, and he was grumpy when I asked his opinion.)
Daniel
: I thought that the wolf ate the duck. I liked the story, it was exciting! It was fun to listen to.
Abbie
: I didn't like the wolf part. I just liked the duck and the bird, but NOT the wolf. It was fun to listen to this story. Yes, I would recommend it to other mommies.
I also wanted to add that there are many free resources both online and at your library that you can use
with
this product to create an entire unit study on Peter and the Wolf. That is what we are doing,
in spite of Nate
. :)
To read what other crewmates think, go
here
.
This product was given to me free for the purpose of this review. All opinions are my own and my kids'.