For a lot of reasons, (we have a Bible program we love, we needed to review this during our vacation, my six year old needed his own thing) I chose to use the
Positive Action for Christ Bible Curriculum
with just my 2nd grade son, Nate. We received the
second grade level
, which is called Finding God's Promises and covers the life of Moses. We were sent the Teacher's Manual and Student workbook. The workbook is totally consumable, so you need one for each student. It is also full color, so it is pretty, and fun to use. I was concerned, at first, that it would be a lot of writing for him, since he is a young second-grader, and writing is not his thing, but it actually turned out to be just right, since a lot of it is "circle" or "place an x" or "write the number" or just a fill-in-the-blank.
The Teacher's Manual was extensive and is definitely required for this course. It lists the goals and objectives. It gives tips and suggestions. It has a black and white version of the workbook with the answers, which makes grading super easy! It has a complete lesson plan for each lesson: a script to follow, vocabulary words with easy definitions and a scripture verse, hymn and chorus that go with the lesson. I have heard a lot of moms say they don't like scripts, but I love them, even though I rarely follow them. I like having a "jumping off place" to figure out what I want to say, and I like knowing what point they are trying to make. It makes it easier for me to decide how to get that point across to my kids.
I like having the lesson all laid out. I liked having the memory verses and music already chosen and correlated with the lesson. I knew most of the hymns and choruses, (the words are in the back of the manual, but the music is not) and the few I didn't know, I was able to find by Googling. But what I liked most was the Weekly Lesson Plans. They had them laid out in three different options: 5-day week, 4-day week, and 3-day week. At the beginning of each week, I can decide how many days we have available for that week, and plan accordingly. It made lesson planning super easy!
My son also really enjoyed this course. The workbook is colorful, engaging and fun. He likes puzzles and games so the crosswords, scrambled words, and map labeling was right up his alley! The memory verses were the perfect challenge for him. He is not a singing on command kind of kid, so the hymns and choruses did not thrill him, but even so he had little problem learning them. The actual material was really a review for him, as he has studied this story both in school and at church before, but it was a great way to review, since we both had a lot of fun!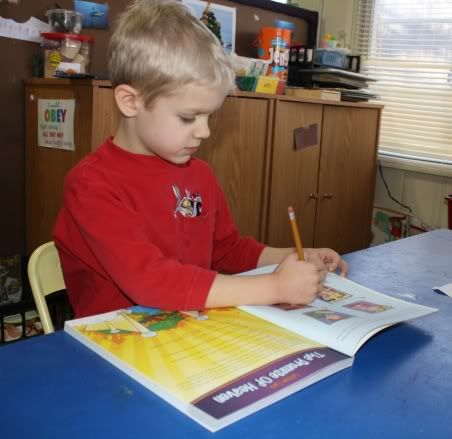 Positive Action Bible Curriculum
has a level for each grade from kindergarten to sixth grade, then levels to choose from in middle school and high school. You can find Second Grade
here
with a complete description, pricing for the Teacher's Manual, Student workbook, and music CD, samples for free downloading, and a place to order.
If you are looking for a fun, interesting, easy to teach, yet complete Bible Curriculum, you should definitely check this one out.
You can read what other Crew Members have to say about this product
here
.
As always, I received this product for free for the purposes of this review. All opinions expressed are my own.