When I was offered the chance to do a review for
CSN stores
, I was at first excited and then overwhelmed! There were so many things to choose from!
But I finally settled on the
cash register
.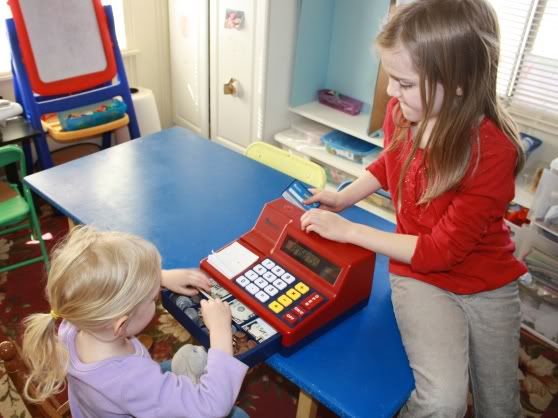 I chose it for it's potential educational value, but the kids haven't figured that out yet. They love to play with it, and Nate uses it as a giant calculator. There are so many things to love about it! First, it is sturdy and solid. It has large, easy-to-read (and to push) buttons that really work. It is solar powered, so no batteries are needed to work it. (Although batteries are needed for the sound effects) The sound effects are not loud or shrill, just little beeping noises. The solar powered panels are very good, it works even when it is in a dim room and there is a child's head between the panels and the only light source in the room.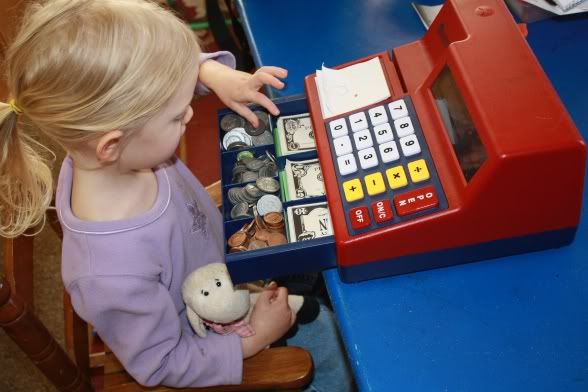 It came with money, (both coins and bills) a little notepad, and a credit card. There is even a little place to swipe the card. :) The money is standard sized, so all of our stash of play money fits into the drawers. It is light enough that they can carry it, but heavy enough that they don't choose to do so very often.
The kids have had tons of fun with this "toy" and I have capitalized on that interest to teach them about making change and the realistic cost of stuff they like.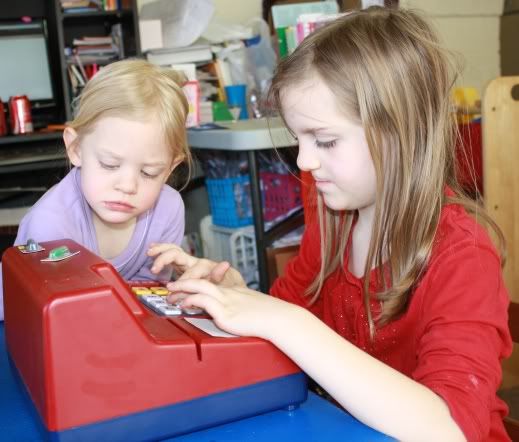 It was a pleasure to work with
CSN store
s. They are friendly, helpful, and we received our purchase in a timely manner.
This product was sent to us for free for the purpose of this review. My opinions are my own.