We love holidays around here. So even somewhat obscure days like St. Patrick's Day is a big deal to the kids. March 17th is an important day on their calender and they talk up beforehand with just as much enthusiasm as Christmas and their birthdays. Well, maybe not Christmas, but certainly as much as their birthdays. I believe that having special days and annual traditions build important connections and memories, so I am more than willing to have plans to entertain, enlighten, and amuse for every special day.
We started off with green milk in our cereal. Then the kids donned their green shirts, fun hats, and jeans. They spent some time leprechaun-hunting, even trying to get the dog to sniff one out for them. They would really love to get their hands on that pot of gold... although they really have no idea what they would spend it on if they got it. Since they couldn't find one, Kaytie finally made one.
First on our list every year is a photo shoot for Mommy. I always plan to get my cute pictures in BEFORE they can do any damage to their holiday attire. We have individuals...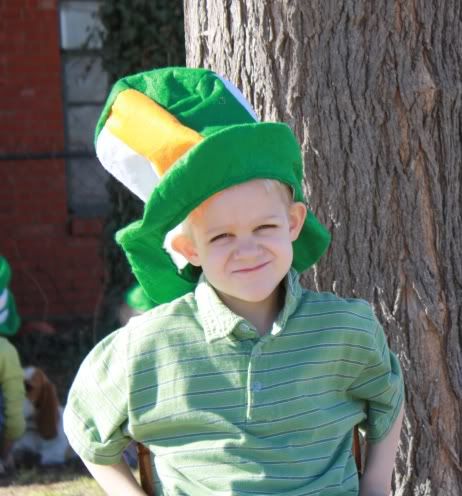 and group pictures. It's incredibly hard to get a great group picture.
We wanted to get some with Sofie, too.
Sofie had a different opinion.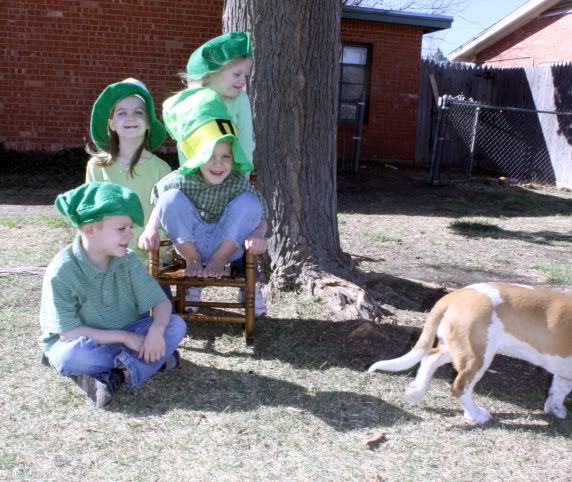 After the posed pictures, the kids got out their bikes and had a parade.
Which, apparently, was too big for the yard, so we had to take it around the block.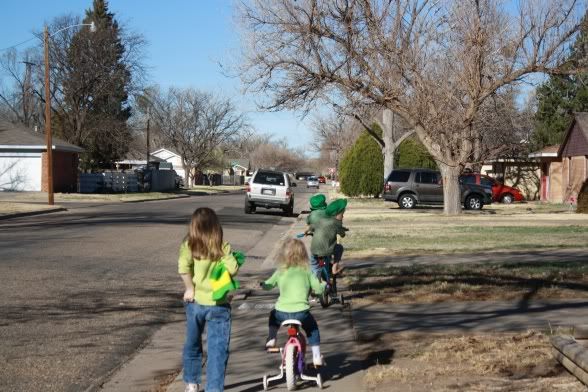 Then we had some dancing to Irish music.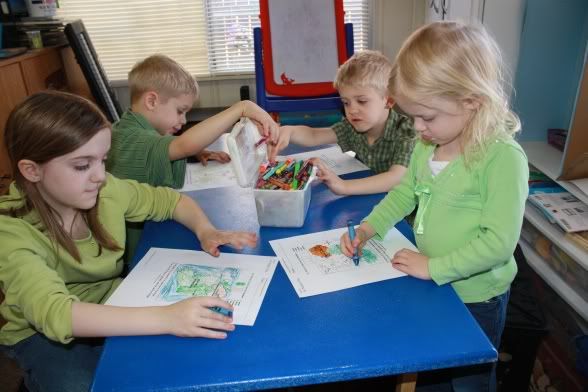 and hunted for gold coins. I didn't think they would ever find the three in this picture. Can you find them?
Then they counted their coins and I was fiendishly cunning. :) First, the one with the most got a piece of candy for a prize. Then, the one with the least got a piece. Whilst the girls were claiming these prizes, I cast my eye over the boys' cups of coins and announced the last two prizes... whoever had a coin with an 8 on it (some of the coins had numbers because they were from another game last year) which was Nate, and whoever had no numbers at all, which, surprise, surprise, was only Daniel! ;)
Lunch was macaroni and cheese (orange), pears and cottage cheese (white) on green plates with green forks. They chose lemonade to drink because it was yellow and made them think of gold!
Then the girls got out the green playdough and the shamrock cookie cutter,
while the boys set out a teeny tiny cup of milk to lure and trap a leprechaun. They set it by a collection of green stuff they were sure a leprechaun would like. Although the milk mysteriously disappeared, no leprechaun was caught, or even seen. Sneaky little guy!
We wound up the day with some books to read, a run through the sprinkler, and ice-cream sandwiches. Oh, and green pancakes for supper.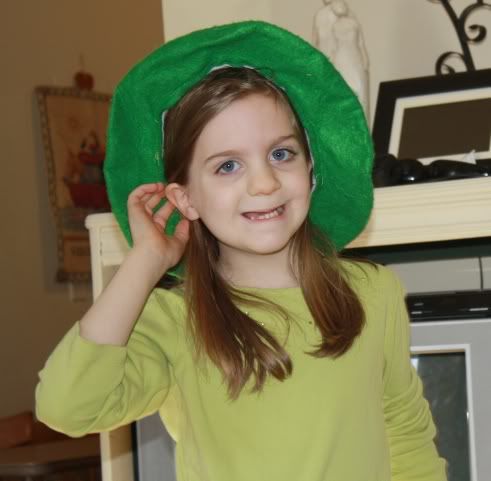 We hope your St. Patrick's Day was as fun as ours!!! Although we have serious doubts that that is even remotely possible.