When we found out we would be getting
Who is God? And Can I Really Know Him?
for review, I was extremely happy, excited and delighted. Thrilled, even. Because I love
Apologia
and had already been plotting to get this book for next year.
Who Is God
? is the first in a
series of books
that teaches and explores Biblical Worldview of God and Truth, it is "designed to help children learn to discern the truth by using God's Word as a lens through which to view the world around them -- to see everything the way God sees it."
(quote from back of book)
It discusses questions such as:
Where am I building my life? What is God like? If God created the world, why isn't it perfect? Why did God create me? Is Jesus the only way to God?
with Scripture, of course, being the answer key.
This beautiful, hardcover book, is divided into 10 lessons. Each lesson contains a story featuring kids learning about God and ministering to one another so that the readers see a worldview in action. There are thought provoking questions, Scripture verses to memorize, highlighted Godly character traits, prayers, vocabulary words, and notebooking ideas in every lesson. A lesson plan at the beginning of the book outlines an easy way to do a lesson every two weeks. In addition, there is a password in the book that gives you access to teacher helps and printables to go along with the book. This book (or series, actually) is geared for kids ages 6-14.
I am using this book with my 7 and 8 year olds. All three of us are loving it. Daily, I read until the kids start getting restless, then we discuss, work on memory verses, and draw pictures to answer the notebooking questions. I love how it is easy for them to understand, yet challenges them at the same time. I love the way it backs everything with Scripture. Mostly I love that it is "deep", yet very, very practical. The kids remember what we read about and bring it up, later, when they see the application in real life. For example, the book talks about how colored lenses in your glasses can alter the way you see the world. You really do see everything as pink, even though, in truth, it is not. Later, we were talking about how someone was wrong about an issue, and Nate commented that the person in question was wearing colored glasses. :)
Since my kids are on the young end of the age-range, we are going more slowly and delving not quite as deeply as we could into this book. I am not following the lesson plan from the front of the book, so it is taking us longer than 20 weeks to get through it. Also, like I mentioned before, instead of writing out answers to the notebooking questions, I have them just draw a picture.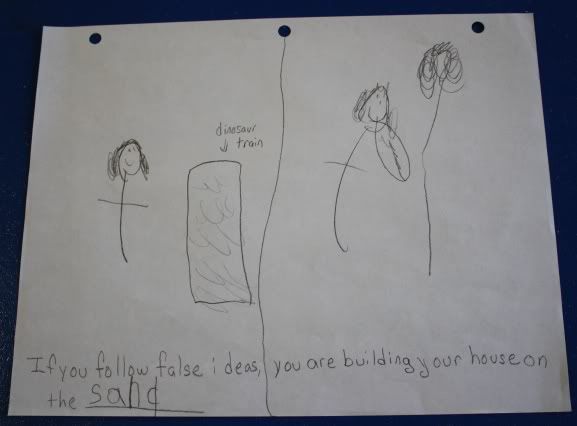 I love a curriculum I can tweak!
Kaytie says: I really like
Who is God?
because it teaches me about God. It has a story for the lesson that we learn about. And I think it will teach me more than I really know about God and things around the world that are somehow related with God. It will help me with being a missionary. My favorite part is the stories and when we write down the answers to the questions. Although I just draw pictures instead of writing them down.
Nate says: I like the brownies.* I think it is good because it has lots of facts and stuff about God. I have learned to put God first, and not money.
Note that he had no complaints, so he really likes it. :)
*an activity in the first lesson.
When we finish this book, I will be buying and using the next one, which is the highest recommendation I could give it. I also plan on re-using it in a few years when all four kids are older.
You can read what other TOS Crew members have to say
here
. You can check out pricing, see the table of contents, read a sample, and buy this product
here
.
I was sent a copy of Who Is God? And Can I Really Know Him? for free for the purpose of this review. My opinion is entirely my own. The kids opinions are their own, I did not tell them what to say, although I did have to ask lots of questions to get the opinion out of them.