My two older kids take piano lessons, which sometimes stirs up a little bit of jealousy in the hearts of the younger two, so when we were asked to review
Kinderbach
, I reserved it for Daniel and Abbie's use.
Kinderbach
is a program designed to teach music to young children using a piano (or keyboard). Their stated goal is that kids have fun while learning music. You can watch their
video
to learn all about it. The 240 lessons are divided into 6 Levels (with a 7th Level scheduled to come out in August). There are four lessons per week, but my kids usually watched all four lessons in a sitting. I struggled against that in the beginning, but eventually gave up and let them go at their own pace.
Kinderbach is not your typical learn-to-play-the-piano type curriculum. Since it is targeted for young children (ages 3-7), it has a very slow pace and is interactive and hands-on with engaging videos, pictures to color while they watch, and games to play. The coloring pages and the cards for the games are downloads that you print off yourself as needed.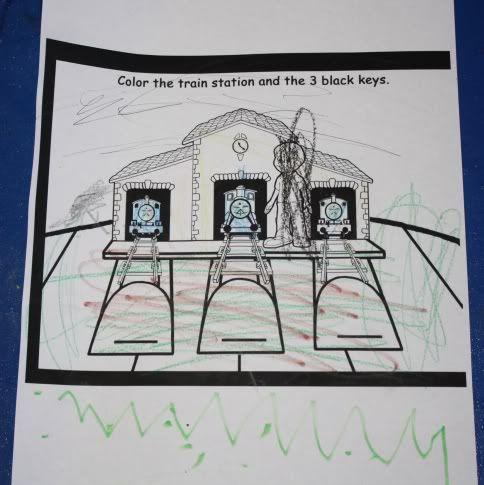 Daniel and Abbie enjoyed this thoroughly. Kaytie often joined them just for the fun of it, so it obviously attracts and engages kids at both ends of its targeted age range. We have finished the first level, and they have been introduced to rhythm, loud and soft, low and high, reading quarter notes, finger numbering and more. I don't have any music prodigies on my hands from this curriculum, but I believe they have had a wonderful introduction to music that I wish my older two had had. At this age, the best kind of learning is when they are having so much fun they don't even know they are learning! I also liked that I didn't have to put a lot of forethought into lesson prep. The only thing I had to do was pass out pencils (for rhythm sticks) and print out a coloring page or two.
The biggest con to this program was that the coloring sheets tended to be ink-heavy. The thick, black border around the above picture isn't exactly necessary, in my opinion, and I cringed as I printed out three copies.
The kids opinions:
Daniel:
It's fun. Sometimes it has trains in it. I like it. I learned about music and it's fun. It makes me laugh. My favorite part is the rhythm sticks.
Abbie:
It's nice and I love it. Because I love the girl that helps the kids. (I think she means the teacher) My favorite part is that I can draw!
Kaytie:
It's my favorite thing we have gotten so far. I really enjoyed it. Nate and I can choose to watch if we want to, and I mostly want to. My favorite part is when we get pencils and tap them in time to the music and call them rhythm sticks.
Kinderbach can be purchased for a
classroom
or for
home use
and there are several options for buying it to use at home. Or you can
try it out for free
!
You can also see what other crew members thought by clicking
here
.
I received a trial subscription to Kinderbach online in return for a fair review. Our opinions are honest and completely my own.