I still want to do weekly review posts, but I just can't seem to make myself type out
all
that we do every week. So I'm thinking about just doing some highlighting kind of posts... This week, I'm going to talk about the changes we made when we started back to school this week.
Mostly, our changes were schedule related. See our schedule in the sidebar? It is out-of-date and obsolete. It has worked well for us, but I have decided a few changes will serve us better now that we are in a new stage of life. The splitting up of work into morning and afternoon is a holdover from when Daniel and Abbie were still "the babies" and napped in the afternoons. Kaytie and Nate would get up earlier than they did (everybody always has and still does "rest" in the afternoons), and we would do the "hard work" while we weren't being interrupted. I've kept that schedule all this time because I felt they needed a break in their school day. Only now, I don't think they do.
So we are starting school right after breakfast and, on good days, ending about an hour before lunch. (On bad days, we have leftover work to do in the afternoons, but never more than 45 minutes worth.)
I have several reasons for shifting our schedule. First, I hate having school drag on all day long. Second, by starting right away, the kids have 15 minutes to do their chores, which means they
have
to do them promptly instead of dragging them out for hours. Third, Kaytie and Nate had fallen into the bad habit of dawdling over their morning school. I realized they had no real motivation to be quick about it. So I pointed out that if they get all their work finished in the morning, they will have the entire afternoon to themselves! That was motivation. Only one day this week did we run over into the afternoon, and that was finished up quickly.
To be quite honest, we do still do a little bit of afternoon school, but as that is only reading our science book, and practicing our handwriting, it hardly counts as school for any of us.
The next change is that Daniel and Abbie no longer have the same boxes. The older they get the more their skill levels diverge. I'm weary of pushing her/holding him back/putting different things in the same box and trying not to confuse anybody. So they each have three boxes and then a math box and a box with their Bible sheet in it (on the days that we do a Bible sheet). They use the same math book so it made sense to only have one box for it. Kevin also has three boxes, two with "work with me" items and one that he can do alone. At least, that was the plan, but I only had room on the shelf for two boxes, so his "work with me" items are in one box and his alone item is in the other. It works. Gracie's shelf remained the same.
And finally, since we are starting earlier, and the big kids are motivated to do their "independent" work alone, I'm planning a section of time to work solely with the Kinder and PreKinders on science/art. Daniel and Abbie helped me chose themes (space, insects, pets and weather) and I quickly compiled a list of together projects (painting, cooking, science experiments, crafting) as well as some games and stuff that I can drop in their boxes. That went really super well this week. I worked hard to ONLY plan the stuff that I would actually do. Nothing elaborate or incredibly messy. Just a simple project every day. And it worked. :)
Kaytie and Nate worked on the numbers they write backwards. They made them with playdough, do-a-dot markers, glass pebbles, and their fingers. I moved this box to right before their math box, since math is when they write the most numbers.
The science/art theme this week (and for the next few weeks) was space. We read books:
The Moon by Daisy Allyn
Hedgie Blasts Off by Jan Brett
The Sun by Melanie Chrismer
Moongame by Frank Asch
They water painted a picture of outer space.
They dot painted an astronaut.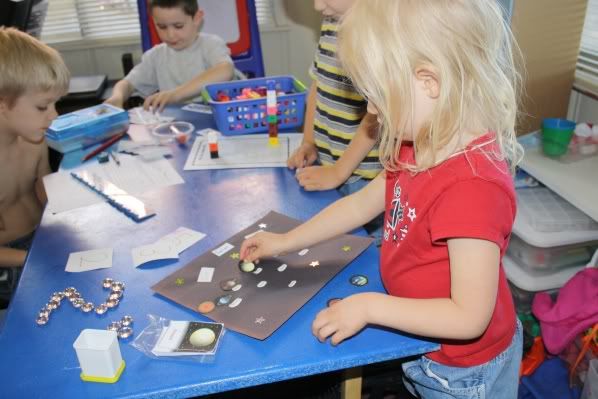 Daniel and Abbie did this puzzle that I made for Kaytie and Nate years ago. They put the little planets by the correct labels, then they check using the cards. Kaytie and Nate could read when I first gave them this puzzle, so it was entirely self-check-able. However, Daniel and Abbie need me to make sure the cards are in the correct order before they can check. We are working on reading the labels, but they aren't quite confident, yet.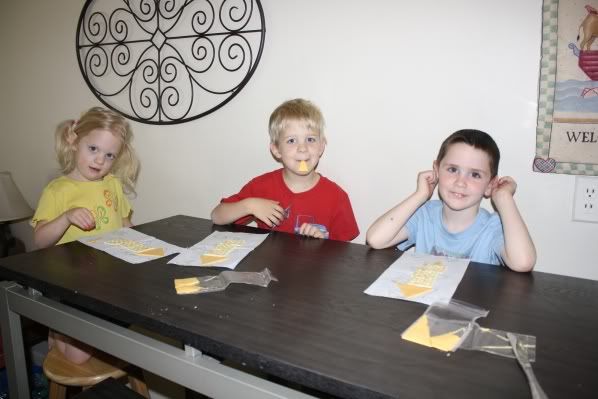 We made rocket snacks with cheese slices and crackers. They loved this, despite it's lack of nutritional value.
I used glow-in-the-dark stars left over from a birthday party for them to practice counting. Daniel counted backwards. (He did it easily, so I'm checking that off his math goals list!) Abbie drew a number card from the stack and then counted out the correct number of stars to match. For Kevin, I put out the number cards 1, 2, and 3, and then showed him one, two, or three stars. He would count the stars and then chose the correct number card. He did really well with the first three numbers, so I added 4 and 5 to the mix. But that seemed to blow his mind.
They also sorted rockets by size, drew a picture of outer space, wrote their names on small squares of paper to make rockets, and played a build-the-rocket game.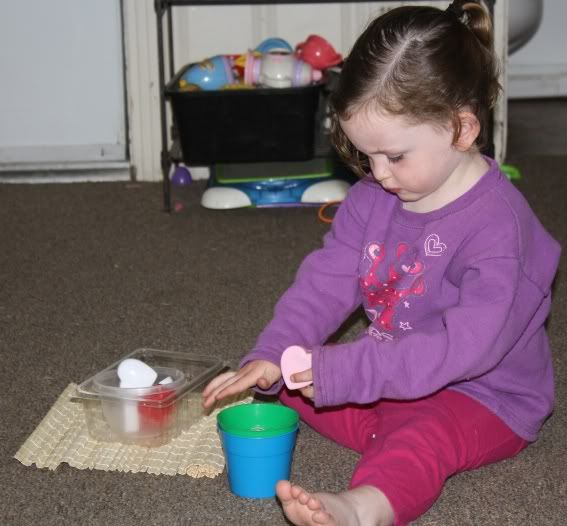 Gracie's shelf held a three piece puzzle, a bucket of "stuff" to explore, and this: two cups, six heart boxes, and six bears (three green and three blue) inside the boxes. This was her favorite item of the week.
Daniel's favorite of the week.
This is another old work that we still use... two tiny trucks and a bowl of popcorn.
The highlight of the week happened on Friday...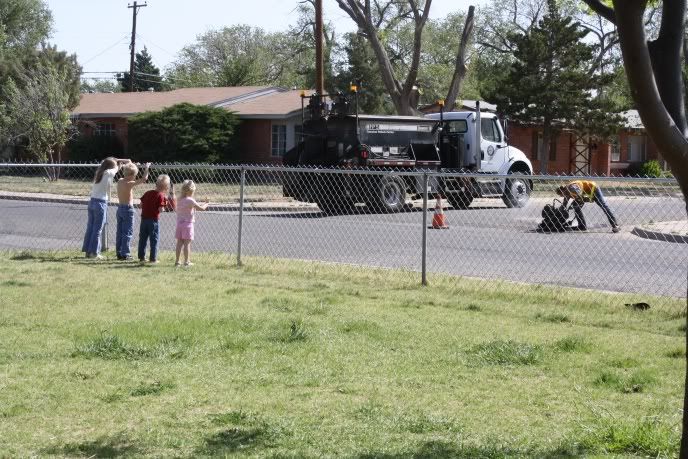 They were so excited to get to watch these guys work on the road. I loved how they lined up by size. :)