Usually, when I write a review for the TOS Review Crew, the more I like the product the easier it is to write the review. However, writing this review for the book
How to Have a HEART for Your Kids
is going to be hard even though I LOVED it!. When I received this book a few weeks ago, it was exactly what I needed to read. I devoured it in a couple of days and the words were just what I needed to hear. It was so totally a God -thing that it will be hard for me to explain why I think this book is a must-read for everyone at any time and not just for me at that time. This is a book written to homeschooling moms, but it touched on so many more aspects of my life than just homeschooling and being a mom. It was a book that spoke to my worldview: my view of God, myself, my family, and my community.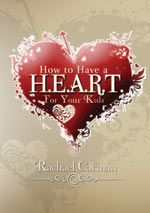 How to Have a HEART for Your Kids
was written by Rachel Carmen from a presentation she gave at a homeschool conference. It is based on the acronym HEART, which stands for
Have a heart for the things of God
Teach them the truth
and which also just happen to be the chapter titles of the book, with an introduction and an epilogue.
I don't know how to describe this book, except to say that it is her story... her heart, written directly to the hearts of her readers. She has an easy, conversational style, but the content is rich with inspiration to draw closer to the heart of God, and, by doing so, draw your kids closer to Him, as well.
It is hard for me to do an objective review, because, as I read it, I felt that she was talking directly to me. Mom to Mom. Basically, she tells the story of how she and her husband came to homeschooling... how God led them every step of the way, and how He continues to lead them. She also urges, inspires, and gives practical ideas for the reader to allow God to lead in your homeschool, your kids, and your daily life.
Is it enough for me to say that I loved this book? That I needed this book? That I think you will too?
You don't have to take my word for it, though, you can read what other Crew members had to say by clicking
here
. Even better, you can read a sample chapter
here
.
You can purchase a beautiful, hardback copy of
How to Have a HEART for Your Kids
at Apologia for $13.

This book was sent to me free for the purposes of this review. My opinions are honest and totally my own.