After having taught four kids preschool at home, I was facing a new situation: homeschooling a preschool child who is not with me 24 hours a day and who will be going to public school for kindergarten. I felt the need to have a little more structure to his schooling, and yet, I also have four other kids to teach. When I taught the older kids, I put a lot of work into themes: fun, creative ideas with a mix of skills and topics of discussion. I had to pull from a lot of different places to get such a curriculum, and that took up a lot of planning time. I enjoy planning, but with five kids (plus a toddler) and four different classes, time is at a premium this year!
So I was thrilled to find out that I was on the list to receive
Before Five in a Row
to review for the TOS Crew! Although I had heard a lot about this curriculum, I had never actually looked at it. It consists of a Teacher's Guide: a slim, blue, paperback book, with the list of 24 story books and ideas to explore them with your child.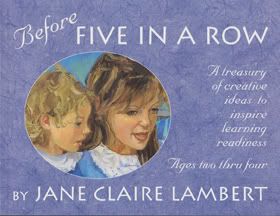 Before Five in a Row
is aimed at children ages 2 to 4 years old. Therefore, it is not a strict, rigid, formulaic curriculum. There are no hard and fast rules of what to do when. It is a gentle curriculum, full of ideas for fun crafts, simple projects, and, mostly, topics to discuss with your child that flow directly out of the book that you read. The premise is simple: choose a book from the list, read it every day five days in a row (hence, the name of the curriculum) and then each day do whatever activities/ discuss whatever topics are given in the Teacher's Guide. You can do as much or as little as you and your child desire.
This is how it worked for us:
I used
BFIAR
with four kids: a 2 year old, two 4 year olds (one fairly new and one nearly five), and a 5 year old.
I knew at once that we would be using this all year long, so I choose books in a particular order for reasons of my own. The first step was to see which books I already owned (a couple) or could get for free from the library. I was pleasantly surprised to see that the library could get me almost all of the books on the list! I then looked online for extras, again, for reasons of my own.
BFIAR
is totally and completely self contained, and there is no
need
for anything extra. I happened to want extra, and found a lot of ideas.
We started with
Angus Lost
and read it every morning. I only have the younger kids four days a week, so we tweeked this into a four day thing. (Good thing four and five both start with "f", huh? lol) I was quite surprised and pleased at how much they liked reading the same book over and over. By the end of the week, they loved Angus and were cheering for him and sympathizing him as they eagerly helped me read the book. It was fun. :)
Each day, I chose an idea from the Teacher's Guide to do. Angus ideas were mostly topics of discussion: for example, their favorite was when we talked about how Angus follows the milk man. We talked about where milk comes from (not just cows, but goats as well) and how these days, we buy it from the store instead of having it delivered.
Another day, we talked about what to do if they ever get lost... practical ideas of finding a safe adult to tell (don't just blurt out to perfect strangers that you are lost!) as well as a reminder that God is always with us and our first step should be a prayer to calm ourselves down and help us to think clearly.
We also talked about day and night: the differences; how they could tell which was which in the pictures; what made day and night, and so forth.
The topics are labeled: science, language arts, literature, art, emotions, music, etc. and vary depending on the topics that flow naturally from each book. However, each book has a short summary (providing a quick idea of what the book is about if you don't yet have the book! This helped me choose which books to do first.) a Bible section, and at least five other ideas so you can do something new every day. Most of the ideas are simple and easy enough that you could do more than one (IF you want to do them all) without overwhelming you or your child. A lot of them are topics that you can later point out as you go through the day.
"
Remember when we talked about silhouettes? See your shadow on the wall? Does your shadow look like Angus' shadow? How is it different?"
"Here is your glass of milk. Do you remember where milk comes from?"
Before Five in a Row
is an awesome curriculum for a young child because it is really just about gently, easily, training them in habits of attention and love of learning.
In addition to the book guides, there is a second section of the book called Parent's Treasure of Creative Ideas for Learning Readiness. This is a cool resource of ideas of fun things to do with your small child to develop large motor skills, small motor skills, reading readiness, and art.
After using
BFIAR
for a few weeks, I can confidently say that we love this curriculum and only wish I had "found" it sooner! If that is not enough for you, you can read other TOS Crew Member Reviews
here
.

I received this product free of charge in exchange for this review. All opinions are honest and are my own.