Our first week back at school was awesome. The kids had a blast and learned a lot. I am exhausted. Which is why this post is so incredibly late. I have so many things to do that I feel like I am getting nothing done!
The younger crowd, Daniel, Abbie, Kevin, and Gracie are doing Before Five in a Row this year. I will be posting a review of this soon... This week, we "rowed" Angus Lost. I think my BFIAR lessons deserve a post of their own, but really quickly, the highlights: Kevin loves dogs, so he enjoyed this "week of the dog". He worked on positional words, counting, 1 to 1 correspondence, the letter "L", colors and sizes. He got to color, use bingo markers, do puzzles, play games, and use scissors. They made dog headbands, and I fed them a special snack of "dog food" (coco puff cereal) and "chew bones" (fruit roll ups).
Daniel and Abbie worked with pattern blocks, puzzles, and graphs, and cutting out squares, circles, rectangles and triangles.
Abbie is doing Shiller math, and she worked on directions, opposites, and the values of pennies, dimes, and nickels. She knows the names of these coins and can ID them quite well. She is also pretty good at remembering how much they are worth. This is the fun part of having several kids. I remember how agonizing it was to teach Kaytie and Nate about money and how they actually still struggle a bit. I used to think it was my fault, but since Daniel and Abbie seemingly picked it up through osmosis (they didn't learn from Kaytie and Nate because THEY still don't "get" it!) I am beginning to see that it is just one of those things that are easier for some people than for others.
Daniel started Math U See Alpha and he is less than impressed. He wants to go back to doing "real", "fun" math aka: Shiller. I'm hoping he will be more interested as the lessons get a little bit harder for him.
They also started grammar using First Language Lessons. I find myself being just as annoyed and the kids being just as bored as when I did this with Kaytie and Nate. By the third day I was already forcing myself to pick up the book. I don't know how long it will last...
Kaytie and Nate are learning how to multiply two and three digit numbers. They did a little review in perimeter and area. They learned about all sorts of different adjectives, reviewed some spelling words, discussed homophones, synonyms and antonyms, added to their Latin vocabulary, and started memorizing Psalm One.
But the fun that we had was in Science, History, and Geography.
In Science, we started our study of Human Anatomy by a quick review of the history of science. We laughed, we gave narrations, and we tried to change hard to pronounce names... it was great! We also mummified an apple.
In History, we started the Middle Ages off with the Celts and the Fall of the Roman Empire. This necessitated a brief transformation into Celtic Warriors.
We made our own battle axes, then were ready to fight.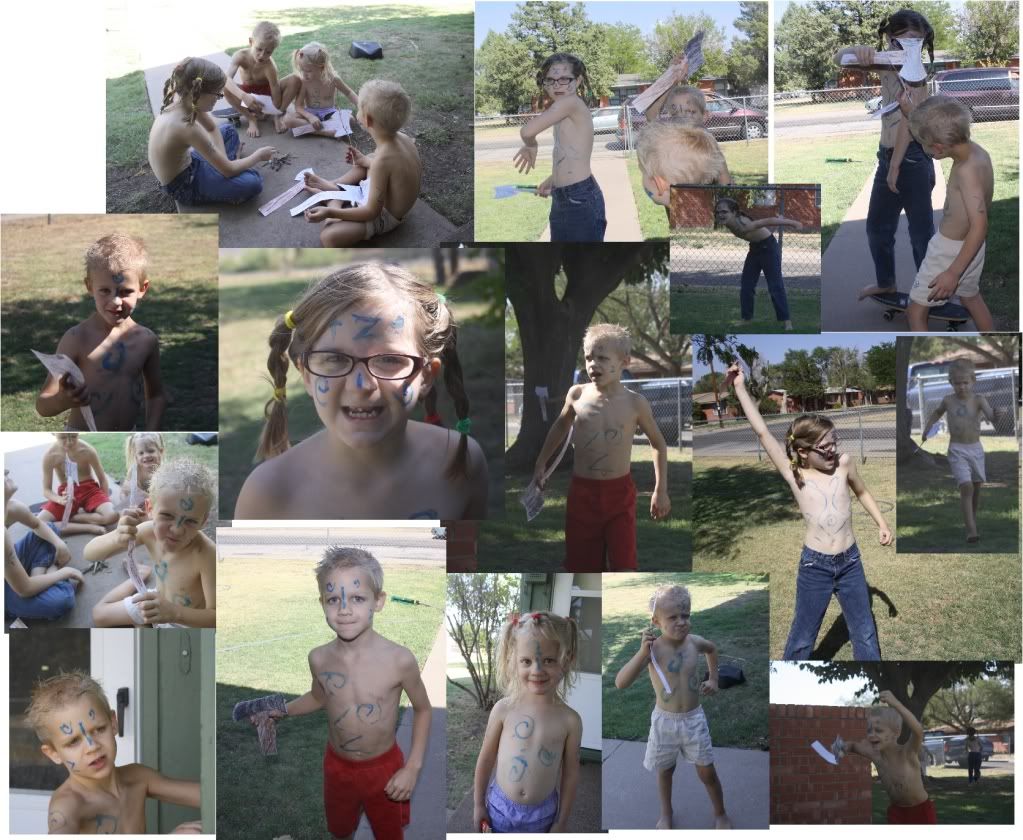 In Geography, we "traveled" to Egypt, and had a BLAST. The highlight of the "trip", of course, was cooking an Egyptian meal on Friday night. We had shish kabobs and biram ruz. Everybody liked it, even the pickiest eater in the house said it would be a good thing to have again sometime. :)
For extra-curricular activities, the girls started Keepers of the Faith, and the boys joined a Lego Club. Great big plus for Mom is that both groups are at the same time in the same place!