One of the hardest jobs I have ever had is being a mom. The only job that is harder is being a homeschool teacher. Don't get me wrong, I love what I do, and it is very rewarding, but sometimes, no, most times it is so hard to know how to be a good parent... there are so many decisions, so many questions of how do I handle this behavior? How do we train, disciple, encourage? How do we raise loving, Godly, grace-filled men and women who are willing to follow where ever He leads?
So it was such a blessing to receive a copy of
Educating the WholeHearted Child by Clay and Sally Clarkson
from Apologia to review for the TOS Crew. I didn't know much about the Clarksons before receiving this book. I had heard them speak once, but that was about it. I can tell you now, though, that their heart is for homeschooling families. Their love for God and their commitment to strong families are very evident throughout this book.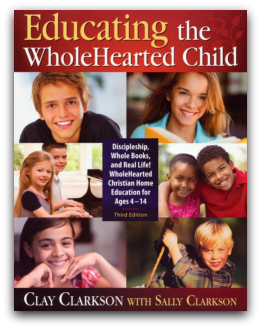 Educating the WholeHearted Child
is an enormous book, and I have to admit that I have not read all the way through it. It isn't an "easy read". It is more along the lines of a book that you read slowly, mulling over the information, highlighting as you go. Then you re-read it. It is full, full,
full
of a wealth of encouragement, inspiration, instruction, and just practical ideas taken straight from Scripture on how to disciple your children for the Lord.
I'm not good at book reviews. I am not the type to share with you an overview, hitting all the highlights and main topics in a book. I can only tell you that this book has the stated goal of "writing about homeschooling by the Book and the challenge to live by faith by the biblical design, principles, and vision of a wholehearted Christian home." and that going by what I have read, it does just that. It has given me practical, Biblical tools to use to not just be a "good mom", not just to raise and educate successful kids, but to disciple my kids into a true relationship with their Father. I can only tell you that I am thoroughly enjoying this book. That I would strongly recommend it not only to new homeschooling parents, but also to "middle-aged" parents like me, and "old" experienced parents as well! :)

A copy of this product was sent to me free for the purpose of this review. All opinions are my own. I am not obligated to give a positive review, just an honest one.