We were asked to review this book,
The Person I Marry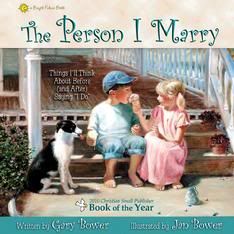 It is a beautifully illustrated book, written by Gary Bower and produced by Bower books, that details all the desirable traits of a future spouse. It is written from a child's point of view, and all the illustrations are adorable drawings of children. It explains that riches, hair color and other externals are not what to look for in a desirable spouse, but rather, such traits as faithfulness, kindness, perseverance, generosity, patience, and a sense of humor, just to name to a few...
We were not sent a copy of the book, but a link to view it online, so I gathered the children and the laptop onto the couch and we read it. After the reading, I attempted a few minutes of discussion. The boys were politely interested but disappeared as quickly as they could. The girls were a little more interested, but not really engaged. I only managed to chat for a few minutes before they were off as well.
I liked this book because I know how important it is to choose your marriage partner wisely. I want that concept to be a part of their worldview long before they are ever interested in the opposite gender. And I think this book helps open up that conversation in an easy and painless way. My kids are all young, but I think this book would read well across the ages even into the upper teenage years. Plus, there are all the beautiful drawings to enjoy!
For the experiences and reviews of other Crew members, click
here
.

We were sent an e-version of this book for free for the purpose of this review. All opinions are our own.