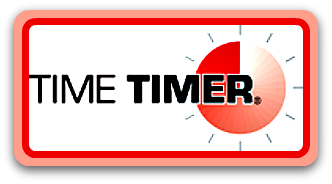 I have four children who are very close in age. Their interests are very similar, This means that we are always taking turns for everything. And since they seem to think that they each deserve an equal turn, we happen to use timers A LOT around here. So I jumped on the opportunity to review a timer from
Time Timer
. We received one of the
3" timers
(they also come in 8" and 12", watches, software, apps, and even puzzles!), which is the perfect size to carry, if needed, in my purse,
or hide it from the kids when not in legitimate use
. The timer requires, but does not come with, a AA battery which was very easy to install. The face of the timer has a clear cover for protection that flips open and doubles as a stand for when the timer is in use. The timer can be set for any amount of time from a few seconds (that's my kids for you!) to an hour.
The cool thing about the timer is that it is very easy to SEE how much time is remaining. This (almost, they are kids after all) eliminates the question, "How much longer till
my
turn?" I loved that the time is set and reset with the touch of a finger, lowering the possibility that the kids will break it when they set it.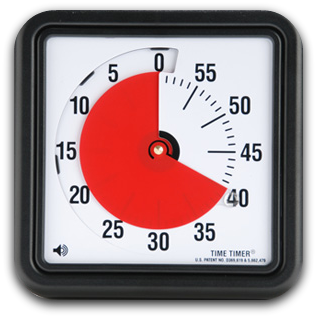 The drawback to the timer is that when the time runs out there is only a very quiet "beep beep" that you almost have to be listening for to hear. You definitely have to be close to it. This means if a kid's turn is up, I have to be in the room to know about it. I prefer loud alarms so that everyone in the house is aware that it is the next kid's turn to work or play. Although, for out-in-public timing, this is actually kind of nice. I imagine that the people sitting next to us in the doctor's office appreciate it, at least!
All in all, we enjoy this little timer and are happy to have it.
To read what other Crew Members think check out the
Homeschool Crew blog
.

I received this product free of charge for the purpose of this review. My opinions are my own.