If you are a regular reader of this blog, you know two things about us: we love games and we are not that fond of math. In the past, we have used many and various types of games to teach, illustrate, and pound into our heads different math concepts.
Fractazmic
, from
I See Card
s, is a game intended for just such a purpose. This game consists of a pack of 60 cards and an instruction sheet. The instructions seemed easy enough, and I gathered the children up to play. The idea is that each card is a fraction and you combine the fractions to make a whole. Each whole is a "hand" and the goal of the game is to get the most "hands".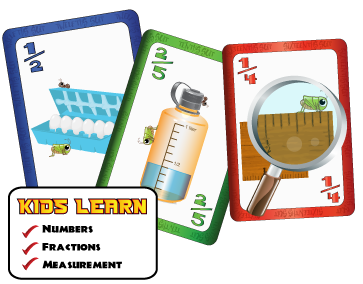 I really, honestly, think that this game would be fun as a review of fractions. But for us, this was a difficult game to play. None of the kids have any real experience in fractions, and certainly not in adding them. We managed to play a few games, but I wound up doing ALL of the work as they took turns showing me their hands and I figured out if they could make a whole or not. I even made a cheat-sheet/poster and still did all of the work.
However, if your child is ready for fractions, is learning fractions, struggling with fractions, loves fractions, or even needs a review of fractions, I would heartily recommend
Fractazmic
. I know that I learned a lot from playing, even if the kids did not! I am holding on to this game for the future and I know that we will eventually get a lot of use out of it!
The cards are brightly colored and sturdy and appear able to stand up to plenty of play. The pictures are cute, and are helpful for figuring out if you have a whole or not. The only negative I have is that the instruction sheet was a little hard to follow. I am only 90% sure that we were playing strictly by the intended rules. However, the rules we came up with worked out just fine, so it's all good. :)
I See Cards
has other math games available as well. I have my eye on a couple of them for our schoolroom.
For other Crew Member's opinions and experiences, click
here
.

I was given this game for free for the purpose of this review. All opinions expressed are honest and my own.