We were sent
REAL Homeschool Spanish
to review a few weeks ago. This has proven to be a difficult review for me to wrap my head around, so, instead of my usual informal style, I'm going to tell you about the program, first, then a quick pro and con of personal opinion. Otherwise, I'm afraid I'll leave something out. There is just a lot to this program!
First, we received a download of a book, a daily curriculum guide, an activity book, a book with answers to the activity book, and audio files. These were all PDFs. The book is your typical foreign language textbook, with vocabulary lists, conversation suggestions, phrases, and ideas on how to present the material. The activity guide is worksheets that go along with the curriculum to give older kids more experience with the language. The audio files are the vocabulary spoken aloud. The daily curriculum guide is all of the vocabulary, ideas (and more) laid out in a weekly plan that you can follow, or just use as a jumping off place.
I dislike printing unless I absolutely have to. The kids and I can read everything off of the computer, so I don't print unless it is something they need to write on. However, this curriculum was
very
difficult to figure out that way. I highly recommend figuring the cost of printing it off into the price when you buy it and just plan on printing it. The book comes in color and black and white for cheaper printing. (A very thoughtful touch, I thought.)
So here is what we did: I plan our schoolwork on a day by day basis, so I went through the curriculum guide, pulled out everything I wanted to do with the kids and plugged it into our spreadsheet. This took me maybe an hour. The curriculum guide was FULL of good ideas and suggestions most of which sparked other ideas I could use. This guide was my favorite part of the whole program. Again, it is already laid out in a weekly planner format, so you could easily just pick it up and run with it.
We listen to the audio files as we are learning the new vocabulary to ensure that we are saying the words correctly.
I print off the activity sheets and have my 7 and 9 year olds fill them out. They are way over the heads of my 5 and 6 year olds.
The main push of the program is to use the vocabulary often through out the day. So we have "Spanish class", yes, but I try to remember to speak Spanish to the kids as we are just living life. The program starts with greetings, numbers, and colors (that is as far as we have gotten) which is something I am already used to weaving into conversation after years of preschoolers running through the house.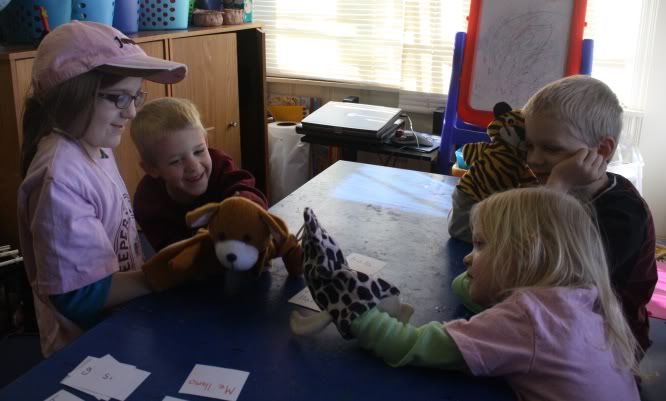 What I like about this program is:
the tons of ideas in the Curriculum Guide
the push to use the language in "real life" and that the vocabulary chosen makes it easy for me to do that
the audio files so I know we are learning how to say it properly
that the kids ask when we are going to do Spanish today!
What I didn't like:
there was a "learning curve" to figuring out how to make this work for us, again, this curve would likely not be so steep if you are willing to print everything off
the audio files sound (occasionally) a little "tinny" and hard to understand
Some of our favorite ideas:
song ideas to learn vocabulary, the kids had a good time singing "Where is Thumbkin" in Spanish!
making a board game for reviewing the material
having a puppet show
What the kids thought:
Kaytie:
I like that we can listen to the Spanish and I like using finger puppets and I like the songs.
Nate:
I actually liked it! My favorite thing is playing with the puppets. There is nothing I did not like about it!
Daniel:
I like using my thumbs as puppets.I don't like just listening.
Abbie:
I can speak Spanish! I can listen to the words. I don't like that there is nothing to see when we are learning.
(Just to be clear, the puppets did not come with the program, just the ideas to use them did.)
In short, we all feel REAL Homeschool Spanish is teaching us how to speak the language in a simple to maintain and very fun way. For other Crew Members experiences and opinions, go to the Crew
Blog
. Check out the pricing options
here
. Look at
free samples here.
And browse through
free culture samples here
.
We were sent a free download of this curriculum for the purpose of this review. All opinions are our own.