ALEKS
:
A
ssessment and
LE
arning in
K
nowledge
S
paces is a Web-based, artificially intelligent assessment and learning system.
Or, as I would put it, it is an online math program that my children beg to use. You can read what they have to say about themselves
here.
In fact, they have a lot to say about their program, with a free
tour
, an
overview
, and even an
explanation of their research.
I am just going to tell you how it worked for us. First, I had to create a parent account and then accounts for the kids. ALEKS is for grades 3-12, so I signed up my 8 year old 3rd Grader and my 9 year old 4th Grader. In order to use ALEKS, I had to complete a couple of downloads, but these were quick with easy-to-follow instructions. The kids then each completed an assessment. The program uses the results of this assessment to create a "pie" for the student.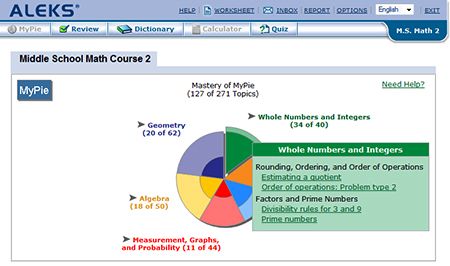 The kids loved this pie, it gave them the freedom to choose what math topic they wanted to work on. However, they did have to do some of each color in the pie, or they would stop getting new topics to work on. They also really loved that they could see their progress through the pie.
Quick Tables is another part of the program. It is basically math fact drills with games as a reward. Neither of the kids particularly enjoyed this part of the program. Nate responded better to it, as he is motivated by rewards (especially games) but he preferred the pie.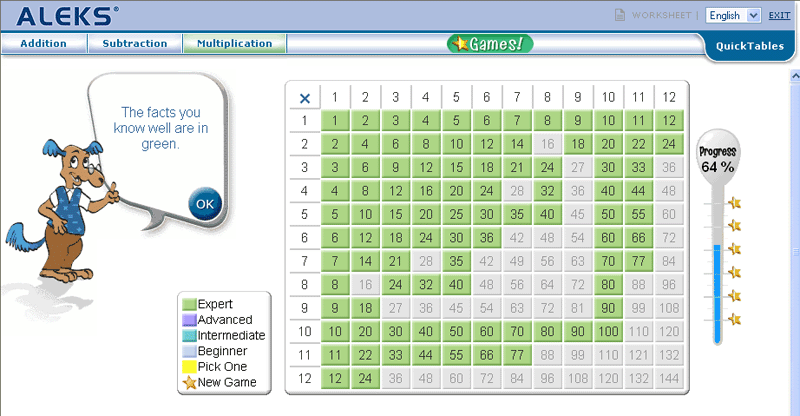 My kids are moderately computer savvy, so they were able to use ALEKS fairly independently. Each problem came with a button they could click for an explanation. I did have to give Nate additional help on a couple of problems, but for the most part, they logged themselves in, read the material and did the work on their own. They were not able to "get away with anything" though, because from the parent account, I could see, in detail, what they have learned, what is coming up next, how much time they spent each day, how many and which topics they worked on, and what was coming up next. I could even (not that it matters to me, but it was kinda cool to look at) compare where they are against my state standards.
The kids said:
Kaytie: I like it because when I don't understand something I can click explain and it will explain to me how to do it. Some of my favorites are reading the calendars and the even and odd. One of the things I don't like about it is the Quick Tables, I just can't ever finish them. I would recommend ALEKS because it is really easy to use and you learn a lot.
Nate: It is cool. I like that it is fun and has cool subjects. I don't like that some I don't know and even after it explains I still don't get it. The explain does help me sometimes. My favorite part is the line plots. I would recommend it for anybody who is old enough to do hard math.
What I liked:
the assessment
the detailed information of their every movement
the fact that I never once had tears or even complaining about math during this review period
that the kids could read the explanations and figure out the information on their own
that the information was presented in a different way than what we usually do so I could see where they have "gaps" or confusion in places I thought they understood
What I didn't like:
having four kids, this program is not cost effective because I can't re-use anything with subsequent kids
I can't combine classes. Kaytie and Nate are pretty much on the same level, but they can not work together with this program, this is not a good use of our time
You can read what other Crew Members have to say
here
.

I was given a temporary account to this program for the purpose of this review. All opinions are our own.