Last year on the Crew, we reviewed
Kinderbach
, an online music course for kids. You can read that review
here
. We were asked to review it again this year, and that made two little kids very happy.
Kinderbach
is a fun and easy way to teach your children basic keyboarding skills. We learned to discriminate between high versus low sounds, loud versus quiet sounds, fingering, finding and playing the notes on a keyboard, rhythm, and much more. These concepts are all taught in a hands-on/ interactive way that really engaged my kids. They were learning and they didn't even know it!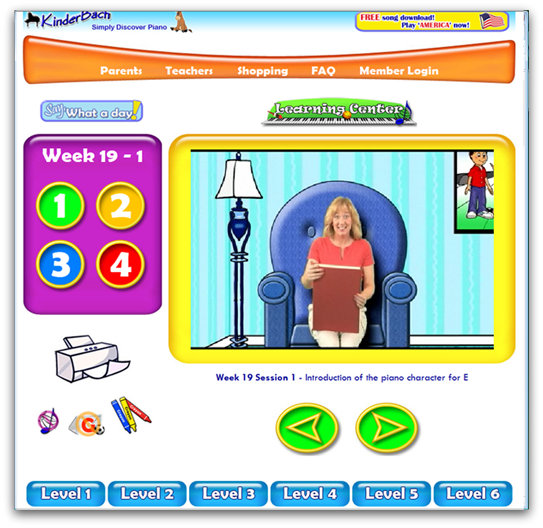 I like this program because it is simple. All I have to do is turn on the computer and hang out and watch with my children. The lessons offer a coloring or worksheet for the kids to do after (or sometimes during) the lesson. We chose not to print every worksheet offered, but the ones I did print they thoroughly enjoyed. The black lines around the pages that I objected to last
time
have been noticeably reduced, which made me very happy. :)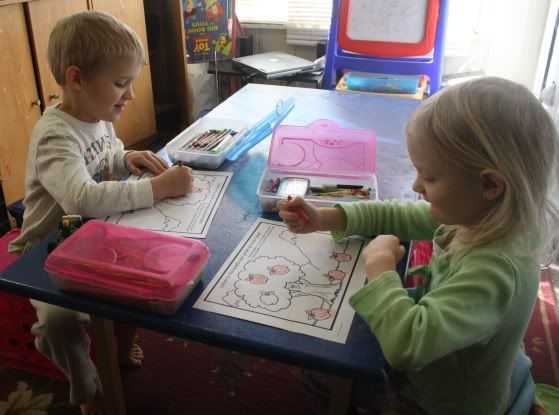 Kinderbach
is recommended for ages 2-7, and I would say that is just about right. Kaytie was 9 this time around, and though she had fond memories of joining the little kids last year, she lost interest quickly this time and wandered away. Abbie and Daniel, however, clapped and cheered every time I signed in to our account.
When I asked them their opinion:
Abbie:
I get to color and I get to listen to the songs. I love to listen and do what she tells us. My favorite lesson was the teapot one
. (singing "I'm a Little Teapot")
Daniel:
I like to listen to the music. I like to listen. I like it all, really much. There is nothing I don't like. That is all I want to say.
You can purchase this for
classroom use
or for
learning at home
with just a child or two. There is an online or DVD option and plenty of extras. If you use the coupon code:
TOScrew2012
at checkout, you will receive 30% off of any order.
You can try out the first two weeks for free
for free before you purchase.
You can read what other Crew members have to say on the
Crew Blog.

We received a free online trial of this program in exchange for an honest review. All opinions are our own.