As members of the TOS Review Crew, we reviewed the online program
K5Learning
. Designed to be an after-school study program for kids in Kindergarten through 5th Grade, K5 teaches reading, spelling, math and math facts. This is a supplemental program, but it has full instruction, not just review. They were generous enough that I was able to set up all four kids their own account.
The first thing we did was take an
assessment
. Well, actually, a math test and a reading test. This was a learning experience in and of itself... I had a child who got bored and just started clicking random answers. This child ended up being started at a level below what he actually knows, and had to do some "silly, dumb" lessons for awhile. Hopefully, that was a lesson learned!
The assessments are so that the child is taught at their personal level, not based on age or grade level, which, as a homeschooler, I especially appreciated! After the kids had all finished these tests, (which are interspersed with games that they enjoyed) I was able to see the report of how they did, which looked something like this.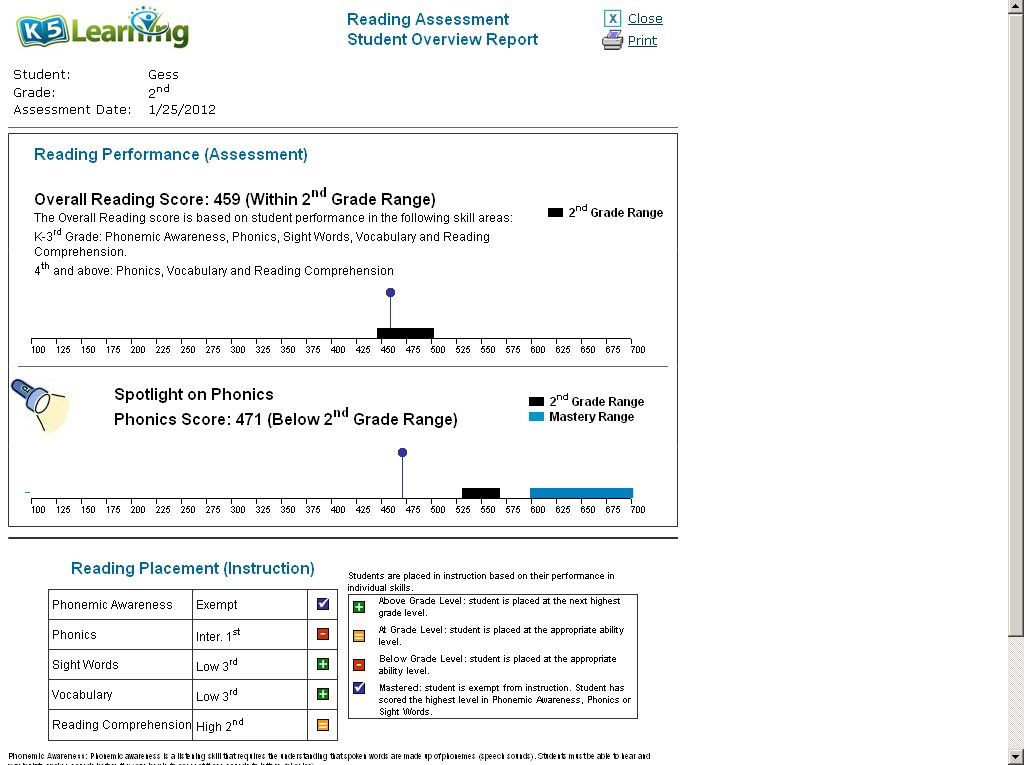 They each had their own log in and they worked on their own individual lesson plans. I liked that they could do this independently. Abbie, my kindergartener, has experience with the mouse, and she was able to work through her lessons completely on her own, following the directions and clicking on the answers. At one point, she was getting a little frustrated because she seemed to be doing the same lessons over and over. I sent an email to K5 and was promptly responded to. I am talking same day response. (that was nice!) The email explained that she simply wasn't getting enough correct answers to move on. I liked that, as well, because we have had some experiences in the past where the kids were moved on in a program whether they were getting correct answers or not.
The kids thoroughly LOVED this program. They begged daily for K5 time and only stopped when I told them they were done. Each day they worked on math and reading and then worked on their math facts. Their hard work in this area was rewarded not only with games, but with a chart showing them their progress...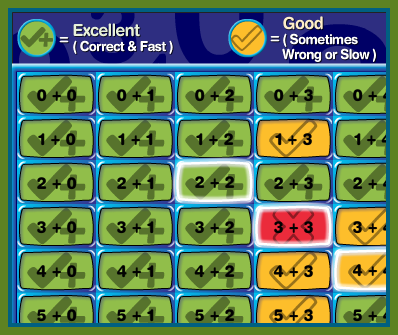 I liked this program too. I had my own parent account, and from one handy page I could view reports on each kid, assign specific lessons (if I chose), add spelling words to their lists, change their settings, and even log into their accounts. Their customer support is awesome. As I mentioned before, my concerns were addressed promptly, respectfully, and thoroughly. They have a handy
Help Center
that answers many common questions. They offer a
two week free trial
(no credit card needed)
sample lessons
and a
free assessment
.
You can read what other Crew Members thought
here
and find pricing
here
(sorry, you have to click on the link "pricing and free trial" in the blue index on the left side, I can't get the link to take you directly to the pricing page).

And as always, we were given a trial subscription for free for the purpose of this review. All opinions are our own.