As members of the TOS Crew, we were asked to review
Reading Eggs
, a website intended to teach children to read. This is a fun place and jam-packed with things to do! Games to play, puzzles to solve, songs to listen to... so much, in fact, that Daniel, the child I gave this subscription to, has been playing for weeks and still has not visited all the options available. Reading Eggs is for kids ages 4 to 8 who are ready to read or are (like Daniel) already reading a little bit. There is another section, called Reading Express, for older kids.
We started Daniel off with an assessment, which he rather enjoyed. It was 40 questions like this one... the question is read aloud and then he chose which box held those words.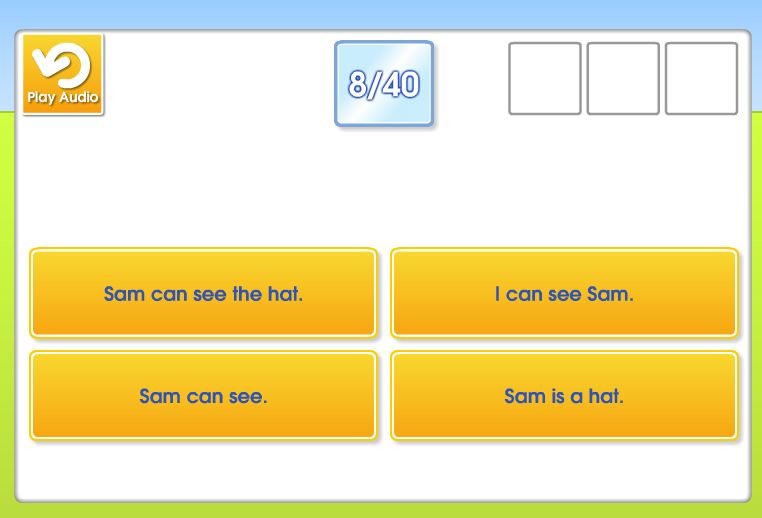 Once the assessment was over, he was assigned a level on his lessons map where he could start reading. All previous lessons were unlocked so he could visit those if he liked. He did not, but I did check them out, so I am able to tell you that Lesson One starts with learning the letter sounds. It progresses from there, using a combination of phonics and sight words to teach reading. There are 100 lessons, divided into twelve maps and the little duck avatar shows the child which lesson they are currently ready for. Completing the lessons earns the child Golden Eggs, which he can use to play games.
You can read about it (why it works, frequently asked questions, an overview, costs, and see some sample lessons), and/ or sign up for a free trial
here
.
I liked that
Reading Eggs
seemed to help Daniel's confidence in reading, not just in the program, but in books as well. I liked that he could use the program independently once I had signed him in. (I don't tell my kids their passwords so I retain some control/ knowledge of what they are doing when.) I liked that even though he LOVED it, it was building a skill that he needs even while he was having fun. And he definitely had fun. And not just him, Reading Eggs drew a crowd whenever he sat down to play!
Daniel says: I liked Reading Eggs. It shows me how to read and it shows me how to do stuff. My favorite part was the Scarecrow who sang and danced.
You can read what other Crew Members thought at the
Crew Blog
.

We were given a temporary subscription to this site for free for the purpose of this review. All opinions are our own.