Have I ever mentioned that we love science around here? We love science so much that when my kids learned we were asked to review a DVD called
Amazing Science!
there was mass drooling all over my computer. When it came in the mail, they begged to open it right away. And they were not disappointed.
This is a two DVD set with a total of 23 experiments/demonstrations, and my kids were highly pleased, even their daddy was drawn into watching and commenting on the Soda Can Fizz demonstration.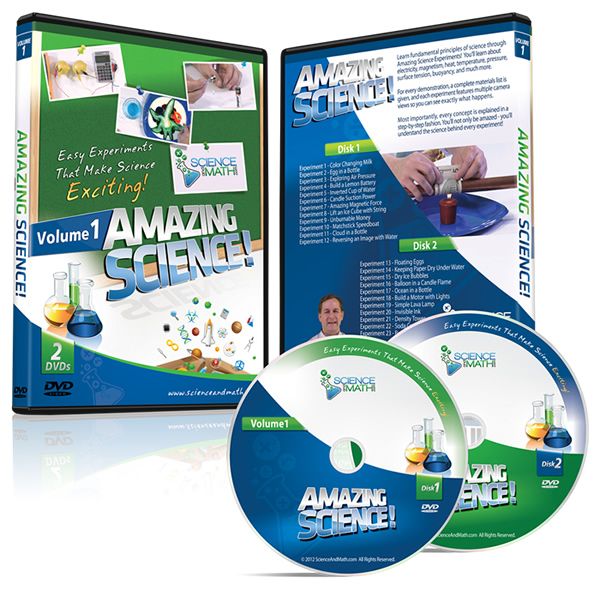 There is a
detailed description
of the DVD that you can read, along with a trailer to watch, so I'll just limit my remarks to what we did and thought.
Since we are in the middle of a move and have spent the last several weeks either living out of boxes or in a motel room, I will admit that we did not do all 23 experiments, nor have we even watched them all. What we did watch, however, we liked. A lot. The quality was excellent, I thought, and the kids were engaged and intrigued. Some of the explanations were a little long and dry for my younger kids, but I kept having to pause the video so that the older ones could ask questions or make observations. I say "having to" but I actually like doing that. I like when something sparks so much interest that they just can't stop talking about it! And I like the fact that the how and why of each experiment is fully explained. My kids aren't just being wowed, they are being taught.
Here are some pictures of one of the experiments we did. As you can see, it was easy enough to do that we did it in a motel room!
First we wadded up some paper (we used paper towel) and put it in a clear cup.
Careful to keep the cup upright, we completely submerged it in water.
And were most impressed when the paper towel remained dry!
This DVD was perfect for my 8 and 9 year olds and doing the experiments ourselves (which was explained and encouraged by Mr. Jason on the DVD) was a whole lot of fun for the 5 and 6 year olds! We highly recommend this DVD and look forward to many happy hours of enjoying it ourselves. Go to the
Crew Blog
to read what other Crew Mates thought.
Disclaimer: We received this DVD for free for the purpose of this review. All opinions are honest and my own!