In college, I took a logic course, that, despite my teacher, I thoroughly enjoyed. It was probably one of my favorite classes. I'm counting the days until my kids are old enough that we can take a logic course. Until then, we like puzzles and we like combining fun and learning (ok, ok, we just like to have fun, the learning bit is just frosting) and so we are enjoying
Crypto Mind Benders
while we wait.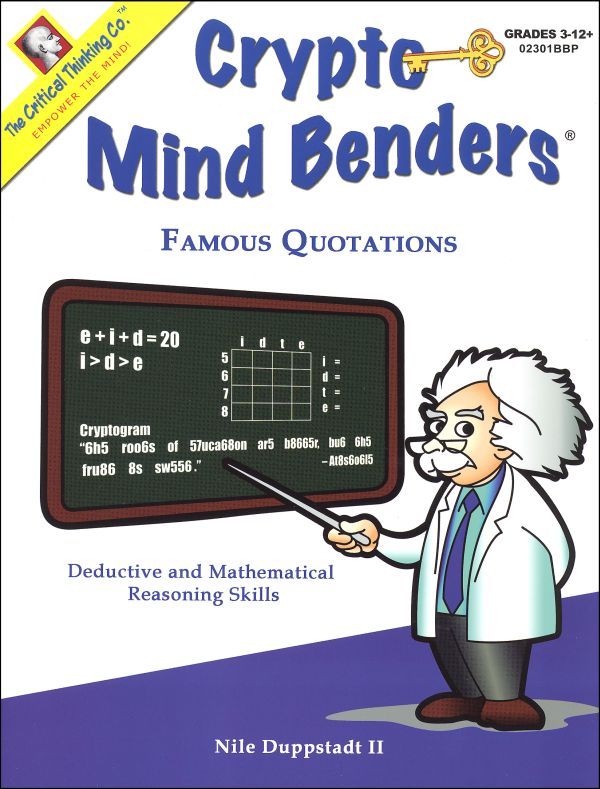 ,
We were sent a copy of this little book from the
Critical Thinking Co
to review. It's a 42 page book full of puzzles that require deductive and mathematical reasoning skills to solve. Each puzzle has a logic-puzzle style chart to break a secret code to uncover a quotation. You can see a sample
here
.
This was a fun book. It is reproducible, so I can give copies to Kaytie and later, when the younger kids are ready, they can do it, too. I had to give Kaytie a little help to start off with, but she caught on in the middle of the first puzzle. After she was done, I sent her off to play and did a few of the puzzles on my own. This is a great first step on our way to a logic-filled future!
Kaytie's opinion: It was fun and it was hard. I want to do more. :)
DISCLAIMER: I was sent a copy of this book for free for the purpose of this review. All opinions are honest and are my own.