Although I know it isn't a given for homeschoolers anymore, as Christians, Bible is not only our most important subject in school, it is also our most important subject in life. We have, for years, been quite satisfied with our Bible curriculum, so, when we were asked to review
God's Great Covenant New Testament 1
, by
Classical Academic Press
, I was curious as to how the kids and I would actually like it.
God's Great Covenant
is intended to give kids 4th grade and up a "comprehensive and heartfelt" study of the Bible.
We were sent the
student book
and the
teacher's guide
. We were also given an
audio download
which consists of the reading of the Storytime portion of the book.
The
Teacher's Edition
contains the
Student's book
as well as answer keys and tons (and I do mean tons) of notes and background details to help flesh out the lessons. (That was, hands down, my favorite part!) For example, here is a note I chose random to show you:
Only a totally human person could die for the sins of other people. Romans 5:19 says, "For just as though the disobedience of the one man the many were made sinners, so also through the obedience of the one man many will be made righteous." Only a being that was totally divine could experience the temptations of human life and never sin in His actions or in His heart. "For we do not have a high priest who is unable to sympathize with our weaknesses, but we have one who has been tempted in every way, just as we are-- yet was without sin" (Hebrews 4:14)
There are several of these notes on every page. There is also space for the teacher to write their own notes in the margin of every page.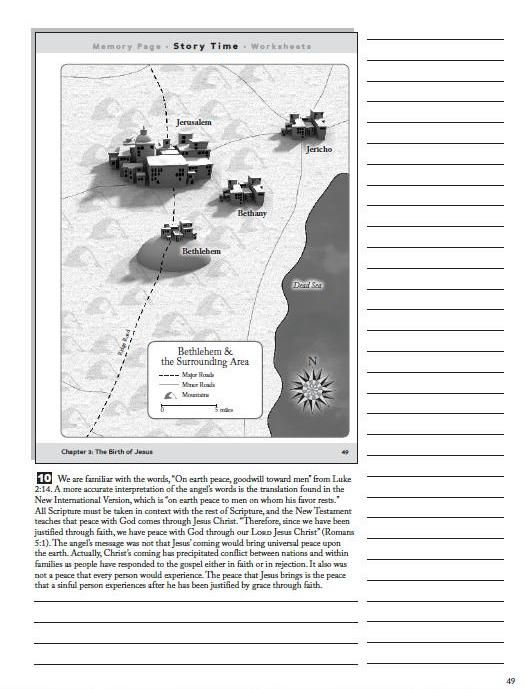 The
Student Book
is consumable if you use the Review Worksheets at the end of Chapter (lesson). Sometimes we did, sometimes we did them orally, sometimes we skipped them altogether. The book starts with six Introductions that actually took us awhile to work our way through. Then there are four Units divided into Chapters. Each Chapter is intended to take a week and there are 36 Chapters total. You can see a free sample of the Table of Contents and all of the first three Chapters
here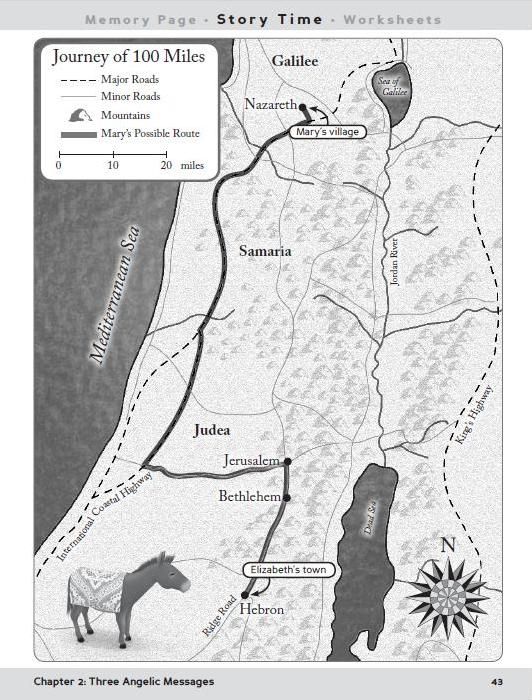 So, how did we like this curriculum? Well, I used it with my 3rd and 4th graders. They are used to long, engaging discussions about spiritual and Biblical topics. So my main concern would be that they would find these topics to be repetitions of lessons we had already covered. But they were engaged and learning and, quite frankly, I learned some things from our perusal of these lessons! All three of us are visual learners, so we loved the large, clearly drawn maps that are included from time to time. And although the reviews, worksheets and quizzes were a trifle "schoolish" for our relaxed taste, we skipped them if we felt so moved and just lengthened our discussion a bit to give me the assurance that they were "getting it". So, yes, we liked it a lot and plan on continuing to use it and to purchase the Old Testament courses in the future.
However, you don't have to just take our word for it! Go read about the other Crew Members thoughts and experiences which are linked up at the
Crew Blog
.

Disclaimer: We received a copy of this product for free for the purpose of this review. All opinions expressed are honest and my own.