I told the kids I had a science video for them to watch and they all came running to crowd around the laptop.
Library & Educational Services
sent us, as members of the TOS Crew, two
Go Science DVDs
. Based on Creation, these science demonstrations by Ben Roy are intended to engage, inspire, and excite students about science. The series consists of six different DVDs each full of short segments relating to the overall theme. Each demonstration has a spiritual application and points to our Creator.
We were sent Volume 2: Simple Machines, Sound, and Weather and Volume 5: Air and Flight.
(We got to choose which ones we wanted which is rare and super-cool!)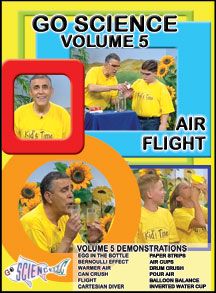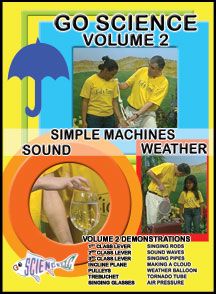 We watched both in one sitting. The kids were engaged enough to watch it all the way through, (even my restless one) although there were some comments made and an occasional sigh or two. We have no complaints about the quality of the DVD and it is safe to say that we all learned something. I will let the kids tell you what we thought in their own words:
Kaytie: I think that it was for a younger kid than me. I knew some of the information already and it was presented too simply and it wasn't complicated enough for me. He explained too much about how the science worked. I liked the Cartesian Diver the best, because it was cool.
(She is nine years old. I didn't think he explained enough about the how the science worked.)
Nate: I loved it! I learned I have no idea how the eye dropper read our minds! And I learned that simple machines are very useful. But I think he talked too much.
(My restless one. He is eight and was very engaged in the demonstrations and explanations. He obviously, however, did not seem to hear the part about how the eye dropper did not read our minds but would have risen and fallen anyway because of the scientific principle. The mind reading part was explained to be a trick.)
Daniel: I liked it because it is cool. I learned about air pressure . The hot air sucked the egg into the bottle. That one was my favorite.
(He is six and was quite disappointed when we ran out of DVD. He wanted to watch more.)
Abbie: Interesting. The mind reading eye dropper was my favorite! I learned that you take a bottle, I mean, two bottles, and you have an eye dropper then you put the eye dropper in the bottle. I mean, you have a cup, too, and you get water in the eye dropper. THEN you put the eye dropper in the bottle. And it makes the eye dropper go down.
(She is five and I was very impressed that she remembered all of this! She usually forgets something about 30 seconds after she hears it. Not to mention that her opinions of school subjects are usually gushing and vapid. I think it is safe to say these demonstrations hit the mark with her.)
So all in all, we enjoyed
GO SCIENCE
although we think their recommended ages of 6 to 14 are a little high. Click that link and you can see a sample lesson for yourself. For other Crew Member's opinions, check out the linky on the
Crew Blog
.

DISCLAIMER: We received these DVDs for free for the purpose of this review. All opinions are honest and are strictly our own.