As a part of the TOS Review Crew, we were sent an ebook of
Write Shop Junior, Level D
. This level is recommended for kids in 3rd or 4th grade or reluctant writers in the 5th grade. I thought it was right on target for my eager 4th grader and my skeptical 3rd. Since I have a little girl who is very interested in stories, both reading and writing them, I am always on the lookout for writing curriculum that will fuel her passion. I have to say, right off the bat, that she thoroughly enjoyed
Write Shop
!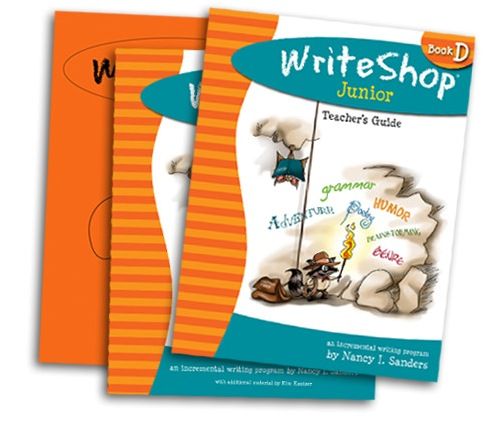 Write Shop
is a writing program that uses "Engaging, step-by-step lessons (to) present students with the building blocks of the writing process-- pre-writing, brainstorming, writing and revising-- and (to) help you edit and evaluate their work." Taken from the website. They offer curriculum for kids from Kindergarten to 12 grade.
Write Shop
is a scripted program that gives you all the tools you need to teach good writing: various schedules to choose from; lists of needed supplies; advance prep suggestions; and the words you use to teach the lesson. Now, I understand that some people hate scripts, but I love them... even though I rarely use them. I read through them and understand exactly what the program is wanting the student to learn. I then know what words I need to use to convey that to the kids I am trying to teach.
We received three
eBooks:
the Teacher's Guide; the Student Activity Pack; and the Time-Saver Pack. The Teacher's Guide is the important part of the program. It explains the program, gives you tips on how to teach the same level to kids who are NOT on the same level, gives you some scheduling options to choose from, contains the lesson plans, including supply lists, advance prep instructions, and tips and ideas on how to provide extras if your child needs or wants them. The Student Activity Pack contains all the worksheets, journal prompts, game pieces, etc that you need to print for your child to use. (The makes the product non-consumable because you can print as many copies as you want! Yes!) The Time-Saver Pack is an optional component that contains extras like game pieces and spinners to print that you would otherwise have to create on your own from instructions given in the Teacher's Guide.

We had had some experience with
Write Shop
before, so we jumped right into the fun and learned about: writing a letter of invitation, narrowing a topic, adding details and choosing strong words. I used this program, as I said before with Kaytie and Nate and we all enjoyed the lessons. We fully intend on finishing up this curriculum because we like it a lot!
What I like most about
Write Shop
is that the kids are taught with games, humor, and lots of help from the teacher/parent. Even my reluctant 8 year old son enjoyed making a robot that reminded him of the parts and order of a letter of invitation, and watching an "Incredible Shrinking Machine" demonstrate how to narrow your topic! I enjoyed watching them, after the first lesson on writing a letter of invitation, run to their room to plan a party, write invites to their little brother and sister, and spend the afternoon blissfully and willingly internalizing the lesson I had just taught them.
As I said before, we have used Write Shop before, so I know from experience that the customer service is superb. I had a question, so I posted it on their
Facebook
page and it was answered promptly, thoroughly and cheerfully.
What I did not like about this product was that the ebooks were in a different format than I have ever used before, so there was more than one moment of frustration before I figured out how to navigate. A little bit of a heads-up would have been handy right at the beginning! If you are planning to use these ebooks on an iPad, here is a
tutorial
that will give you that heads-up! If you want to use it on your computer, like I did, let me know and I'll give you the scoop! ;)
You can view sample lessons of Write Shop Junior Level D
here
by scrolling to the bottom of the page.
(There is an offer to get their newsletter, but you can opt out of that by, again, scrolling to the bottom of the page.)
You can read what other Crew Members have to say about Write Shop on the
Crew Blog
. There were several different levels reviewed so even if your kids aren't in 3rd through 5th grade, check it out anyway!
AND... you, my special, beloved blog readers, can get a 15% discount on any level of Write Shop Primary and Junior levels until June 15, 2012 simply by entering the coupon code:
CREW15
at checkout.

DISCLAIMER: I received free downloads of this product for the purpose of this review. All opinions are honest and my own.