As members of the Review Crew, we have reviewed a lot of products that we loved. We have reviewed a lot of products that we eagerly watched the mail every day in anticipation of its arrival. But recently we were chosen for a review that literally made us squeal with delight and call friends to share the joy that we were actually going to get to review this product. We then watched the mail every day and squealed with joy once again when we found the package waiting for us. This is a product that every homeschool classroom should own. And I don't say that lightly.
So what is this remarkable, delightful, exciting product? The
Discovery Scope
, a hand-held, wide-field microscope that is small enough to fit into your pocket, yet will open up the world to your family. (I don't say "children" because the older folks in your family will likely be just as fascinated as your kids. At least, that is the way it was in our house!) It is an awesome alternative to the traditional microscope, practically indestructible, uses available light and is just plain cool.

We received the
Basic Kit
and set to work at once to figure out how to use it. I kinda wished that the website was a little more forthcoming with instructions, but I think we finally figured most of it out.
That is my only negative feeling about the
Discovery Scope
. Other than that, we are just overwhelmed with amazement. We love our Discovery Scope!
The website says that "Children of about age 6 or 7 and up usually need about 2 - 5 minutes of instruction to master the use of the Discovery Scope". Well, they were very correct. Even our beloved yet clueless 5 year old, after a few minutes of puzzling, was able to use the scope with ease.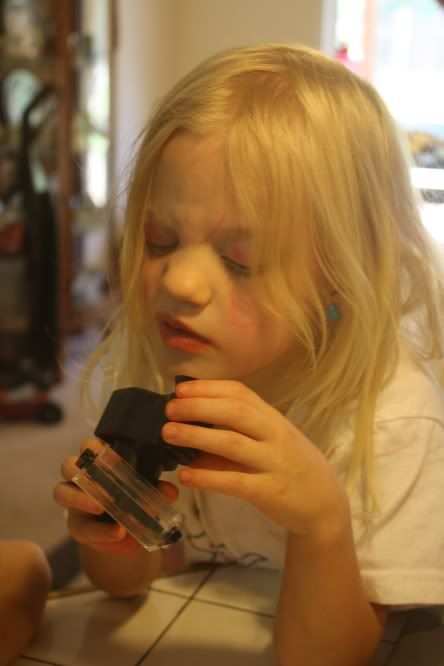 We used it to look at leaves, hair, rocks, caterpillars, bugs, earthworms, skin, money, clothes, grass, jello, and lots more that I was not even around for. We took it with us to the park, the backyard, the poolside, and even the library! All of the critters that we viewed were alive and subsequently returned safely to their environment.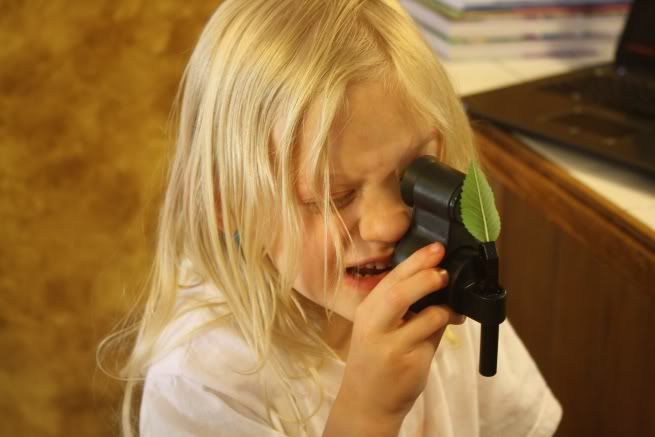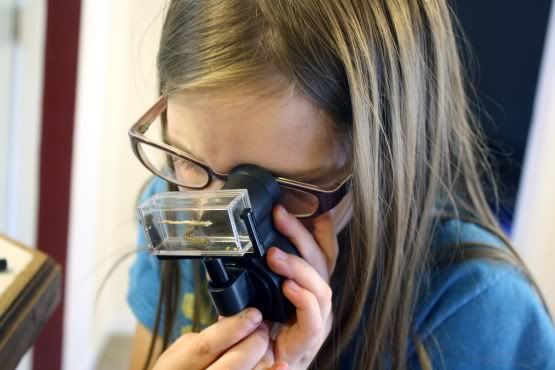 I have allowed the kids unlimited, unrestricted use of the Discovery Scope, yet they, despite their usually reckless tendencies of destruction, have not managed to damage it in the slightest. This is adequate evidence of its durability. However, just in case you might possibly have kids more dangerous to inanimate objects than mine are, Discovery Scope offers to replace any part that "experiences any problems during normal use... free".
Whenever the Scope is brought out, everyone (yes, including me) lines up to take a turn. Because it is just that engaging.
I could rave about the
Discovery Scope
all day, but instead I will just repeat: this is something that every homeschool family should have at least one of. Really, go buy one. If you are not a member of a homeschool family and have kids, you should go buy one. Even if you don't have kids, you should still buy one. Hey, I'm considering putting a Discovery Scope on my Christmas list, just so I have one that I don't have to share!
And you don't just have to take my word for it. This is what my kids thought:
Kaytie: I like it because we can see really cool stuff in it. We captured a worm and looked at it. We looked at leaves and it was really beautiful! Only thing is that stuff in the box isn't as clear as the stuff we could use the clip on.
Nate: I. Think. It. Is. COOL!!!! I even think it is super! We used it for a worm, a bunch of ants, caterpillars, and leaves.
Daniel: I love it! I love it! We looked at caterpillars and all kinds of bugs. The caterpillar had big eyes! And a lot of hairs!
Abbie: I get to look at stuff in it, like a worm or a ant or a roly poly. The roly poly had lots of legs and cool eyes. It is great! And fun. I wish we had four Discovery Scopes for all of us so we could look at our own stuff. The thing I don't like about it is that sometimes I don't go first on it.
And if that isn't enough, read what other Crew members say
Here
.
DISCLAIMER: I received this product free of charge for the purpose of this review. All glowing, gushing opinions are honest and our own.