The kids always enjoy playing with my phone, but this app that we were asked to review for the Review Crew had them not only fighting for a turn, but laughing hysterically and totally unaware that they were learning something!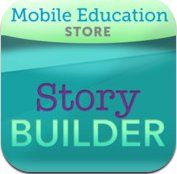 We reviewed
Story Builder
from
Mobile Education
, an app for the iPad that is designed to (in their words): 1) Improve paragraph formation; 2) Improve integration of ideas; and 3) Improve higher level abstractions by inference.
The basic idea is that the child is shown a picture and asked a question about the picture. The child records himself answering the question, which should be answered in a complete sentence. Then the child moves on to another picture and question. After each picture has a recorded answer, the child can listen to their own voice reading the story. Here is a screen shot that shows you how it works...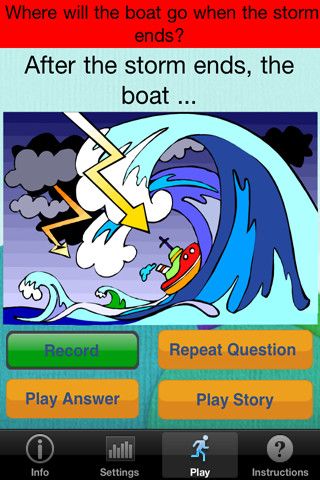 There are three levels to choose from: Level One, that has four pictures and fact-based questions; Level Two that has one picture and seven inference-based questions; and Level Three that has one picture and the instructions to, "Make a story about the picture. Make sure to use complete sentences."
We used this app on my iPhone after a quick and easy download from iTunes. It was so user friendly that I gave it to my kids with a very brief review of how it worked. Basically, I showed them those four buttons you see in the screenshot, told my non-readers what they said, and let them at it. They quite easily took it from there. And...
They loved it! Once they got used to the app, they started adding their own sound effects. It was a great way to spark their imaginations and, most of all to get them in the habit of answering in complete sentences!
Other Crew members reviewed a variety of apps from
Mobile Education
, you can read those reviews
Here
.
DISCLAIMER: And, as always, I received this app for free for the purpose of this review. The opinions expressed are honest and my own.