Kaytie and I had fun reviewing two
My First Reports
from
Hewitt Homeschooling
. We received
Plants
and
Wild Animals: Large Mammals
, but we mostly focused on Plants. She has been wanting to study botany, so she was excited when I told her about this and when it came in the mail, she jumped right on it. Each report was packaged in its own paper envelope and was already hold punched, so I could just slip it out of the envelope and pop it right into a binder, ready to go. When we were done, I could drop it back in the envelope and it took up minuscule space on my shelf.
Each packet started off with a page of introduction which explained the goals and the method of the curriculum. The goal, in short, is to give young children a springboard for writing a simple essay on a specific topic. Rather than filling in blanks, the children are to hunt down answers to specific questions and then turn those answers into a report on the topic. This will give them the skills they will need to later write papers, theses and, eventually, reports for their employers.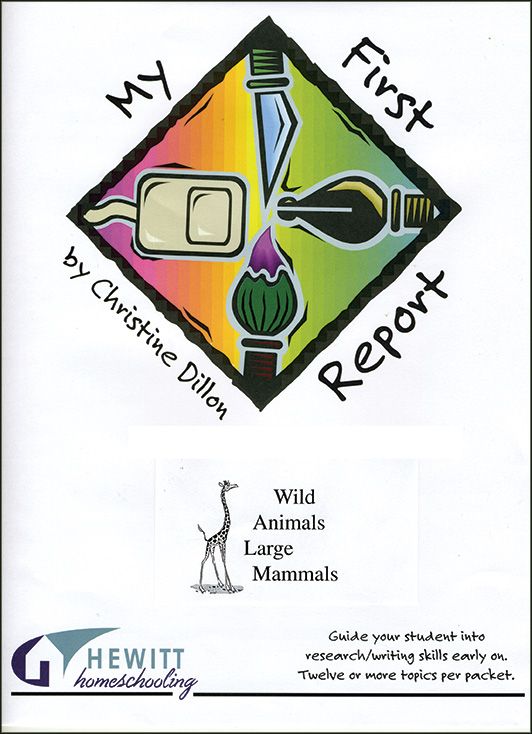 There are a dozen or so pages of Reports, or lists of questions divided by topic. For example, the first one is titled "My First Report on Roots" and the questions were:
What are roots? root hairs?
How do roots help plants?
How do roots get nutrients from the leaves?
What do roots do with water and minerals in the soil?
What keeps the soil from crushing roots?
Name some roots people eat. Which do you eat?
At the bottom of the page is a box of Vocabulary words.
After the Reports comes a Unit Study (which includes an extensive book list), a puzzle, and a classification chart. Finally, there are reproducible sheets of various types of handwriting paper for writing your report. Some of these have places for drawing an illustration. Some are 5/8-ruled, some are 1/2-ruled and some are 3/8-ruled.
We started off with Kaytie choosing a report from the
Plant
book. She chose Seeds because that seemed a logical starting place for her. We used the book list and the librarian to find books for her to look through to answer her questions. We did have to Google some of the questions because we couldn't find the answers in her books. Using complete sentences, she wrote down the answers she found. From there, it was an easy step to writing out the information in a few paragraphs. She had already learned how to organize a paragraph, so the report was simple for her. We made sure to use some of the Vocabulary words. Finally, she rewrote it all in her best handwriting on a copy of the handwriting paper and drew a picture to illustrate it. Then she chose another list of questions and repeated the process.
My First Reports
are written for Grades 3 and 4, but a 1st or 2nd Grader should be able to do them with parental supervision. There are 14 My First Reports and you can buy them individually or as a package.
I liked this product because it was so simple yet well-thought out. After we walked through the first one Kaytie was able to complete them on her own with minimal oversight from me. I liked that because I am working on developing independence in their work. I also really love a product that is non-consumable. Nothing is written in except the handwriting sheets and permission is given to copy those. Of course, you could also buy handwriting paper or just use a notebook if you prefer. I like that I will be able to use and re-use these as my other kids need them.
Kaytie said:
It was a little complicated because it was difficult to find the answers in my books. It was interesting and I learned a lot of stuff about plants. I would recommend this to people who don't know a lot about plants and who need help with writing. It would help them improve their writing abilities and their knowledge about plants.
You can read what other Crew Members have to say
here.
Some reviewed
My First Reports
and some reviewed other products offered by
Hewitt Homeschooling
, so be sure to check them all out!
DISCLAIMER:
I was given a free copy of this product in return for an honest review. All opinions expressed are my own and no other compensation was given.