When I was in school, learning to type was a good idea. In high school, I used my brother's electric typewriter and a book that my sister-in-law had from when she was in school and I learned the basics of typing. (I remember laughing at the section on using correction tape. How old fashioned!) This skill came in handy in college when I typed not only my own papers, but helped out a friend or two by turning their handwritten paper into a neatly printed document. Because not everyone learned to type in those days, not even in high school.
But now, my kids are in elementary school and they do a lot of work and even some play on the computer. Typing, or keyboarding, is no longer a "good idea" but a must and they will not wait until high school to learn this skill. Kaytie and Nate, ages 9 and 8, respectively, have played around with the keyboard for years. We have tried this program and that game, all free, all "fun" and mostly ineffectual. So I, ever hopeful, was quite interested when we were asked to review yet another keyboarding curriculum. This one is called
Keyboarding for the Christian School
and is not a game or a computer program, but an e-book full of lessons.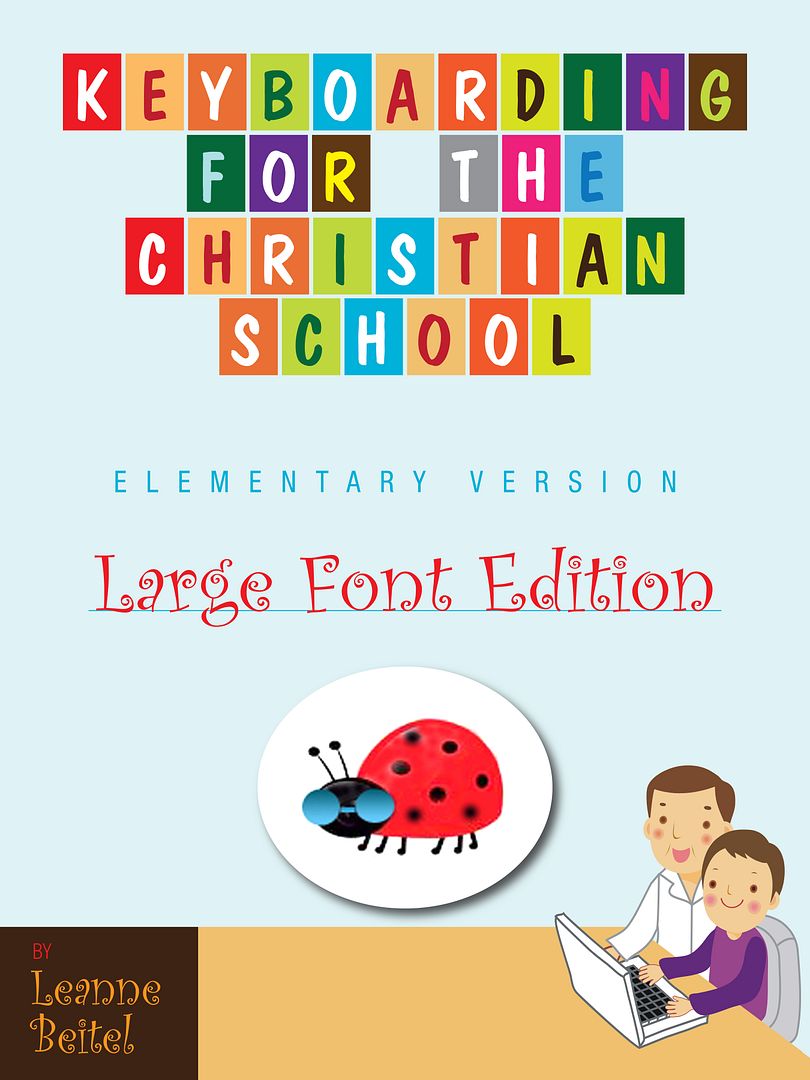 There are two versions, one for grades 6 and up and one for elementary. Naturally, we reviewed the Elementary Version. The download was easy. The PDF has 87 pages and 32 Lessons, which teach the alphabet keys, number and symbol keys, the number pad, centering, and enumerated lists. The Table of Contents has clickable links. :) I'm old enough that that makes me happy.
It is intended for you to print this book so that your children get used to looking away from the screen as they type. After all, if they are inputting data, this skill will be necessary. However, I was out of ink at the time, so I just downloaded it to one laptop and opened a word program on another and it worked fine for us. I know that some Crew Members put the ebook on their iPads with the same result.
The program starts you off at the very beginning, explaining the differences in the two types of keyboards and instructing the child how to properly sit at the keyboard. After I went through this section with each of the kids, I left them to it. They did all their lessons independently, with me just lurking in the background enough to make sure they weren't looking at the keys or their fingers. The book did an amazing job explaining to them what they needed to do, and they both made amazing progress in their typing skills. But what I liked the most was that, even though it was work and there was no fun and games involved, both kids would ask if it was time to work on typing, or they would just start setting up the laptops and go to work!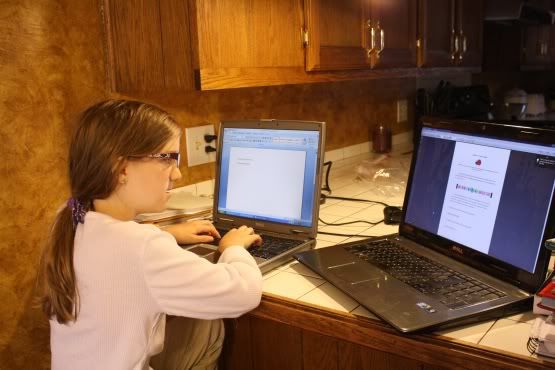 The children said:
Kaytie: I liked it because it was fun and I learned more about typing than I ever have before. One thing I didn't like was it told me the posture I needed to use when I was typing, but I could reach every key perfectly fine from where I sat!
Nate: I thought it was great. I don't know why, probably because it was easy to do on my own. I would recommend it to anyone.
You can read what other Crew Members think
here
. You can check out the other products this company has to offer
here
. And be aware that they are offering readers of Four Little Penguins a 20% discount until 8-29-12 if you use the Promo Code
SUMMER2012
DISCLAIMER: I received a free download of this ebook for the purpose of this review. All opinions are ours and are completely honest.