My favorite thing about reading homeschool mom blogs has to be looking at the spaces, big/small, schooly/homey/stylin', formal/casual where other families "do school". I'm hoping you feel the same way, because this post is going to be full of pictures and chit-chat about our space.
In our old house, we had a cosy, but small and crowded schoolroom. In this house, our room is still rather small, but it is not crowded because the rest of the house is big enough that we can spread out and take our learning to other places. We will not have a table in the schoolroom, instead we will do our "table work" in the dining room.
(see the cute, little, hopes-to-be your friendly tour-guide?)
This is huge for us. We are soooo excited to have this much space to spread out and work! And if this isn't enough room, we can spill over to the nearby bar.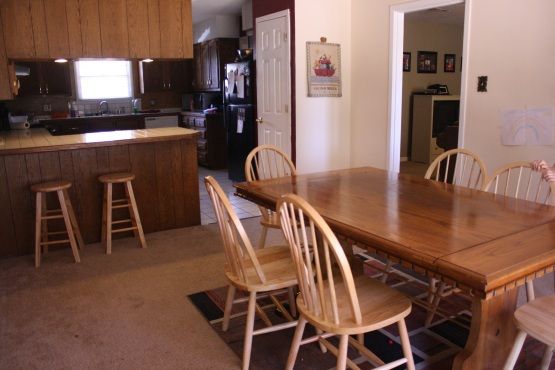 But, back to the actual schoolroom. First, when you walk into the room and look to your left, you see this.
Naturally, we have a picture of penguins in our room. :)
The pocket chart will be used for lots of flashcards: Spanish, telling time, learning coins, states and capitols, presidents and more that I haven't thought of yet. The white drawers hold the kids' art supplies that they are allowed to use whenever and for whatever. The top drawer has pens, pencils, markers, crayons, erasers, and glue sticks. They keep tape in there whenever we actually have any, but they go through tape like rabbits through a garden. The second drawer holds stamps, stickers, and stencils. :) The third drawer has all of their notebooks, blank books, puzzle books and coloring books.
On top of the brown cabinet is our newest version of workboxes. Each basket belongs to a child and all of their independent work, plus their pencil box, is in them. This way, they can take everything to the table in one easy trip. Their daily schedule will be in the back clear pocket of their binders.
Inside the brown cabinet is this: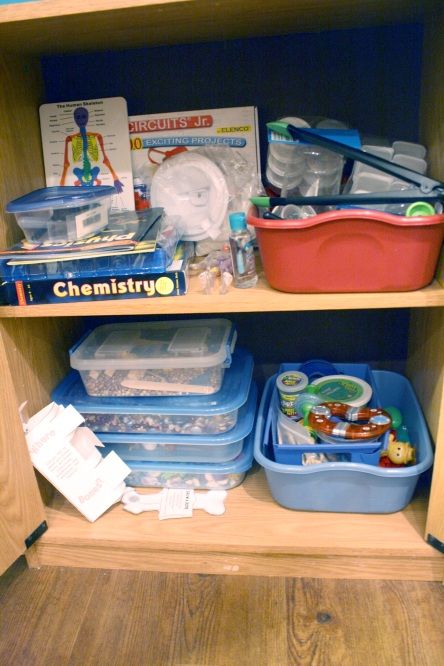 Our science stuff. Not terribly organized. But here are all of our science kits, sensory tubs, snap circuits, two anatomy puzzles, some paper anatomy models that we made last year, all our magnet stuff, and a big bin of magnifying glasses, tweezers, bug boxes, thermometers, eye droppers, mirrors, safety glasses, and a collection of odds and ends (string, paper clips etc.) to make experiments with.
Next to the brown cabinet is the big, white cabinet.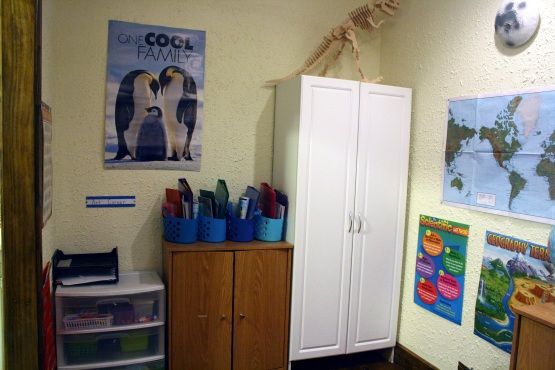 On top of the white cabinet is our favorite dinosaur skeleton. :) It is really a puzzle, but it's too difficult for the kids so Daddy put it together and we use it as decoration. Inside the white cabinet is this: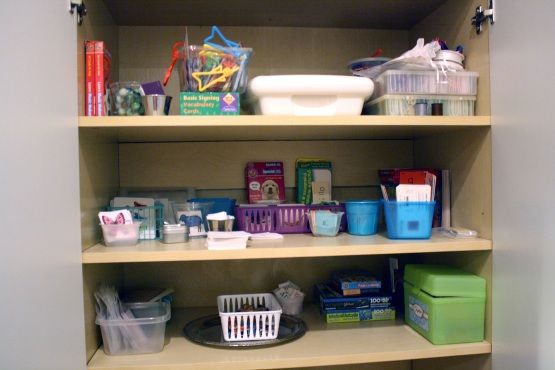 The top shelf has musical instrument flashcards, marbles, and our sign language collection, our LiteBrite and boxes of embroidery thread. The second shelf has math cards, mostly for Abbie, Spanish flashcards, and some fun things for Daniel and Abbie's reading. The third shelf is all of our geography stuff: flags, animals, paperdolls, puzzles, and information cards of all sorts.
The bottom shelves of the white cabinet hold handwriting aides, alphabet bingo, our Europe Geo puzzle, (we found it on sale at Barnes and Noble... I am still giddy!) and our box of home-made letter tiles for All About Spelling. On the very bottom is all the stuff that is too big for the upper shelves, a fractions puzzle, math games, a shoe tying form, puzzles and a view master.
Next comes the wall of posters. I am so happy to have wall space to hang educational things! The children helped choose the posters. The world map I discovered among my things right before we moved. I have no idea where it came from... I would have preferred a world map with all the countries marked, but you can't quite complain about free, now can you? The moon above the world (nice touch, no?) is actually a light given to us by one of our favorite cousins. It has a remote control and shows the different phases. It is super cool. :) Underneath the posters is a bin of clipboards and dry erase boards. Beside the bin is our box of Math U See manipulatives. It is actually a tool box and is perfect for storing and transporting our manipulatives.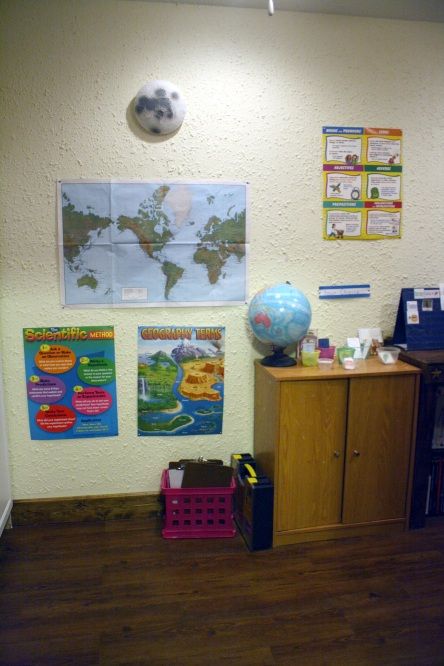 On top of the brown cabinet is our globe and a collection of items (these will be rotated from the white cabinet on a regular basis) that the children can choose from when they need me and I am unavailable. Everyone has something here.
On top of the desk is another pocket chart that Daniel and Abbie will use as a calendar board, a set of tiny drawers that holds a myriad of tiny things: dice, board game markers, paper clips, and other bits of flotsam that I use to make or enhance schooly items, and a blue bin for completed work. They drop it in here, then when I get a chance I sort, hole-punch and pop it into their keep-sake binders.
Inside the brown cabinet is our collection of math fun. These are accessible to the children whenever they like, the only rules being that they have to stay in the schoolroom and they have to put it away when they are finished.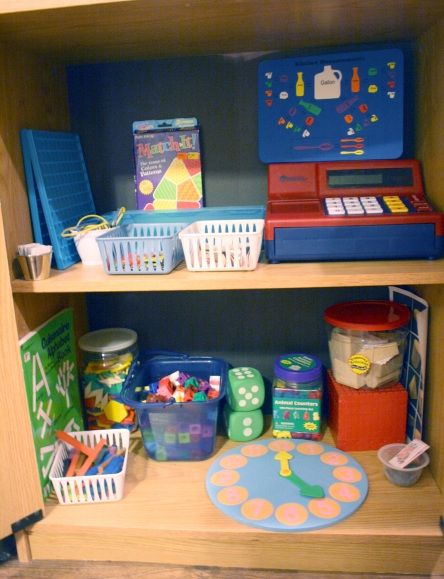 Here are our geo boards, a home-made version of Montessori "magic slide" cards, Joey-Joey, Match It! tanagrams, shape sticks, cash register, a measurements puzzle, cusinaire rods and an activity book to go along, pattern blocks, snap blocks, enormous dice, animal counters, geometric shapes, Math U See 100s blocks, a clock puzzle, and piggy bank flash cards.
Under the desk are the kids' reference books, (atlases, dictionaries, a thesaurus) and books that they have access to, but that I want to keep nice: poetry books from when I was a kid, old Apologia books, field guides, etc., on top is a stack of children's Bibles and devotionals. They are on top for easy grabbing every morning.
The blue bin holds the books for our daily group work. They are in the bin to make them as portable as possible.
Moving on around the room, we have, amidst a terrible glare from the recessed lighting, the shelves that hold the rest of our group work books, All About Spelling cards, rubber bands, scales, timers, and a host of decorative items. On the built-in desk is a desk organizer that holds geography paperwork (passports, stamps, suitcases), buckets of rulers, markers, pencils, dry erase markers, and scissors, a portable USA map and a CD player. This CD player is so old it still has a cassette player in it! Underneath the built-in desk is a little desk and seat that can be pulled out for use. It holds the kids' laptop.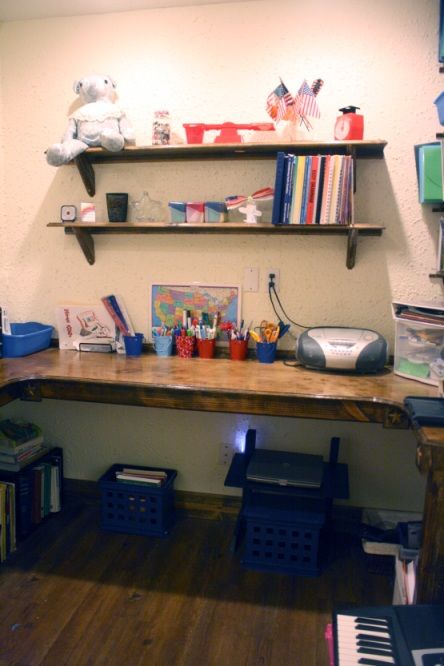 Here is the final corner of the room. The shelves hold all the books we need for next year, including reference books for me, CDs and DVDs, plastic pockets full of printables sorted by subject, last year's keepsake books, and a collection of items I am gathering for our history next year.
Underneath the shelves is a set of drawers that contain all of my own personal art supplies and the printer/copier. On top of the drawers is my binder and behind the printer is the pencil sharpener. On the wall is a magnetic calendar that I bought used many years ago and the kids love and adore. Above the calendar is a make-shift "bulletin board" containing the month of August/September's Scripture, artist's piece and composer. Then you have our keyboard.
In the corner, under the built-in desk, is a bin with all my big tools: stapler, paper cutter, 3 hole punch, label-maker, etc.; a bin with all excess cords; and a bin full of paper: copy paper; colored paper; cardstock; notebook paper...
Now we have reached the door which leads to...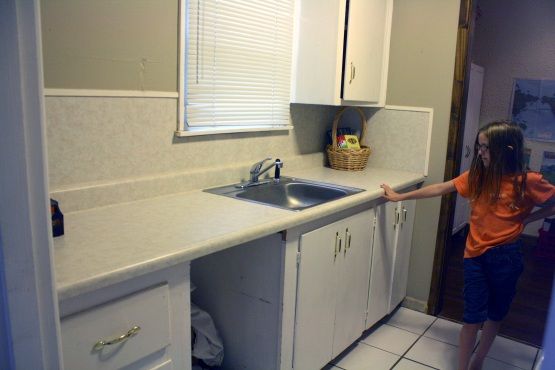 the Science Lab (aka, the laundry room) complete with counter and sink, just waiting for all sorts of experiments to take place.
(There is your tour guide again! It would appear as though she disapproves of the sink... )
This room is also a great place for art storage. The cabinets hold all of the art supplies the children have to have permission and/or supervision to use:
beads, pipe-cleaners, glitter, dot-markers, foam stickers, squeezee bottles, google-eyes and jewels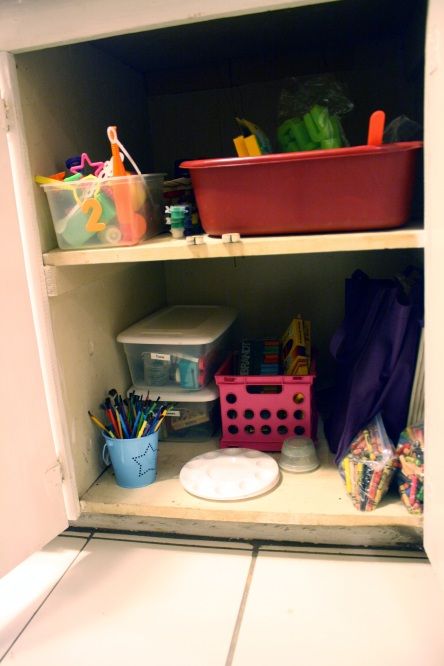 sponge stamps, paint, punches, water paints, paint brushes, out of season stamps, our nature journaling bags, watercolor pencils, pastels, bubble toys, glue, and bags of crayons ready to be dropped into a bag for entertainment purposes.
On the other side of the Science Lab I have a shelf for storage. Seasonal items are in the white bin on top, extra school supplies are in the black bin and the stack next to it is a pile of for-sale items that overflowed my for-sale box in the garage. The next shelf holds play-dough toys, a bag of buttons and beads for stringing and the kids' sheet music collection. The bottom shelf has a box of odds and ends and all of our flannelgraph collection. Our flannelgraph board did not survive the move, and I have not yet made another one.
Oops! I forgot to empty the trash can! ((blush))
Here is where we will do most of our afternoon school, snuggled up on the couch or sprawled out on the floor depending on our moods and personalities.
(Someone lost their shoe!)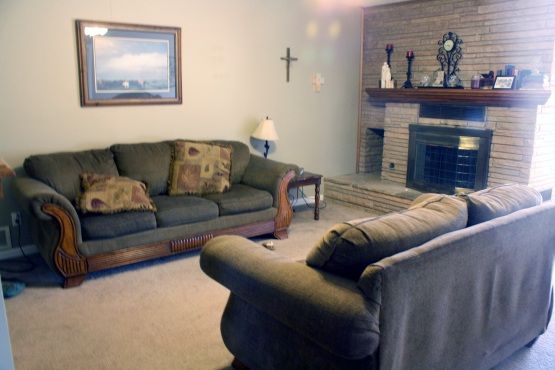 Oh, and here is a gratuitous
(free for the price of the tour)
picture of my desk.
Please disregard the bottle of sun screen lurking in the background. Oh, and the glass of sweet tea lurking in the foreground.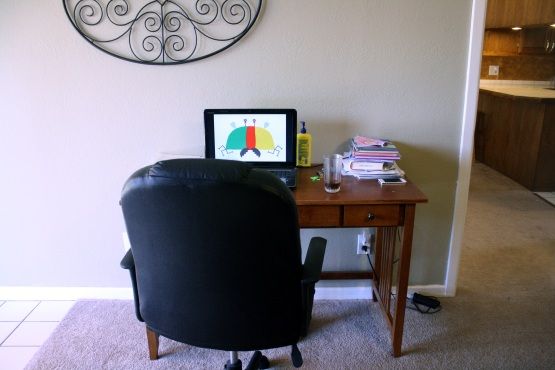 That is our schoolroom and learning areas! I hope you enjoyed the tour! Feel free to follow us here and on
FaceBook!
This post is linked to
The Not Back To School Blog Hop
And to The Schoolhouse Review Crew Back to Homeschool Blog Hop