Kaytie is always telling stories. Sometimes, she likes to write them down. I love to write, myself, but I don't pretend that I'm a master at the craft, so I am often at a loss at how to help her be one. However, we have spent the past few weeks working on this with the help of our latest review...
Create Better Writers
. This is a program developed by David Dye to offer parents a simple, comprehensive, easy-to-teach writing program that enables them to (and I quote):
teach all their students simultaneously at various levels
teach in an organized step-by-step manner
teach all the major writing concepts every student requires to attain college-level skills
We were sent three e-books for this program.
The Homeschool Writing Action Plan
,
How to Teach the Paragraph
and
How to Teach the Five Paragraph Essay
. The Writing Action Plan is kind of like the Teacher's Manual. It explains the program, gives you the overview of the plan, and shows you step-by-step what you need to do to reach your student's goal of excellent writing. It explains the order of teaching each grade, broken down by semester. It finishes up with a quick explanation of how to use their various products to teach the different skills needed to be a good writer. It is not a stand-alone manual, though. You will need either their other products or another program to implement the plan.
How to Teach the Paragraph is just what it sounds like... a 23 page instruction manual on teaching your student to write an strong paragraph. This is basically where the program begins, and this is where we spent our time. Teaching the Five Paragraph Essay is the next book and we did not reach that point in the time allowed for this review.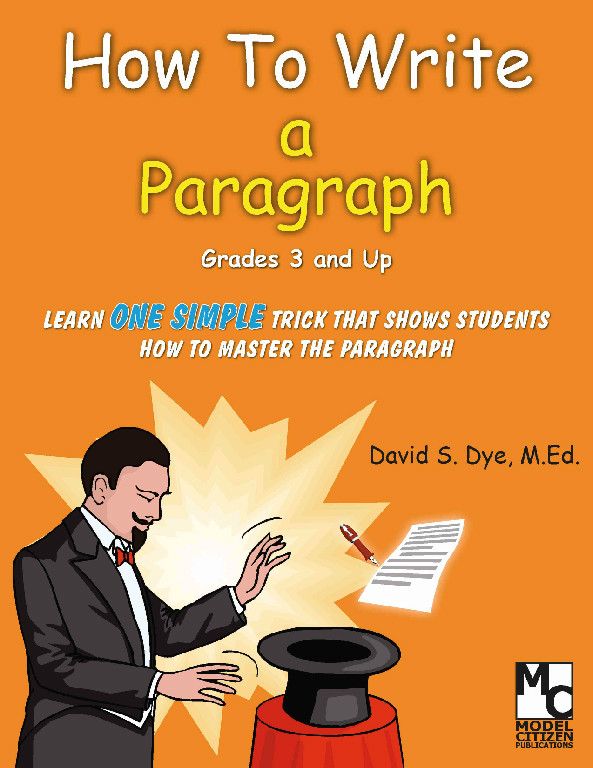 So, How to Teach the Paragraph starts by having the child memorize the Five Parts of a Good Paragraph. There are several suggestions for ways to make this fun, although many of them were difficult to implement since I only had one student. Once this is learned, the student is shown how to set up their paper to make pre-writing easy. Then they learn how to master the topic sentence, the closing sentence, and how to assess their finished work.
Kaytie easily memorized the five parts (she knew a couple already) and is currently working hard on writing a good topic sentence.

I thought this was a well-thought out ebook, with a plethora of good tips and ideas. It is simple to implement and seems to be effective for Kaytie. I liked the fact that I could use this book without her even being aware that I was "using" something on her because it kept our work time relaxed and unpressured. More like a game than a "Writing Program".
You can read what other Crew Members have to say
here
. And you can watch a 10 minute video of how it works.

DISCLAIMER: I was given a free download of these three ebooks for the purpose of this review. All opinions are honest and solely my own.