As avid bookworms, the best review products that Kaytie and I can imagine are books. So we were pleased when we received the ebook
10 Girls from History
from
Golden Prairie Press
. Now, I despise pop culture idol-worship. I want my kids to be impressed and inspired by real people who did real things, displaying courage, perseverance, and self-control, just to name a few. So I was delighted to hand Kaytie this book about ten girls who are real heroines.
This book was an easy download as a PDF to my computer and to my Kindle Fire. I gave Kaytie my Kindle and she kept coming back to ask for it again and again to read and re-read these stories. Stories about Molly Pitcher, Clara Barton, Louisa May Alcott, Virginia Reed and girls who I had not even heard of before, she devoured them all.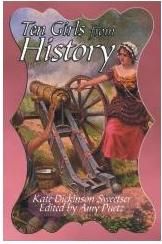 I loved that I can rest easy with her reading this book, knowing she is learning lessons in faith, patriotism and hard work, as well as learning about history in a fun way. I also thought it was great that she now has girl heroines to look up to, girls that acted like true ladies and not flashy people-pleasers.
Kaytie said that she enjoyed the stories, she liked learning about girls she didn't know anything about before and her favorite was the story of Cofachiqui: An Indian Princess.
I read through the stories myself, of course, but since they were written more on her level than mine, I don't think I enjoyed them as much as she did. :) However, I think this book will stay on our "shelves" until Abbie outgrows it, at the very least.
At the end of the book is a glossary of some of the more uncommon (in our time) words, a list of biographical facts for each girl and timeline with all of the girls (except for Cofachiqui since her birth and death dates are unknown) on it.
Ten Girls from History can also be purchased as a print book and an audio book. You can view a sample of it
here.
You can read what other Crew Members thought about this book as well as other offerings from Golden Prairie Press
here
.
DISCLAIMER: We received this ebook as a free download for the purpose of this review. All opinions are honest and our own.