One of my favorite memories from when my kids were babies and toddlers happened one Sunday after church. We were standing around chit-chatting in front of the church and a grandmotherly lady stood and watched my four small children dance, twirl, wrestle, tip-toe, wriggle, shimmy, and basically be-bop their way all around the room. "My," she finally said, smiling dazedly at me, "They sure are..." after a long search for the most diplomatic word, "
Busy
, aren't they?" The memory of that delicate understatement carried me through many months of four active children in a small apartment, and it still makes me laugh.
That "busy-ness" is the main reason I have never really bothered about P.E. in our homeschool. They were more than capable of getting all the exercise they needed without any help from me! But now they are getting older and they are gradually slowing down. We are far from couch potatoes in our home, and the kids do play soccer, run around the yard, and ride bikes, and I still have to frequently remind children that they are not allowed to use the furniture as their own private gymnastics equipment. However, I have noticed that they are starting to choose reading a book over playing outside, or building with Lego over climbing trees, especially in the hottest days of summer. I want them, as they grow old and sedate, to view exercise as a part of a daily, healthy life. I want them to not only choose an active lifestyle, but to know how to treat and nurture their bodies so that exercise benefits them long past these "busy" years and on into their more inactive adulthood.
But, when I started casually looking around for P.E. ideas for us, I quickly realized that anything we did I would have to come up with on my own. There just wasn't anything out there other than putting them in organized sports or turning on some music and letting them dance around. Frankly, I did not have the time, motivation or the know-how to create a P.E. program on my own. So, I was happy to have the chance to review a P.E. program created for homeschooling families:
Family Time Fitness
. There are three different programs offered for three different settings, one for schools; one for co-ops; and
one for homeschooling families
. The last one is the one we reviewed.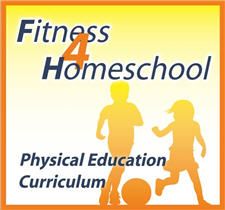 This program, developed and designed by experts in "fitness training, nutrition, and body movement" was intended to fill the void in physical education for homeschooling families. You can read about how and why it started
here
. It is intended to offer families a genuine physical education that teaches kids the correct ways to exercise and gives them the tools to get and stay healthy for a lifetime. This isn't just play-time, this is the real thing.
We received a package of PDF that included an introduction to the program, an assessment, and 260 lessons. Each lesson includes a warm up session, an activity, an optional outside activity, and a cool down session. At the beginning of each lesson is a quick overview of the skills being taught and all the equipment needed. There is also a one-page summary of each lesson if you want to print them off and use them as reference. I was not familiar enough with the program to use this feature, I just read each lesson of the computer, but in future years as we go back through this program, I can see it coming in handy. Also, if you purchase this, you will receive nutritional information, encouragement emails, access to online webinars, lifetime updates and certificate of completion.
The equipment needed for the lessons is simple and easy to procure. I bought jump ropes and hula hoops at the Dollar Tree and everything else we needed (balls, bean bags, cones, carpet squares etc.) we either already had or were easily substituted with stuff we already had.
Family Time Fitness is intended for grades K-8th. I would say they are right on target, because each exercise, although a "real" exercise was easy enough for my 5 year old to attempt and feel successful at. Yet my 8 and 9 year olds were still challenged. We did learn, somewhat to my surprise, that my 8 year old does not know how to skip. I guess we need to work on that! Some activities were more complicated than others, but we liked that there was plenty of variety and we could move from one activity to another at a fairly quick rate. There was no getting bored with in this P.E. class!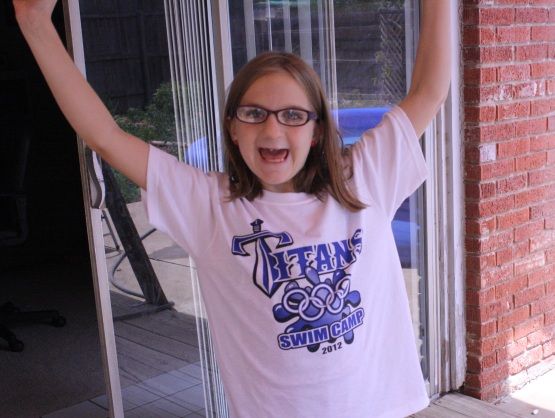 My favorite part about this program is that, not only is each exercise described, but there is a clickable link right there that takes you to a video where you can watch children actually doing the exercise. So I was always confident that we were doing them correctly.
I always try to give a balanced review, however, I have to admit that I was unable to come up with any negatives for this program. It was a perfect fit for our family... simple enough that I can "teach" it, flexible enough to fit into our schedule, fun enough for the kids to enjoy doing it and cheap enough that I would purchase it if I had to.
The kids opinions:
Kaytie:
I liked it because it showed me the limits I could go to for exercising. It really taught me to exercise. One of my favorite activities was the shuffle and the skip and the jump one. I liked that.
Nate
:
I like it because it is fun. I liked the jumping jacks!
Daniel:
I like it because I like exercising. I liked skipping the best.
Abbie:
I thought that it was a great exercise and it helped me with my soccer, too. It made me work hard and it made me strong. My favorite part was hopping on one foot. I loved it because it made me be healthier.
Other Crew Members' experiences and opinions can be found
here
.
DISCLAIMER:
I received a free download of this curriculum for the purpose of this review all opinions are honest and our own.