Since we love to read around here and are always in search of a good book, we were delighted to be asked to review
A Cry From Egypt
by Hope Auer. This book was published by
Great Waters Press
and advanced reader copies are currently available
HERE
for $12 .50. The coolest thing about this book is that Hope Auer started writing this book when she was 13 as a school project
and
both she and the illustrator, Mike Slaton, were homeschooled! How fun that was to share with my kids! :)
As you can probably guess from the title and book cover, this is a fictionalized account of the Biblical story of the Israelite's departure from Egypt. Written from the perspective of a young, Israelite girl, "Jarah", the story begins shortly before Moses returns to Egypt to confront Pharaoh and ends right after the first Passover. Hope is working on the next book in the series. :) The story includes the personal trials of Jarah's family as her mother has given up hope in Yaweh and has turned to a belief in the Egyptian gods and also follows Jarah's own journey to faith and trust in the One True God. This is definitely a children's book, yet I found it engaging and accurate. I have always loved Biblical fiction and I was happy to find this book that brought these events to life for my kids. It's always a relief when I find a book that I can safely hand over to my children without concern. Not only was there not anything to worry about in
A Cry from Egypt
, but I knew that by reading it they were getting reinforcement in the principles I teach them... God is in control; He has a plan for our lives; we can trust Him to do what is best for us even when circumstances around us are bleak and full of problems. I loved reading a character say these words to her Egyptian friend,
"He told our father Abraham that He would bring his descendents back to the land He had shown to him, and there's nothing your gods, or Pharaoh, can do to stop Him because He is almighty. He controls the wind, the rain, the weather, and all parts of this earth. He is real, true, and just. There is no other god. I cannot deny Him."
THAT is the kind of book I am excited about my kids reading! I also greatly appreciated that Jarah's father was a deeply compassionate man, even to his abusive masters, the Egyptians, never ceasing to pray for them and not displaying anger, vindictiveness nor triumph when the final plague finally vanquished them.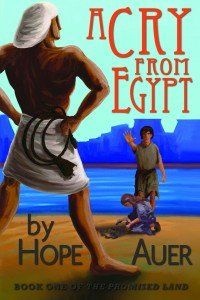 Before I could finish reading this story, my nine year old daughter was hanging over my shoulder, "Can I read that, now, Mom? How about now?" When I finally gave it to her, she disappeared with it and then her eight year old brother took possession and I had to work hard to get it back in time to finish writing this review! And Kaytie is now hovering over me again, waiting for me to be done so she can re-read it, "Just one more time, Mom, ok?"

This is what they had to say about it:
Kaytie:
I liked it because it gave me an Israelite's point of view of Exodus. I liked that the main character, Jarah was friendly and hard-working and she was someone I could have been friends with. I am excited to read the next book. I really liked this book and I'm pretty sure I would like the next one.
Nate:
I liked it because it had a lot of adventure and excitement in it. I want to read the next book already! I thought it was cool that the author was homeschooled.
So you can see that
A Cry From Egypt
was a big hit in our family and we highly recommend it. We are eagerly awaiting the sequel and hope that Hope doesn't take too long to write it! ((hint, hint))
You can read what other Crew members have to say about this book (and the other book from
Great Waters Press that some reviewed) on the Schoolhouse Review Crew Blog.
DISCLAIMER: We received a copy of this book for free for the purpose of this review. All opinions are honest and our own.