The Reading Kingdom
is an online program that teaches kids how to read and write to a third grade level. Based on the idea that phonics and whole language methods of teaching reading are neither one effective, Reading Kingdom attempts to use elements of both methods along with additional skills to teach children to read and write.
I am not a teacher nor have I taken any education classes, so I am not here to argue with or support this premise. I will just tell you about our experience. First of all, my oldest two children learned effortlessly to read through phonics. I had a book that taught phonics and we just worked our way through it until they took off on their own. Secondly, my younger two children have not had as easy and simple of an experience. My six-year-old, in particular, has had little interest and many struggles in learning to read. So when we were asked to review
Reading Kingdom
, he was the child I chose to use it.
Before we began this program, Daniel could read short vowel CVC words, long vowel words with silent e, all of the consonant combos (sh, th, wh, sl, mp, etc) and several vowel combos (ee, ow, and ou).He does not like to read and, when asked, will say that he does not know how.
The program was an easy signup and started with an assessment. He hated the assessment. He was bored, restless and fidgety and the only thing that kept him there was the fact that it was on the computer. After the assessment he worked his way through Seeing Sequences (this teaches visual sequencing skills) and Letter Land (keyboarding skills) which seemed to take forever (even though we doubled up and often did two lessons a sitting), but was only a few weeks. I did not watch him every time the entire time he worked, but these sections mostly seemed to involve him typing letters to complete words and choosing the correct letters to form a given word. For example, he might be given the letters hbjalby (I'm going off of sheer memory here) and asked to chose which letters spell the baby. He was also asked to type words from "memory" and sound alone. Basically, a spelling test. Getting the correct answer gained him the reward of animated characters (usually animals) doing funny things. This was truly a reward for him. He giggled every. single. time. When he made mistakes, or was too slow (which happened often, because he had a difficult time focusing) the program would require him to start over from the beginning of the word. Eventually, if he continued to mess up or mess around, it would do it for him.
A few days ago, he finally moved up to Reading/Writing Level 1. This consists of "books" that he can read. The words in these books are "some", "boys", "more", "girls", and similar words. I was somewhat taken aback that these are all, in essence "sight words". I was also dismayed to see that he does not need to actually read these words. He promptly clicked on the words, listened to the computer read them to him and went merrily on his way. I had to sit with him and insist that he read them before clicking on anything. I could do that with a book and we would be more comfy, curled up on the couch.
The parent/teacher portions of the program are a dashboard that shows the student's progress through the program, and various options that the teacher can set. For example, I could choose whether he used to mouse or the keyboard click/type his answers. I could also pause a lesson for him and change the amount of time allowed for answers. In order to repeat or skip lessons, however, I need to contact Reading Kingdom.
So, here are a few screenshots for you:
his progress report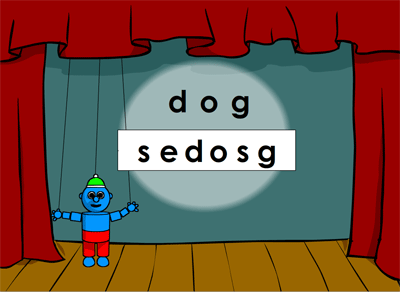 he needs to choose the letters that spell "dog"
The bottom line is, once he finished the assessment, he enjoyed playing around with this program. The funny stuff was plenty of reward to keep him amused and engaged. I never had to insist that he use it and he would often ask to do a second lesson after he finished his first. However, after working on it for five or six weeks, his reading skills have not changed at all. He is still at exactly the same skill level and he still feels exactly the same way about reading as he did before.
But don't just go on our experience, read what other
Crew Members
had to say and you can sign up
here
for a Free 30 day trial to have your own experience.
DISCLAIMER
: I received a subscription to this program for free for the purpose of this review. All opinions are honest and my own.