One of my goals in our school is for the kids to learn Spanish. We live in an area where knowing how to speak Spanish is an incredible asset, not only in getting jobs and such, but also in helping and ministering to people. In the past few years our family has participated in ministering to several groups where my kids were the only (or some of the few) who did not know a second language. And the most common second language around here is Spanish. I don't know how fluent I will manage to make them, considering I know only a little tiny bit of the language myself, but I take every opportunity I can to expose them to the language in hopes of achieving fluency or at least, understanding.
One of our favorite ways of working at Spanish is
Speekee
. We have reviewed this wonderful resource before (you can read about that
here
) so we were delighted when we got a second chance at it.
Let me tell you a little bit about it. Speekee is basically a collection of videos for children that is similar in format to Sesame Street. A myriad of kids, adults and puppets perform short snippets of real life in a humorous way. Only thing is, it is totally in Spanish. So the kids are exposed to the language being
used
, kind of how we learn our first language.
Speekee
is a series of ten episodes, each set in a different place (the zoo, the house, the party) and uses talking and singing to teach vocabulary, phrases, and sentences that apply in each place. This is practical vocabulary that the kids can/will use in daily life. Captions are available in both English and Spanish. I say "both" but I mean they are simultaneous. You can choose to turn them off, but we found them beneficial, not only in speeding our comprehension of what they were talking about so that we clearly understood that "la casa" means " the house", but also in helping us catch the pronunciation of the Spanish word. And of course, the fact that it makes it multi-sensory didn't hurt a bit!
Speekee
is aimed at kids aged 2 to 10, and I can attest to the fact that it was right on target with our crowd aged 5 to 9. They cheered every day at "Speekee Time", eagerly gathered around the laptop, repeated the words, answered the questions, and joined in with the songs. "Te quiero," "Adios," "Mi gusta," and "Gracias," now abound in our house, which is exactly what I wanted to gain from Speekee, because it means the kids are absorbing bits and pieces of the language into their daily life and subconscious.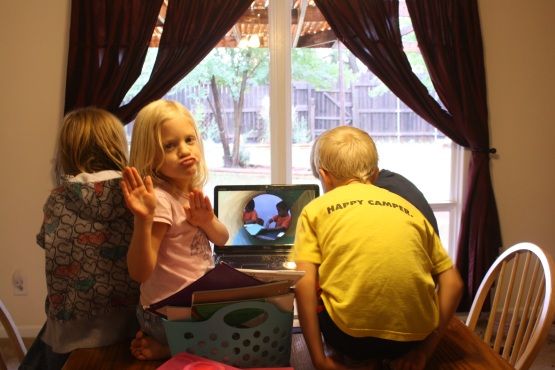 Since we reviewed it last time, there have been improvements made. FastTrack has been added. This is basically a lesson plan set up by weeks that go along with each episode. For each day there is a suggested activity (making puppets, a dialogue to set up for practice, quiz questions to ask, games) that just take a few minutes, but are great for really reinforcing the vocabulary introduced in each episode. There are also worksheets and flashcards available to print off. A cool feature of the FastTrack is that you can have it emailed to you each week. This helped me remember to schedule it into our day.
We watched Speekee on my laptop, but it is also possible to watch it through your Wii. From what I hear, though, the captions are not available on the Wii.
As I mentioned before, the kids thoroughly enjoyed Speekee. The songs even inspired some dancing on the table.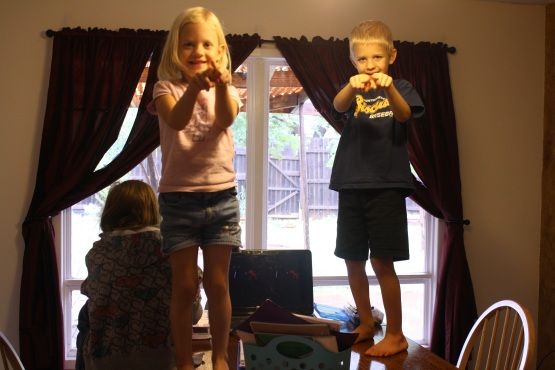 Not only that, they learned from it, so I thoroughly love it as well! It works for us.
Speekee
is available as an
online subscription
(either monthly or yearly), or as a
DVD purchase
. When you sign up for the subscription, the first two weeks are free, and there is no minimum period of time you must purchase. The DVD purchase comes with a warning: these DVDs are produced in Europe and might not be playable in an American made player. Be sure to check your equipment before you purchase! (players that are compatible are available for purchase in the US)
Another thing: the Spanish on Speekee is spoken with a European accent, so if you live in North America, you might sound a little strange to your Spanish-speaking neighbors. However, I don't think this is a big enough deal to turn us away from this wonderful resource.
You also need to be aware that Speekee's songs will get stuck in your kids' heads so they will sing them often throughout the day. Not only that, they will get stuck in
your
head and you might find yourself singing them when you are out alone at, say, the grocery store and you might catch some weird looks being thrown your way from fellow-shoppers. Not that that happened here or anything. Ahem. Let's just say that if it
did
happen, it isn't fatal. It's not like those people actually know you or anything. And hey, they need to learn Spanish, too!
Bottom line, we love Speekee and are having so much fun learning Spanish with her and Jim and all their friends! Once again, our main complaint with Speekee is simply that ten episodes is not enough. We want more!
You can see a short preview of Speekee
here
, and you can read what other Crew members had to say
here
.
DISCLAIMER: I received a free subscription to this site for the purpose of this review. All opinions are honest and my own.