We are immersing ourselves into American History this year, so I was delighted to have a chance to review
The Historic Expedition of Lewis and Clark
, DVD from
Marshall Publishing
. A while back, we reviewed
Lots and Lots of Firetrucks
from Marshall Publishing, so I was expecting an interesting and engaging video with excellent quality. I was not disappointed.
Over a background of classical music or Native American drumbeats, the pleasant voice of the narrator described the highlights of the expedition, the reasons for the expedition and the important results and achievements of the trip. He wrapped up by detailing what happened to each of the prominent members of the Corps of Discovery after they made it safely back to civilization. As he talked, his words were emphasized and enhanced by the images of maps, paintings and drawings of the events, statues of the explorers (as well as Sacajawea, York, and the dog Seaman), re-enactments of the story, video footage of the wildlife the Corps encountered and the beautiful Missouri river.
This was no dry documentary, but an interesting story of a band of explorers and what their bravery and persistence accomplished. The video is about 30 minutes and it held our attention from the engaging questions at the beginning to the very end. The kids loved the bears, buffalo and other animals, I loved the use of actual quotes from Lewis and Clark's journals. We were, however, taken aback at the pronunciation of Sacajawea's name. I had never heard it pronounced that way so I did a quick search and discovered that there are, apparently, two schools of thought on this. I couldn't find a source that I would consider "definitive" so I guess we will just keep on saying it the way we have been, but won't be scoffing at this narrator, either. :)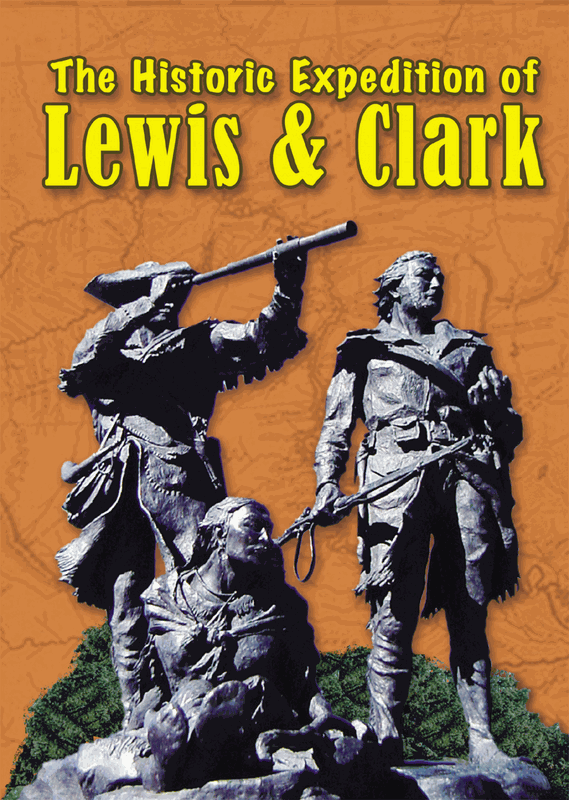 We are not at this point in history yet, so we did not do much beyond watching the DVD and discussing it a bit. However, when we do get there, I plan on using this to engage their interest in these events and to broaden our experience of what happened. There are a lot of little details mentioned in this DVD that I plan to point out and explore in depth with the kids. I love how this video brings this expedition and these people to life for us. I especially liked the re-enactments because they sparked a lot of questions from the kids. "What is that wooden thing? And why is he pulling on it?"
The kids opinions:
Kaytie: I liked it because the lakes were pretty. I can't remember the names of all of them, though. I liked the pictures of the cliffs, too. I learned that Lewis was made a secretary of something (I can't remember) and that meant he had to go up the Missouri. I didn't like how the narrator pronounced "Sacajawea".
Nate: I thought it was a pretty good DVD because it showed a lot of detail about Lewis and Clark. It was interesting. The Beaverhead was the most interesting thing. It was a rock formation and it was a landmark. I would recommend this video to anyone... even eight year old boys.
Daniel: I liked it because of the rivers and the waterfalls. I liked the Indians and how they helped them. They shot the grizzly bear eight times and it still ran at them!
Abbie: They met some Indians and my favorite part was the waterfall. I liked Sacajawea, too.
We would definitely recommend this DVD for anyone learning about American history, or even just interested in Lewis and Clark. I think it would absolutely add value to your studies.
Other Crew Members have reviewed this DVD and other DVDs from Marshall Publishing. You can read those reviews
HERE
.
DISCLAIMER: I was given this DVD free of charge for the purpose of this review. All opinions expressed are honest and our own.