Box of I.D.E.A.s
(stands for Ideally Dynamic Enrichment Activities) is a company that offers "delightfully interactive learning modules" for random topics that could be of interest to you and/or your students. These "unit studies" if you will, seek to provide "critical thinking and knowledge building activities" with a variety of topics, including Salt, World War II, the Civil War, Quilting, the number Eleven and many more that are coming soon. These boxes are geared for kids ages 9 to 16 and can be used as a supplement, a group activity, or just as summer boredom-buster. Each box contains 10 or more "modules" which contains almost everything you need and is easily portable for on-the-go learning.You can purchase the boxes as a physical product or as a download. We received the
download
as a review, and the box we got was
Salt
.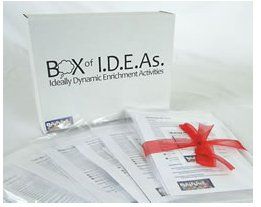 Salt has ten modules, each in its own PDF file and are titled:
History of Salt
Language of Salt
Need for Salt
Preserving with Salt
Producing Salt
Science of Salt
The Salt March
The Salt of the Earth
The Wall that Salt Built
Very Salty
We also received two introductory PDFs that explained what the box was and how to use it, and a Salt Test for the kids to take to kind of stir up their curiosity a bit.
Each module contains an introduction, extension ideas, weblinks, instructions for what to print and what to print it on (some pages need to be on cardstock, some can be on regular paper), instructions for how to play the games, a list of other required items (if needed), a quote about salt and all game pieces, portfolio pieces and information needed. They are very simply laid out and well organized. It is a piece of cake to scroll through each PDF, print what you need and know what your "lesson plan" will be. I could prepare in a matter of minutes.
Because this is aimed at older kids, the activities are mostly writing, researching, and card games. My oldest is nine, so this was a little over most of my children's heads, but they did learn some fun facts about salt, a little about the history of salt and a lot about the nutrition of salt. I stressed the last bit, mostly, because I have a kid who loves the taste of salt and would eat it straight if I would let him.
Even though we skipped a lot of the writing activities and were not able to play all the games exactly as intended, we were able to tweak some games to fit our age-group.
Here, we are playing the card game from the History of Salt module: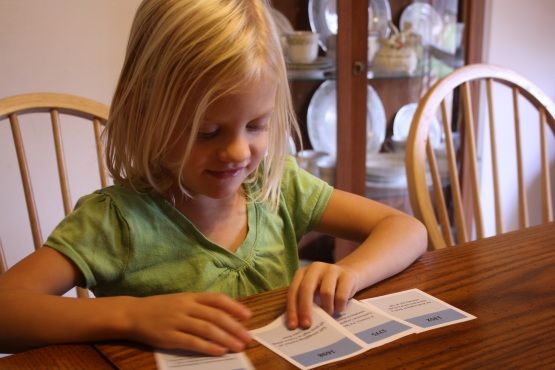 Each card had an event in the history of salt and the date of that event. We dealt out the cards and each child arranged their cards in the correct order by date.
Then the boys worked together to combine their cards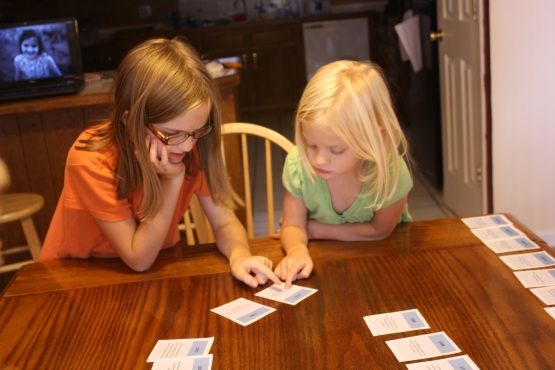 while the girls did the same.
Then we combined them all into one big timeline.
The big kids read through the cards, intrigued by the information.
I think these modules really are for kids ages 9 to 16, but if you also have younger children, they could easily be included into the activities and would learn a lot! While I personally would not purchase one of these boxes, I think they would be a good fit for older children with a passion for the available topics. They are great group activities and are a fun way to dig deeper into topics that interest your child.
One problem that I had: there are clickable links in the modules, but I found that if I just clicked them, the page always came up "not found" or "no longer available". I had to copy the links and paste them into my browser in order for them to work.
You can buy each
Box of I.D.E.A.s
as a physical product or as a download. If you buy the physical box, and have more than one interested child, additional student packets with all consumables are available for purchase.
Other Crew members reviewed different boxes, you can read there reviews
here
.
DISCLAIMER: I received a free download of this product for the purpose of this review. All opinions are honest and my own.