In our school, and even more, in our family, we spend a lot of effort and energy on teaching our kids the Bible and Biblical principles. We want them to follow God and to have a real relationship with Him on their own... apart from us. One of the ways we seek to do this is by setting the kids up with their own
quiet time
. We also have a set time during school to have a group Bible study. Every morning, we gather in the living room, read a passage from the Bible and then discuss it. Every one has their own Bible and, often, we read the same passage from different versions to help us understand it a little better.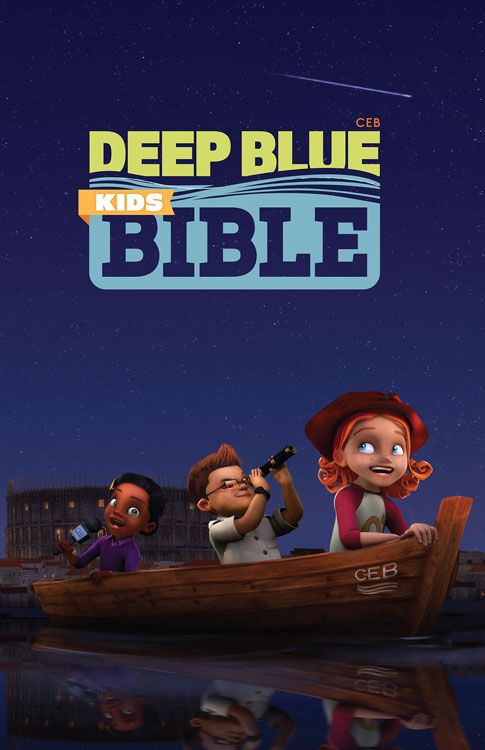 A welcome addition to both of these times has been the
Deep Blue Kids' Bible
from
Abingdon Press
. This Bible uses the
CEB translation
in order to be more easily understood by kids. But that is not the only help that kids get from the Deep Blue Bible. Scattered though out the text (on nearly every page) are answers to common questions, background information, application, memorization suggestions, devotions, an introduction page to each book of the Bible and more. They explain these in a little more depth
here
. In our competitive household, the "Bet You Cans" were a big hit. These were little notes next to certain passages challenging the kids to read the passage in a certain amount of time. Silly, maybe, but it certainly got the kids to reading.
This Bible includes: 8 full-color maps; lists of all the different types of notes, devotions, and challenges and where you can find them; a dictionary; definitions of Biblical measurements and monies; and a section where your child can find Scripture passages that address such issues as fear, anger, forgiveness, sickness, and temptation, just to name a few.
We have certainly enjoyed the Deep Blue Kids' Bible. It is aimed at kids ages 7 - 12 and all four of my kids (ages 5 to 9) have used it and learned from it. But Kaytie, the nine-year-old, has probably benefited the most. First thing after this Bible came in the mail, Kaytie sat down and read the entire book of Esther. She has loved digging deeper and has used this Bible on a daily basis. It is the perfect size to carry while still having large enough print for a child read easily. It's tough enough to withstand the wear and tear of my rough kids, and even though we have had it for weeks, it is still the favorite Bible in the house.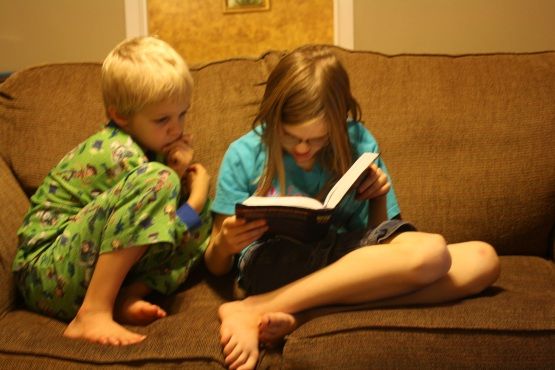 Kaytie: I liked this Bible because it is easy for me to read. It is more understandable. I thought that the notes and study aids were cool and the two "Bet You Cans" that I found I actually did do it. My favorite kind was the "Life Preservers" because it told me more about the verse I was reading.
Nate: I thought this Bible was cool. I liked the "Bet You Cans" the best. There was nothing that I didn't like about it.
You can see
sample pages here
, watch
book trailers here
, and check out
purchasing options here
. We were sent the "Image-Flex Cover". You can read about other Crew members' thoughts and experiences on the
Crew Blog
, and find
additional resources for the Bible here
.
DISCLAIMER: We were given a free copy of the Deep Blue Kids' Bible for free for the purpose of this review. All opinions are honest and our own.