Remember the workbox craze? Back when you couldn't read a homeschool mommy blog without seeing post after post about the wonders of workboxes? I participated in that craze, although I usually don't "do" fads, and we turned out to be the kind of family that workboxes really work for. I talked about our modified version
here
. For several years I always answered the amazed question, "How do you teach so many kids at the same time?" with "Workboxes."
But now, I am no longer babysitting, we moved, and the kids are all older, so our workbox system has morphed into another form. We now use baskets.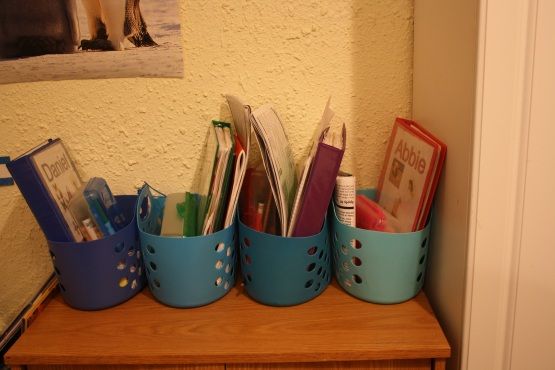 Each child has their own basket. I picked these up at the Dollar Tree and at the time, blue was the only option. So they each chose their favorite shade of blue. I usually color code the kids, but in this case, it is easy enough to tell whose basket is whose by what is inside. Each basket holds that child's individual work and what they need to get that work done. At the beginning of the school day, they take their basket to the table and have everything they need, right there. In their baskets, they have their binders. The binder idea is brand new to us. I used to have everything in notebooks and folders because they are cheaper. It finally occurred to me that unlike the thin folders, they don't need a binder for every subject! They only need one good-sized binder and a set of tabbed dividers. So, over the summer, as I planned, I copied, printed, sorted and tucked all their pages of work into their own binders. The binders
are
all color coded. (Kaytie's color is actually red, but since there weren't any red binders anywhere to be found, she opted for purple instead.)
On the front of the binders I placed a collage of pictures that they chose themselves and at the back... at the back is my favorite part of this whole system. Their daily schedule. I put pictures on as well as words, so that even the little kids can easily "read" their schedule. When they finish up a subject, I say, "Ok, what comes next?" and they look on their schedule and know exactly what to do! Kaytie and Nate don't even need me to say anything. They just go from one thing to the next until they need me. They also are almost nearly trained to go ahead and move on if they need me but I am helping someone else. I really, really, really love this system!
Their schedules are carefully arranged so that me, the computer, and the keyboard (for piano practice) are juggled nicely between the four kids. This not only keeps me from ripping my hair out because everyone wants to practice math facts drill at the same time, but it also provides a very handy motivator for staying focused and working hard. I told them all that when/if they get far enough ahead that they "bump into" someone else and need me, the computer or the keyboard but someone else is already using them, then they get to go play until the item is free. This not only motives them to work hard in the hopes of getting free time, but it motivates them to stay focused to keep other people's free time to a minimum. It bugs them to have to work while someone else is enjoying themselves!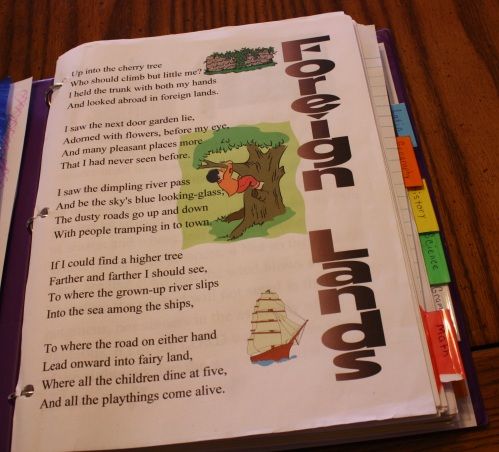 The kids are loving their independence. They love knowing what is next and when they will be finished. They love not having to wait on me to tell them what to do, to find papers, to hunt up a book, or whatever. Everything is ready in their basket or their binder. They love being able to look back over the work they've completed instead of it disappearing into a "completed" bin to be filed away.
Most of all, the set-up is cheap and easy and I don't have to fill workboxes any more!