I learned to read very early in life, and I read a lot as a child. But naturally, it wasn't until I was an adult that realized just how strong of an influence the stories I read had on my thoughts, attitudes, behaviors and general view of life. As a parent, I am careful of what I allow my children to read, what they fill their little minds with. My older two kids will read anything they can get their hands on, so we are constantly on the lookout for quality material. So we were delighted with the chance to review books from
Grace and Truth Books
. Their stated goal of offering books that "
will glorify God, strengthen His people in their walk, and call all peoples to find joy in knowing His gospel and following Him"
is exactly what I hope to find in the books that my children read.
We were sent two books from the
Character Building Collection
. The Reward of Childhood Truth and The Little Medicine Carrier.
The Reward of Childhood Truth
is actually two stories about two different families. The first story is about two little boys who have been taught to always tell the truth, even if it means they might get into trouble, and it relates the long term consequences in their lives and the life of their neighbor as a result of this habit of honesty. The second story is about a little girl who succumbs to the temptation of a "little white lie" and the results.
The Little Medicine Carrier
is about a boy named George who must go to work in order to help his mother feed and house them. In the story, he learns lessons in the value of hard work, the importance of honesty, and the joy of contentment, kindness, and being dependable.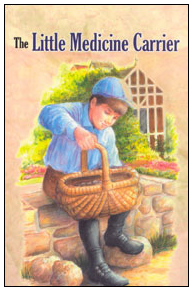 Both books put emphasis on the fact that we cannot "be good" on our own, but need God's help to overcome temptation and do the right thing. The Gospel is also shared in the books.
I found these books a tad heavy-handed on the moral of the story, but a good read none-the-less. They were pleasant, held my interest and overall were enjoyable. I felt no reservations about handing them over to my children.
Kaytie:
I think, in the Reward of Childhood Truth, that in the second story, Mary was right to tell the truth to her mother. These books, as I have said in other reviews, go deeper into how I should look at Christ, than I would have done on a normal day. Helps me understand better how salvation works. I enjoyed reading these books. I would like to read more like them. I would recommend them to kids who want a better understanding of the way Christianity works. There is nothing I didn't like about them.
Nate
:
Well, actually, I only read The Little Medicine Carrier. I sort of liked it. It was a little hard for me to understand. It did encourage me to be more dependable and honest. I did enjoy it and would like to read more.
(Mom's note: these books are targeted for kids ages 8 to 12, and he is 8, so, although I could not get him to pinpoint exactly what it was he did not understand, I imagine that is why he felt a little lost in places.)
In short, we liked these books and hope you will, too. You can purchase them at
Grace and Truth Books
for $4.75 apiece. Which I think is a great price for the quality. Kaytie and Nate just might find some of the books from this collection in their stockings this Christmas. But don't tell them!
The Review Crew reviewed many different selections from Grace and Truth Books, so be sure to read their reviews on the
Schoolhouse Blog
.
DISCLAIMER:
I received a free copy of these books for the purpose of this review. All opinions are honest and our own.