I was raised on stories about the famous old missionaries: Amy Carmichael, Hudson Taylor, Adoniram Judson, David Livingstone, Jim Eliot and his friends. I have always found them inspiring spiritually and just plain all around fascinating. This interest is shared by my husband. In fact, Nate was named after Jim Eliot's pilot and fellow missionary, Nate Saint. And, starting from a very early age, this interest in missions and missionaries has been shared by my oldest daughter, Kaytie. Since she was about 5 or 6, she has declared that when she grows up, she is going to be a missionary. So now she is devouring those stories of the famous old missionaries. And she was very interested in our latest review:
Growing Up Wild
. A video series produced by a family of missionaries serving the Wano people in Papua Indonesia.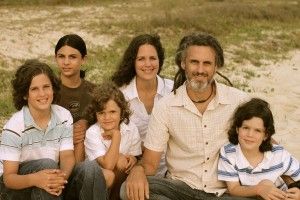 The Wild family, Mom, Dad, and four young boys, produces these videos that give a glimpse of their lives in an attempt to educate kids about missions and possibly even inspire them to become the next generation of missionaries. You can read more about that
here
.
We reviewed
Volume 1
and
Volume 4
. Each Volume has three episodes on it, each lasting about 15 minutes. So we watched a tour of their house, a glimpse of how they get supplies and how they provide themselves with electricity and water. Then we were delighted by a look at some jungle animals, a snippet of Wano culture, and a quick explanation of their personal calling and how everyone who is a follower of Jesus is a part of the Body of Christ and has a part to play in the evangelism of the world.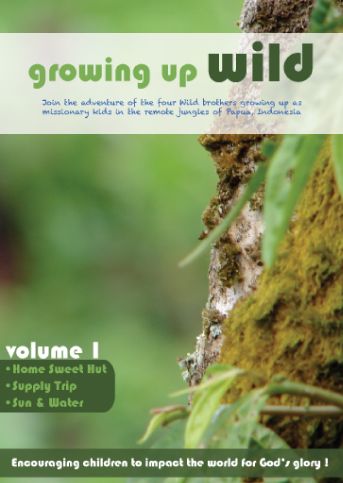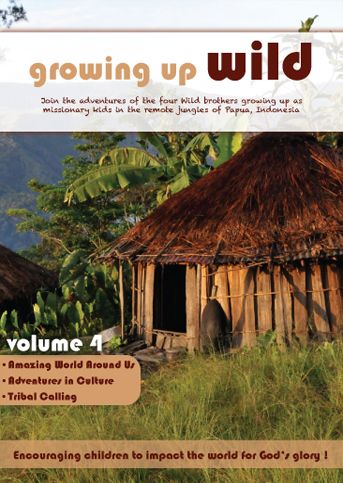 These videos are a quality production. If I had not been told, I would never have guessed that the family did all the work themselves. We very much enjoyed watching and I think we all gained an appreciation of a different culture and God's wonderful creation.
In addition to the videos, which are awesome in and of themselves, each episode has an Activity Guide with suggestions of, well, activities, that the kids could do to extend the lessons. The one that we enjoyed the most went along with the tour of the Wild's home, and was to build our own versions of a Wano house.
As we worked with playdough, pipe cleaners, straws, and popsicle sticks, we discovered that building a round house was a lot more difficult than we thought it would be!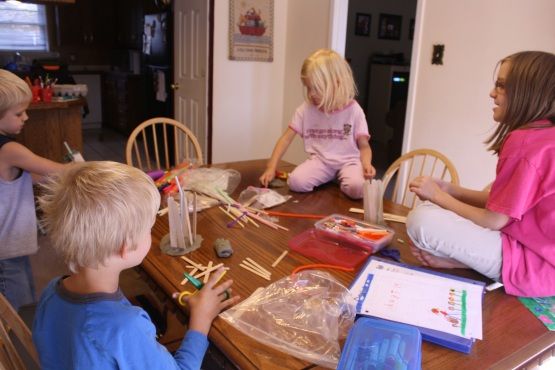 After we enjoyed the first episode, the kids asked regularly to watch and re-watch
Growing Up Wild
. They were fascinated by the animals of Papua, the lifestyle of the Wilds, and the culture of the Wano people. I feel very safe in saying they LOVED these videos!
I do feel it necessary to insert a small warning, though.
Growing Up Wild
might not be just the thing for the squeamish among you. While some of us (yes, the males, how did you guess?) were delighted to watch a cat eat a rat (there was no gore, but it was obvious what was going on), pleased to see little boys eat a tentacle and fish eyes, and highly intrigued when the two older boys got their noses pierced (on camera), others of us looked away from these sights. I did appreciate the mom's attitude about the boys wanting to pierce their noses like the Wano. She said that initially she told them "No" and that the boys were respectful of her decision. She mentioned that their attitude played a part in her eventually changing her mind and allowing them to do it. That is the sort of thing some of my crew needed to hear. ((ahem))
While I enjoyed exposing my kids to a different culture and broadening their view of the world around them, I especially liked the episode on Calling, because it sparked a discussion on what they are called to do and how, no matter what their job description might be, they are a part of the Body and called to do something for evangelizing the world. Even if it is "just" praying.
This is what the kids have to say about
Growing Up Wild
:
Kaytie:
I like it because it teaches me about how the Wano people live. This was encouraging because I want to be a missionary when I grow up. It encouraged me because it showed me how a missionary acts and how I should react to the difficulties in my life now and when I become a missionary. I would recommend these videos to kids who want to be a missionary but feel like they need encouraging. And to mothers who want their kids to learn about how the Wano people live and to moms who want their kids to know more about how missionaries live.
Nate:
I love it! Because it is so fun! It was so good. I would not recommend getting your nose pierced, though. I liked and loved all the cool animals. My favorite part was when Phineas (the cat) saved them from the praying mantis.
Daniel:
It's fun to watch because I learned about the Wild kids. They live in a cool place and have water and electricity that they made from solar panels. And I liked the part where Phineas attacked the praying mantis. When they pierced their nose it looked like it hurt bad. It was weird.
Abbie:
They were cool. Because they were fun to watch. And we got to build cool houses like them. My favorite part was when they ate the dagoo.
But don't just take our word for it. Read what other Crew members say
here
. And there are plenty of
sample videos
for you to check out the quality. Each Volume can be purchased
here
for $18.99 plus Shipping and Tax.
DISCLAIMER:
We received these two DVDs free of charge for the purpose of this review. All opinions are honest and our own.