Apologia
, the publishers of one of our favorite science curriculum, as well as our favorite worldview curriculum and a couple of our favorite books, asked us, as members of the Schoolhouse Review Crew, to review Journeys of Faithfulness. Written by Sarah Clarkson,
Journeys of Faithfulness
is a devotional for women/girls ages 12 and up.Since my daughters are not yet 12, I read through this book myself. As usual with Apologia, I found the quality to be excellent. I have yet to experience an Apologia product that is not first-rate and thoroughly enjoyable.
Journeys of Faithfulness has twelve chapters. Each chapter is divided into three parts: a fictionalized account of a Biblical woman's story (encounter with God); a devotional drawn from Sarah's own life experiences, and a Bible study/journal section that consists of verses to read and questions to answer. The women covered are Mary and Martha, Mary the mother of Jesus, Esther, and Ruth. Beautifully written, every chapter is thought provoking and inspiring. I have always liked Biblical fiction because it makes the people in the stories seem more human and brings them to life. It gives background into the culture which sheds light on a lot of details. And Sarah's stories are particularly beautiful and rich with details.
I read a chapter every day, and it took me roughly 20 to 30 minutes to read the story and then devotional, then to work my way through the Bible verses and the questions and do a bit of journaling. This left me with plenty to "chew on" for the rest of the day. The love and grace of God for us, courage, beauty, faith, and sacrifice are the prevailing themes in the book. Just the things I want my daughters to learn and absorb. I can hardly wait until they are old enough to read through this devotional with me.
My favorite was the stories of Mary and Martha. I have always liked them and I loved the way Sarah described and expressed their personalities and how God loved both of them uniquely and spoke to them in their own "language" directly to their hearts.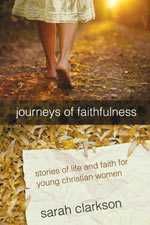 You can read what other Crew members have to say
here
. You can see a free sample, and the table of contents
here
and you can purchase this book for $13
here
.
DISCLAIMER: I received a free copy of this book for the purpose of this review. All opinions are honest and my own.