In our family, music is a part of life. We listen to music, we sing, we dance, sometimes, ok, all the time, we even make up our own songs. We are great at "making a joyful noise" but, to be honest, none of us know anything about how to make a beautiful noise as well. I am only a so-so singer, and have no knowledge in this area to pass on to my children, although a couple of them are pretty passionate about singing. So we were highly interested in reviewing Vocal Coach's
Teaching Kids to Sing
3 disc DVD/CD set.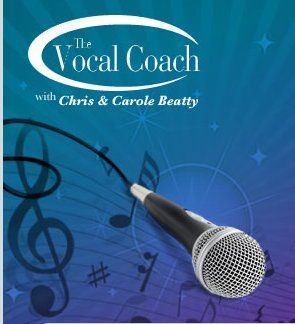 Chris and Carole Beatty created
Vocal Coach
out of their passion for teaching kids how to sing well. They have been teaching and "coaching" for over 40 years, but you can read up on their story and credentials
here
. Vocal Coach is a program designed to teach the principles of how to sing well. Since they don't focus on a particular style, Vocal Coach will benefit anyone who wants to learn or improve their singing.
Teaching Kids to Sing
is just one product that they offer. This DVD set is aimed at kids age 5 through the 6th grade and uses a systematic approach that teaches the fundamentals of good singing in a fun and engaging way. There are two teaching DVDs that explain the importance of each skill (proper posture, breathing, etc.) teach the kids the skill, and then give practice implementing it. There is also a CD with accompaniment tracks for more practice. The lessons are taught by Chris Beatty, with the help of Carole and a half dozen children who demonstrate what is being taught.
Suggestions on how to use this product are given on the
website
. It is pretty simple and straightforward. We found it quite easy to implement. We listened to a section each day, and then practiced with the included songs. Breaking it up was easy to do, because there was a slight break between each section and it the menu made it a piece of cake to start in the right place the next day. The kids liked the songs and even sung them around the house at various and random times.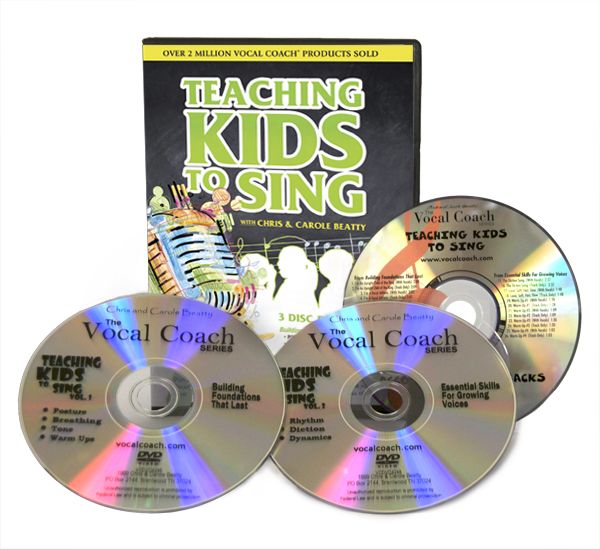 This was a fun product. The kids enjoyed watching the DVD and singing along with the other children. We all learned a lot, especially about the importance of posture. I liked that the teaching was all done for me, all I had to do was turn on the DVD. The practice songs were entertaining. The kids enjoyed watching the children on the DVD. I think that helped them join in and take part much more quickly and easily than they would have if it had just been a couple of adults to watch and mimic. And my visual daughter, Kaytie, really loved the enclosed slip of paper that contained all the lyrics!
The kids' opinions:
Kaytie:
I liked it because it showed me what I need to do to sing better. The breathing was hard for me to remember. My favorite part was the songs that they taught us to sing, and the warm-ups, too.
Nate:
I liked the singing. I learned how to breath and stand up straight.
Daniel:
I like it because it teaches me how to sing. It showed me how to warm up my voice. I liked it.
Abbie:
It was fun because it helped me learn to sing and I love singing. I liked when they were at the diner because I love food, too.
Vocal Coach
has various other products and the Crew reviewed different ones, so be sure to
check them out
.
DISCLAIMER:
I received this product free of charge for the purpose of this review. All opinions expressed belong to me and my children and are honest.